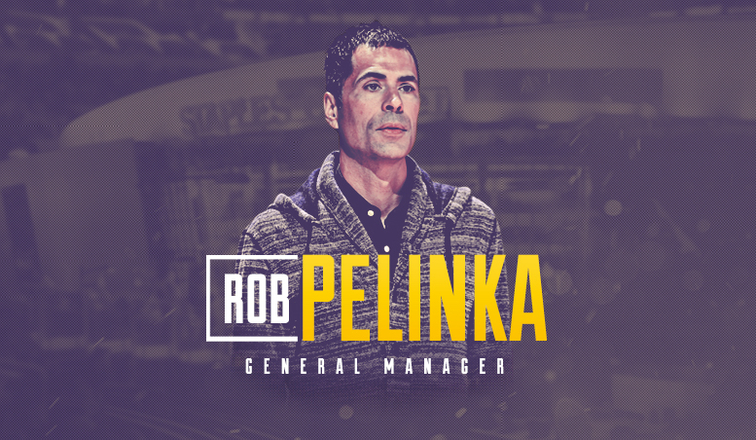 The Los Angeles Lakers have named Rob Pelinka General Manager, the team announced in a statement. Pelinka will report to President of Basketball Operations Earving "Magic" Johnson and Team Governor Jeanie Buss.
"We have worked closely with Rob for many years and have first-hand experience with his knowledge of the league and the business of basketball," said Buss. "In our recent discussions, it was clear that he also shares our goal of returning the Lakers to being an elite NBA franchise. Together with Earvin and Coach [Luke] Walton, I believe we are in a great position to bring winning basketball back to the Lakers."
Pelinka served as former-Laker Kobe Bryant's agent among other big name clients like Houston Rockets star James Harden. Forbes has previously named Pelinka as one of the top ten sports agents in the world.
"Rob's knowledge of the NBA landscape and the CBA, as well as his relationships with GMs around the league, are invaluable," said Johnson. "After running a successful sports agency and as someone who truly understands the inner workings of salary caps and player negotiations, he will bring the additional skills and experience needed in the Lakers executive office. Rob is a winner and the Lakers are fortunate to have him."
The Lake Forest, Illinois native earned his B.B.A. from the Ross School of Business at the University of Michigan with high honors in 1993, before receiving his J.D., Cum Laude, from the University of Michigan Law School in 1996. While at Michigan, Pelinka earned a 1989 National Championship as a member of the Wolverines basketball team and also took part in three NCAA Final Fours (1989, 1992 & 1993).
"I am beyond grateful to join the Lakers front office," said Pelinka. "The Lakers are a gold standard for sports franchises in the world, so we all share a responsibility to pursue excellence in everything we do. Excellence is what the Lakers stands for, what Jeanie Buss and Earvin Johnson embody, and what Coach Walton demands from our players. That obsession for greatness is what will bring Lakers basketball back to a championship level. With Jeanie and Magic guiding the vision, I am thrilled to help architect the future. I am really excited to get to work."