This March and for International Women's Day, Kiehl's is donating $50,000 to Bright Pink, the national non-profit focused on the prevention and early detection of breast and ovarian cancer in young women.
For every Limited Edition Butterstick Lip Treatment Duo sold, Kiehl's will donate 100% of net profits, up to $25,000 to Bright Pink. In October, Kiehl's will celebrate an incremental $25,000 donation in honor of Breast Cancer Awareness Month.
"Bright Pink is a perfect partner for Kiehl's because not only do they represent a cause we feel strongly about, women's health, but also because they encourage young women to move from awareness to action and empowerment," says Chris Salgardo, President, Kiehl's USA. "Breast cancer is a devastating disease that affects people every day of the year, so we're so glad that we can make noise outside the traditional time of the year the general public focuses on it."
"We're honored to partner with Kiehl's to bring more attention to the state of breast and ovarian health in this country," says Lindsay Avner, Founder and CEO of Bright Pink. "Bright Pink strives to equip all women with the tools to be proactive with their health, to either prevent breast and ovarian cancer entirely, or detect it early when it is most treatable. Kiehl's commitment to the health of their customers is wonderful, and we look forward to making life-saving impact together."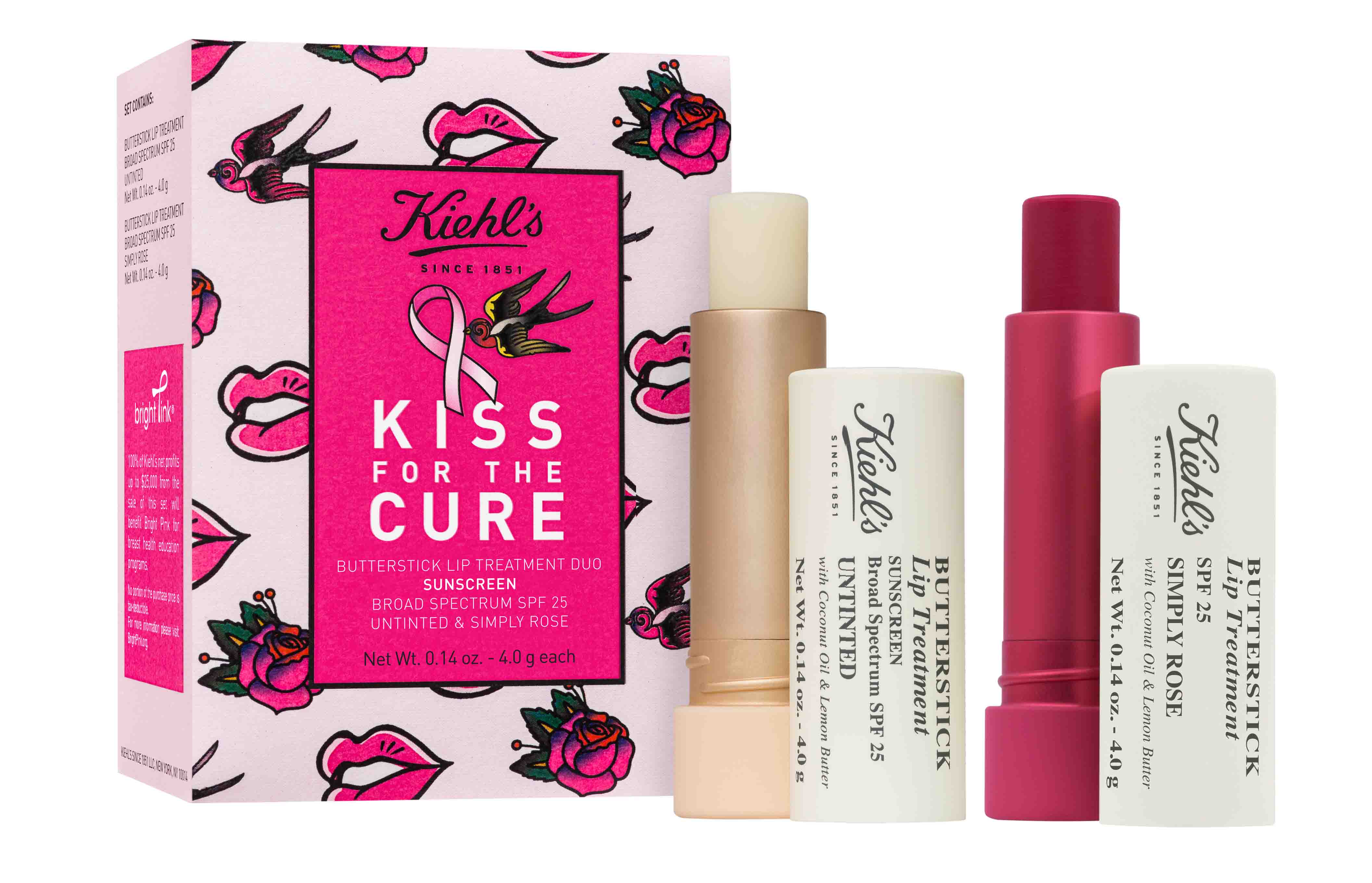 The Limited Edition Butterstick Lip Treatment Duo unites the Untinted and Simply Rose shades in a custom carton, allowing customers to keep one Butterstick Lip Treatment for themselves while giving one to a friend or loved one, reminding them of the importance of education and early detection of breast cancer.
Kiehl's Butterstick Lip Treatment is a supremely hydrating and smoothing balm that offers up to 12 hours of hydration. The formulas include broad spectrum SPF 25 sunscreen, providing the protection from UV rays that's essential to keeping lips looking youthful and supple.
Butterstick Lip Treatment's creamy texture is achieved through a combination of butters and oils, including lemon butter and coconut oil. These two key ingredients provide a unique, lightweight, cushiony finish.
Lemon Butter, sourced from California and obtained by cold pressing the lemon peel, is known to be rich in antioxidants. Within the formula, this natural butter helps protect lips from environmental stress, and infuses the treatment with a light citrus fragrance that engages the senses.
Coconut Oil, fairly traded from the Philippines and often referred to as the 'tree of life', is a known a healing agent in Ayurvedic medicine that has been used for over 4,000 years. The oil, which is composed of over 90% saturated fatty acids, is an excellent "water sealer" that helps maintain skin hydration. Within the formula, it helps to hydrate and soften lips.