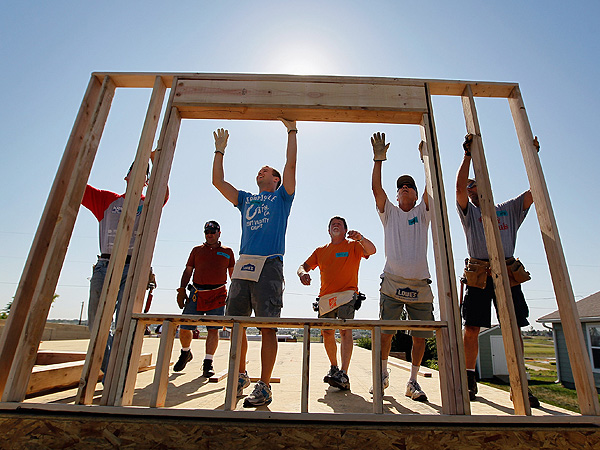 On April 3rd, Habitat for Humanity will launch its first nationwide cause campaign, Home is the Key during the Mets home opener to raise awareness and support of the critical need for affordable housing in the country and around the world.
The campaign will gather sponsors, celebrities and community leaders for a month of activities and build events across the country. Consumers can help Habitat's efforts by purchasing products from participating partners, sharing #HomeIsTheKey on social media, or donating at habitat.org.
"We all need decent shelter to thrive, and yet many in the U.S. live in inadequate housing conditions, creating a significant barrier to opportunity, success and health," said Jonathan Reckford, CEO of Habitat for Humanity International. "Home is the Key reminds us that home is more than just bricks and mortar. A home unlocks the opportunity for a better life and we hope people see that, by donating to Habitat, they're opening the door to strength and stability for millions of families who need a hand up."
Country music star Eric Paslay and HGTV personality Chip Wade have signed on to lend their support and raise awareness of the transformational impact a decent, affordable home can have on a family and community.
"As a designer, builder and contractor, home is such an important part of every aspect of my life," said Wade. "My home is the source of my serenity, my security and my confidence to continue pursuing my passions – it's truly the foundation of all of my success, professionally and personally. Everyone deserves the opportunity to unlock the bright future a decent, affordable place to live can provide, which is why I'm proud to support Habitat for Humanity."
Habitat for Humanity (@habitat_org) will also have a #HomeIsTheKey Twitter party on Wednesday, April 5 from 2-3 pm EDT. Hosted by Amy Lupold Bair, blogger and founder of Resourceful Mommy Media, the chat will be an opportunity to show support for Habitat and enter to win prizes from campaign partners.
The campaign will culminate at the end of April in Habitat's hometown of Atlanta with Nissan and the Heisman Trophy Trust for the 5th annual Heisman House Build.
To learn how to get involved with Home is the Key and more about the month-long activations, visit habitat.org/homeisthekey.