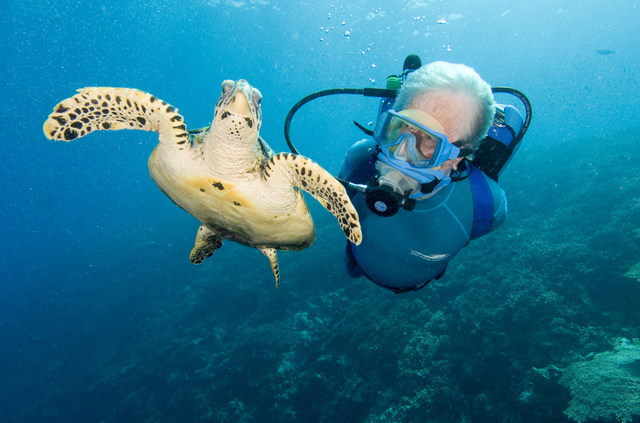 Aboard three luxury Crystal voyages throughout the wildlife rich waters of the world, one of the foremost living oceanographic experts will share tales from his lifetime of underwater exploration. Jean-Michel Cousteau – first son of ocean pioneer Jacques-Yves Cousteau – will join two luxury voyages aboard the award-winning Crystal Serenity this spring and fall, as well as an expedition sailing on the boutique yacht, Crystal Esprit. While on board, Cousteau will enlighten guests with expertise gained from decades as a leading explorer and conservationist, working in defense of the planet's oceans.
The voyages set to feature Cousteau's intriguing presentations are, fittingly, geographically diverse. Crystal Serenity's May 24 "Hawaiian Havens" sails the warmer regions of the Pacific Ocean; the October 27 "Amazon Escape" explores the Caribbean Sea, Atlantic Ocean and Old Bahama Channel; Crystal Esprit's November 19 West Indies voyage sails round-trip from Marigot Bay through the deep Caribbean.
"As a company, we call the waterways of this planet our home, and as such, are honored to welcome Mr. Cousteau for the first time aboard our ships to offer a glimpse into his fascinating work," says Crystal Chairman, CEO and President Edie Rodriguez. "The sea is truly his heritage and he has dedicated his life to protecting it. It is an extraordinary opportunity for our inquisitive guests to learn from Mr. Cousteau as they travel the seas together."
In addition to lectures tailored to the region of each sailing, Cousteau will offer interactive and engaging presentations discussing his father's legend and his own legacy, as well as insights into ocean life that most captivates him, including the delicate balance of the roles of orcas and sharks. Guests will learn from Cousteau the connection between the oceans and everything else on the planet, and enjoy a glimpse of his newest film, which features images captured by Cousteau for the first time in his 60+ years of diving. Cousteau, who is the founder of the Ocean Futures Society, will also enlighten travelers about his extensive environmental and conservation efforts.
For more information and Crystal reservations, contact a travel professional, call 888.799.2437, or visit Crystal's website, www.crystalcruises.com.