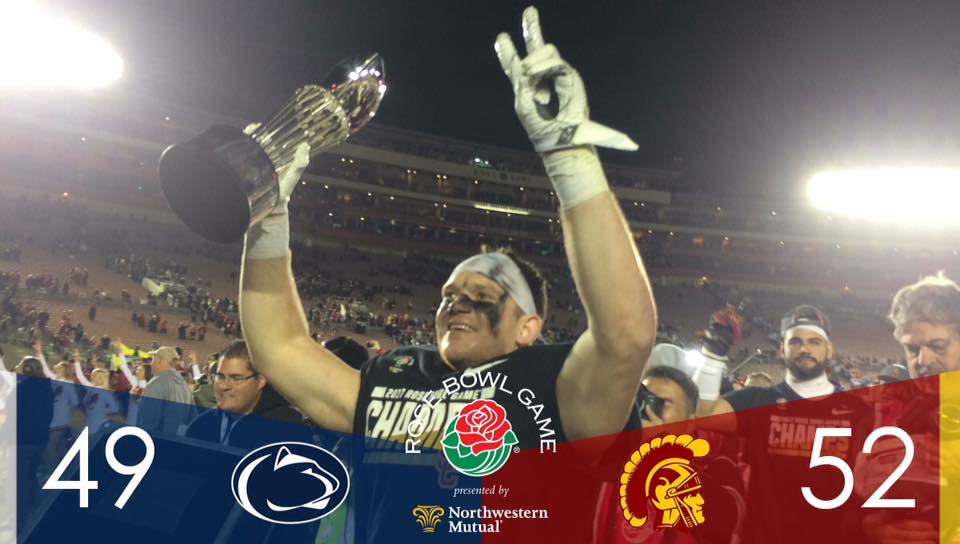 The 103rd Rose Bowl Game presented by Northwestern Mutual took place on Monday, January 2, 2017 at 1 pm PST.
As reported by ABC7, Matt Boermeester kicked a 46-yard field goal at the very end of the game, and No. 9 Southern California rallied from a 14-point deficit in the fourth quarter for a spectacular 52-49 victory over No. 5 Penn State.
Freshman Sam Darnold passed for 453 yards and five touchdowns. This was the Trojans ninth consecutive winning game and the first Rose Bowl they've won since 2009.
Known as the oldest of bowls, the Rose Bowl Game kicked off a myriad college football legacies in 1902. Since then, the game has been home to 19 Heisman Trophy winners, produced 29 national champions, featured 211 consensus All-Americans and honored 117 college football legends by inducting them into the Rose Bowl Hall of Fame.