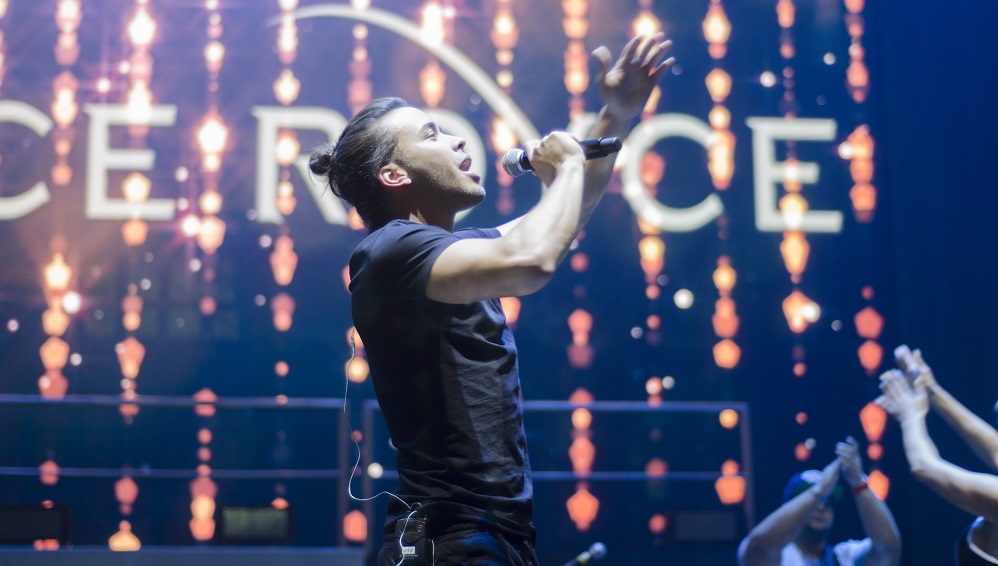 Prince Royce, Sprint, and the Sprint Foundation are celebrating this holiday season by giving back. Prince Royce will perform an exclusive private performance on December 18, 2016 in Los Angeles. Sprint customers and fans in the LA area can register for a pair of tickets and enter for a chance to win VIP tickets when donating their old mobile devices to the 1Million Project, a multi-year initiative benefitting students who lack internet access at home.
In early 2015, Prince Royce rejoined the Sprint family, where he once worked and made the money to help jump start his dream musical career. Now Prince Royce and Sprint are working together to help young kids achieve their own aspirations by helping them get connected.
The 1Million Project is a Sprint Foundation initiative with support from Sprint. It was launched to bridge the digital divide and help close the "Homework Gap." The new program will offer free mobile devices and free high-speed wireless internet access to schools to benefit low-income high school students complete school projects and homework, communicate with teachers and mentors, as well as apply for scholarships, college and even jobs.
"I am proud to support Sprint and the Sprint Foundation in their efforts to benefit 1 million high school students, providing the necessary tools and resources needed to succeed in this day and age," said Prince Royce.
"Without internet access at home, millions of American kids are left without the resources they need to reach their full potential," said Marcelo Claure, CEO of Sprint. "However, with the support of our customers and our Sprint employees and friends, the 1Million Project will help to give these kids a brighter future. I thank Prince Royce for joining our initiative and lending his talents, and am grateful to all of the customers and fans who will help support the 1Million Project."
Starting December 3, local fans and community members will be able to visit any of the LA Sprint Stores listed below to donate a used mobile device (phone, tablet, etc.) to the 1Million Project and register for a pair of tickets to the private show while supplies last. In addition, when registering, fans will be able to enter the #Royce4Sprint Holiday Benefit Show VIP Giveaway Sweepstakes for a chance to win 2 VIP tickets.
Downtown Los Angeles: 432 S Broadway, Los Angeles, CA 90013
Panorama City: 8500 Van Nuys Blvd., Suite A, Panorama City, CA 91402
Las Palmas: 2907 East Florence Ave., Huntington Park, CA 90255
Commerce Retail: 5616 East Whittier Blvd., Commerce, CA 90022
Downey Retail: 8554 Firestone Blvd., Suite B, Downey, CA 90241
El Monte: 10965 Valley Mall, El Monte, CA 91731
Baldwin Park: 14460 Merced Ave., Unit 110, Baldwin Park, CA 91706
Inglewood Retail: 3396 W Century Blvd., Inglewood, CA 90303
Lakewood Mall: 9 Lakewood Center Mall, Lakewood, CA 90712
Hollywood Retail: 5535 W Sunset Blvd., Hollywood, CA 90028
To kick-off this exclusive holiday celebration, Sprint will host an in-store meet and greet event with Prince Royce on December 17. 2016. Fans will have the opportunity to meet Prince Royce.
Visit www.Royce4Sprint.com for meet and greet details, information on how to attend and watch the #Royce4Sprint Holiday Benefit Show and how to enter the Sweepstakes to win great prizes. To learn more about the 1Million Project, visit www.sprint.com/1MillionProject.