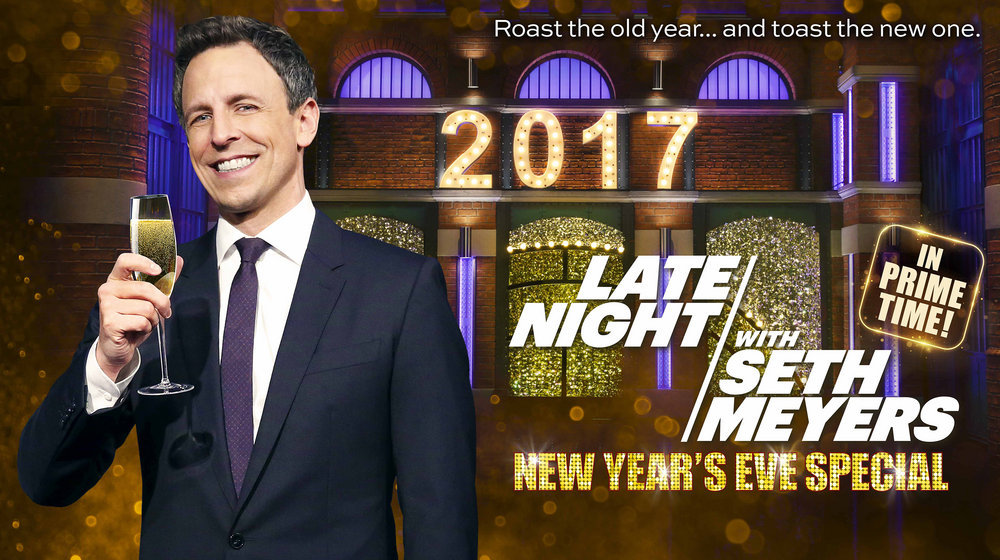 On NBC: Celebrate the incoming New Year with "Late Night with Seth Meyers New Year's Eve Special" to air Saturday, Dec. 31 at 10 p.m. ET/PT.
The hourlong program will feature special appearances by Jennifer Lawrence ("Passengers"), Arnold Schwarzenegger ("The New Celebrity Apprentice"), Leslie Jones ("Saturday Night Live"), a performance by multiple Grammy-winning superstar Kelly Clarkson and more. Clarkson will perform "It's Quiet Uptown" from "The Hamilton Mixtape".
Earlier in the evening, Kathie Lee Gifford and Hoda Kotb will host "A Toast to 2016!" at 8 p.m. ET.
——-
On ABC: Mariah Carey will give the last big performance of 2016 when she performs live for over one million people in Times Square moments before the ball drops on "Dick Clark's New Year's Rockin' Eve with Ryan Seacrest 2017."
Multi-platinum selling band DNCE, international superstar Gloria Estefan with the cast of her smash hit Broadway musical "On Your Feet!" and chart-topping country artist Thomas Rhett are set to join Carey for performances in the hours leading up to the 2017 countdown on SATURDAY, DECEMBER 31. Carey was the first artist to perform live from Times Square on the program in 2005 and will return to perform her greatest hits during the 45th anniversary of America's biggest celebration of the year.
Jenny McCarthy will join Seacrest, along with Jason Derulo and Gloria Estefan and the cast of her Broadway musical On Your Feet! The show will also cross to New Orleans and L.A., where Fergie will be hosting and performing at the Billboard Hollywood Party, which will feature songs from Fifth Harmony, Niall Horan, John Legend, and more artists.
——-
On CNN:
Anderson Cooper and Kathy Griffin will be reuniting for New Year's Eve Live (at 8 p.m. ET), a four-and-a-half-hour special.