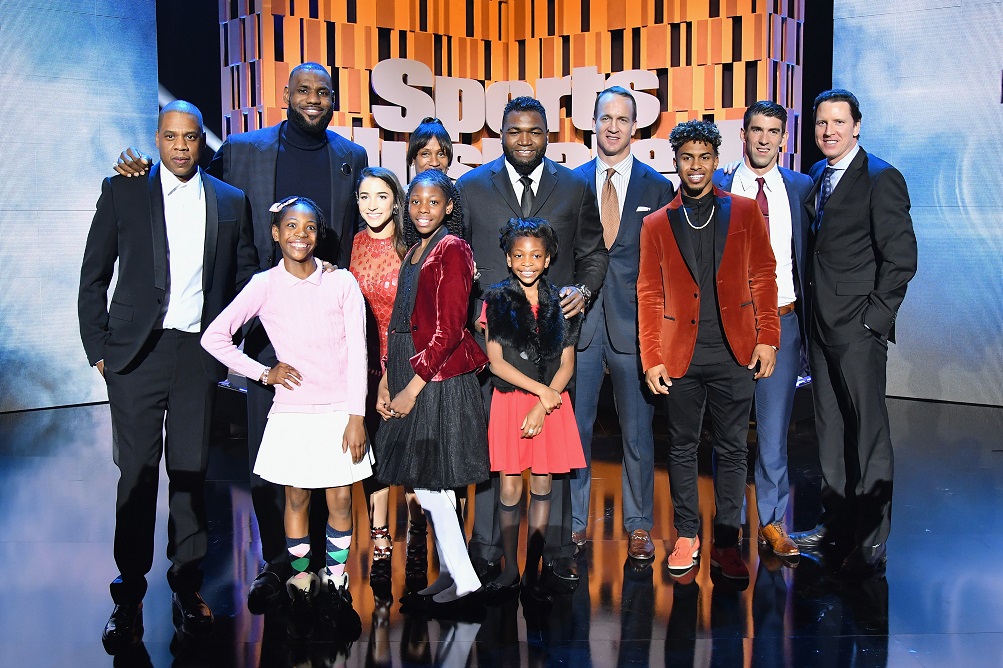 Time Inc.'s Sports Illustrated honored LeBron James as the 2016 Sports Illustrated Sportsperson of the Year at a star-studded gala at Barclays Center in New York. Grammy award-winning artist Jay Z paid tribute to the Cleveland Cavaliers star in a speech in which he recognized his transcendent year on and off the court.
Jay Z said, "LeBron James has made all of those around him better on and off the court. We acknowledge and recognize all he has done for the game. But, tonight we say thank you. Not just for your commitment to basketball, but for all you've done for the community. And thank you for how you've enriched the lives of all those around you. We messed around and got a triple double in real life."
Additionally, Lonnie Ali and Peyton Manning honored iconic athletes Kareem Abdul-Jabbar, Jim Brown and Bill Russell with the SI Muhammad Ali Legacy Award. Both Abdul-Jabbar and Brown were in attendance to accept the award and share their thoughts on legacy.
Michael Phelps was celebrated as the greatest Olympian of all time by fellow Olympians; gymnast Aly Raisman, swimmer Tom Dolan and track & field star Jackie Joyner-Kersee.
Cleveland Indians shortstop Francisco Lindor was presented the Symetra Rising Star award by Red Sox legend David Ortiz, as both joked on stage about Ortiz handing the torch over and life after retirement. Local Junior Olympian sisters Tai, Rainn and Brooke Sheppard from Brooklyn were honored as the SI Kids SportsKids of the Year with a heartfelt video tribute and special presentation by DJ Khaled.
Actor and comedian J.B. Smoove hosted the event, and acclaimed rapper Kendrick Lamar gave a surprise performance and toasted LeBron James. Others in attendance include Ray Lewis, MLB Commissioner Rob Manfred, SI Swimsuit models Ashley Graham, Hailey Clauson and Kate Bock, legendary rapper Nas and more.
For more details from the event, visit http://www.si.com/sportsperson/.