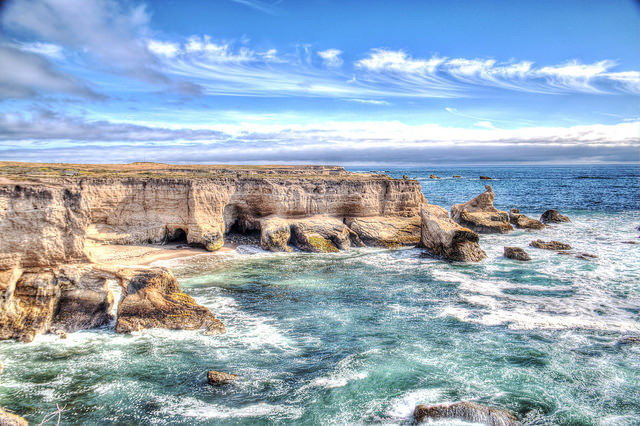 Located within San Luis Obispo County, surrounded by the south shore of Morro Bay and filled with forests, preserves and outdoor adventure, nature lovers are drawn to the quaint seaside towns of Los Osos and Baywood Park. Los Osos offers great climate perfect for kayaking, paddle boarding, golfing, and endless hiking, biking and tide pooling. The bayside neighborhood of Baywood Park has its own identity as a picturesque park that is surrounded by wooded stands of eucalyptus trees. These quaint seaside towns offer an ideal base camp for excursions along the Central Coast. Check out all there is to do in these fabulous hidden gems:
Montaña de Oro State Park (Montaña de Oro or Mountain of Gold) is home to many scenic views and white sandy beaches including Sandspit Beach, which is one of the gems located just inside the park. The park offers more than 50 miles of hiking and mountain biking trails with ocean, mountain and valley vistas.
Tide pools form at the rocky shorelines of Montaña de Oro. Look for pools along the Ocean Bluffs Trail and you're likely to see giant, fluorescent lime green sea anemones, turban snails, rock crabs and sea stars.
The Sweet Springs Nature Preserve is located at the south end of the Back Bay area, and is one Baywood Park's most popular attraction. Visitors can explore and learn about the plants and wildlife that live there.
The Whale Trail is a series of sites, including one located on the Bluff Trail in Montaña de Oro State Park, where the public can view orcas, other cetaceans and marine mammals from shore. The mission is to inspire appreciation and stewardship of whales and our marine environment by establishing a network of viewing sites along the whales' trails along the Salish Sea and the Pacific Coast.
Footgolf, the popular new game for soccer fans, is available at the beautiful Sea Pines Golf Resort. Players test their skills by teeing off on a traditional golf course and – counting their kicks as shots – try to get the ball into the cup in as few shots as possible.
The Central Coast Glass Blowing and Fusing is one of the area's celebrated local artists. Watch as amazing glass creations are fused together right before your eyes.
Morro Bay National Estuary is one of the best-preserved estuaries in central and southern California, and home to more than 250 species of bird.
For more information, visit www.visitlosososbaywood.com.
For more great activities, where to stay and eat in San Luis Obispo, check out our Travel Spotlight article!