Michael Cornell
I remember the first time I stepped foot in the studios of the Portland Ballet Company in Maine. At the age of 9 or 10 years-old, I was in awe of the ballerinas all around me; stretching their arches, dipping their pointe shoes in rosin powder and perfecting their fouettes. With ballet, it was love at first sight. I studied everything from the vocabulary to the music, and soon the time came to be fitted for my first pair of pointe shoes. But as the years went by, I turned to other forms of dance when I realized my body was changing and the path of a prima ballerina was not for me.
I have missed ballet, but it can be quite intimidating to jump back into a class. It is no secret that the world of dance can be competitive, whether you're a professional or not. But more recently, I discovered a ballet community that welcomes their students with open arms, no matter what level you are. It's called: ALIGN BALLET METHOD, created by Michael Cornell.
I decided to immerse myself in Align classes one Saturday morning at their Downtown Dance & Movement location. Any nerves or hesitation I had quickly melted away as I realized that every student was there for the love of learning. There were no 'dancer glares' or judgements. This is thanks to Michael's concept.
"The word Align is… 'we are all coming together.' It's not the Michael Cornell method. I feel like it's beginning to have a life of its own where my teachers add in to the program. We learn from our students and they bring suggestions. It's a big family," Michael told me.
His eyes lit up as he began to talk about his journey with ballet. "I got addicted to it the same way our students get addicted to it. It becomes this thing that you immerse yourself in. It's so vast and complex, I think that's why people really love it. Because it doesn't get boring; it's always challenging. Even the simple classes can be challenging but satisfying to master the small minor movements. There's so much to discover."
Michael discovered ballet unexpectedly during his early adolescence. "I began at 14. I was kind of a crazy art studio kid who loved to draw. This amazing art teacher I had kept handing me black and white photos from LIFE Magazine of Mikhail Baryshnikov. I drew one after the other and became fascinated by his form; flying through the air high above the ballet bars. I thought, 'how does he get so high off the ground?!' Being from Ohio, it was like nothing I had ever seen; it was so culturally different from the way I grew up, which was a sort of blue-collared background."
Michael teaching an advanced ballet class
My sister had Seventeen Magazine and I read this whole article about the School of American Ballet. This young girl on scholarship got to live there. I thought, 'that's exactly what I want to do. I was really a rebellious kid. It was either buy a guitar or get ballet lessons. My mother could not wait to put me in ballet class. [laughs] She said, 'You don't even know how to spell ballet.' But she drove me there and dropped me off."
He started class and the rest was history. Michael did not let the fact that he had bad feet and bowed legs stop him. His determination drove him to a career in ballet, training at the National Academy of the Arts in Illinois, studying with the Royal Ballet dancer Petrus Bosman and American master teacher Robert Dicello. After completing a scholarship at the Pennsylvania School of Ballet, Michael joined the innovative BalletMet of Columbus, Ohio, where he remained for 10 years.
Taking what he learned and his passion for a sense of community, Michael relocated to Los Angeles, where he began fitness training and building the ALIGN program. The idea is that everyone is welcome. From beginner to advanced, I met many students who are loyal to the ALIGN method. A 40 or 50 year-old woman can start out with no experience and work their way into pointe shoes.
"For a lot of people it's a bucket list thing. We love educating them on ballet and they support it. I think that's a big part of what we're beginning to do. We educate people on the art of ballet. I hear many students say, 'I don't know why, but when I leave the class I feel better. Whether it's the breathing, exercises or endorphin lift; you leave class feeling better and I think that's what they keep coming back for."
Even the teachers take classes. Their instructor team continues to grow and now includes: Bjarne Hecht, Cleo Magill, Diesre Destafano, Zoe Keijser and Grace Allison McCarthy, whom I had the pleasure of taking beginner pointe with.
Grace Allison McCarthy teaching pointe

With over 10 locations and counting, anyone can try ALIGN from North Hollywood to Santa Monica and New York City.
No matter what your precincts are, Michael is ready to work with you: "I don't care what you look like, how old you are, if you have limitations. I want you to come in and if you want to do it, I'm going to help you do it at the level you are able to work at."
To book your class visit: http://www.alignballetmethod.com
For ballet gear shop at: http://www.thedancestore.com/
Bjarne Hecht teaching class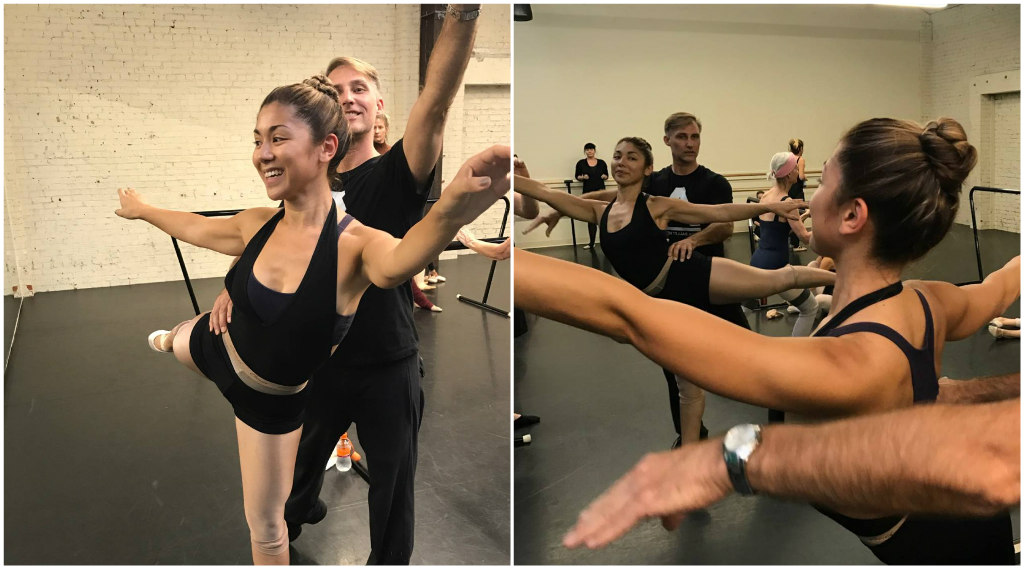 Michael teaches me how to ALIGN!