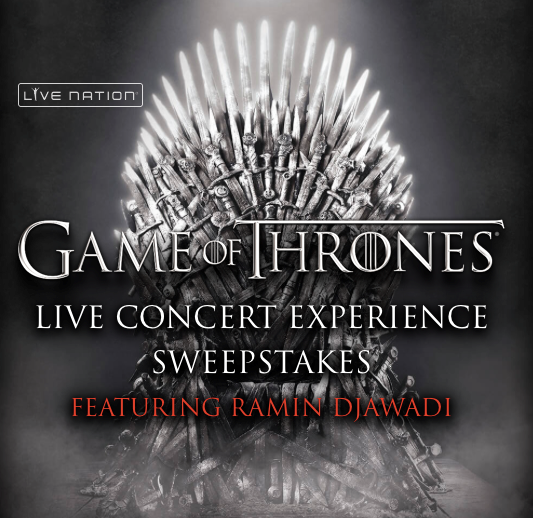 Game of Thrones fans have the opportunity to enter a sweepstakes for the chance to win a VIP Flyaway for the forthcoming Game of Thrones Live Concert Experience. The winner of the sweepstakes will receive two tickets to see the Los Angeles date on March 23, 2017, round-trip airfare, hotel accommodations for two nights, a limited edition Game of Thrones soundtrack vinyl box set signed by composer Ramin Djawadi, and a $200 cash gift card. Fans can enter the sweepstakes now by visiting http://sweeps.gameofthronesconcert.com/ – where they can also vote for their favorite scenes from the show to help decide what music will be featured in the concert.
The event is an immersive music and visual experience that will bring the Seven Kingdoms to life on a scale never seen before. Using state-of-the-art technology, Djawadi, along with a full orchestra and choir, will take fans on a musical journey through the realm – from King's Landing to Winterfell, along the northern stretches of the Kingsroad to The Wall and across the Narrow Sea to Braavos, Meereen and beyond. Fans of the groundbreaking and Emmy Award-winning show will have an opportunity to immerse themselves in the Game of Thrones universe through the breathtaking score created by Ramin Djawadi.
The tour, produced and promoted exclusively by Live Nation in partnership with HBO Global Licensing, will use innovative music tour production and video technology that will recreate the various realms found throughout Game of Thrones. Beginning its journey on Wednesday, February 15, 2017 in Kansas City, Mo., the tour will visit 28 cities across North America with. Tickets are available via Ticketmaster.