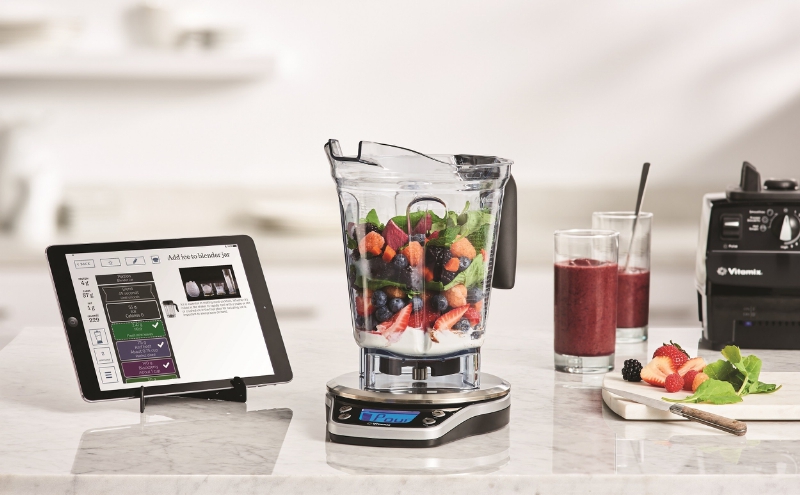 Vitamix, the world leader in professional-grade blending equipment for home and commercial use, and Perfect Company, the leading developer of connected kitchen products, announce a partnership to introduce groundbreaking innovation in the kitchen. The Vitamix® Perfect Blend™ Smart Scale & Recipe App is designed to allow anyone with a Vitamix blender to have an easy, seamless end-to-end blending experience at home — for delicious blended food and drinks all the time — and also to track their nutritional intake like never before.
With the Vitamix Perfect Blend Smart Scale & Recipe App, creating a blended soup, smoothie, dressing or any blended recipe is easy. Users choose a recipe, adjust it to their desired serving size or number of calories, and simply pour ingredients directly into their Vitamix container for precise measurement — the virtual container fills up in real time and an audible "ding!" signals when to stop pouring. The smart scale is designed to detect even the smallest of ingredients, which eliminates the need for measuring cups and measuring spoons.
Staying on track with health and fitness goals is simplified, as the Perfect Blend App offers meal planning tools, portions to desired number of calories, customizes to dietary restrictions and lifestyle, and even sends data to popular fitness apps via Apple Health or Google Fit.
"We're so excited to partner with Vitamix to give Vitamix owners a whole new way to use their blenders to create even the most challenging recipes — things they never imagined they could make — while achieving their dietary goals," said Michael Wallace, CEO, Perfect Company.
The set includes a professional grade, stainless steel Bluetooth scale, two smoothie to-go cups, a device stand and the Perfect Blend Recipe App, which can be downloaded on tablets and smartphones. The Vitamix Perfect Blend smart scale and accessories is available for purchase at vitamix.com for $99.99 and will be demonstrated and sold in select Costco warehouses beginning in October for $79.99. The Perfect Blend App can be downloaded for free from the Apple App Store Google Play store and Amazon Kindle app store.