There is nothing better than driving two hours out of the city of Los Angeles and finding yourself completely transported to the mountains of Big Bear Lake. Just as the summer turns to fall, LATF ventures to Big Bear every year to celebrate Oktoberfest and all of the treasures that this quaint town has to offer.
Each fall season, I discover something new and wonderful in Big Bear, thanks to Dan McKernan of Big Bear Guide – and I love to share my recommendations so that you can plan your perfect weekend getaway! So get your notepad and take this down…
Where to stay:
In the past, I've experienced staying at a small B&B and even a cabin in the woods, but this year, I have a new recommendation for lodging: The Lodge at Big Bear Lake, a Holiday Inn Resort. I know what you're thinking, 'I want to experience the wilderness, not a hotel.' Well, it turns out that The Lodge is in the heart of the village with the amenities of a hotel but the feel of a ski lodge.
With a rustic decor and plenty of exposed wood, you feel right at home. They offer rooms with all views, but I love the main floor where your sliding door allows you to step right outside and sit by the pool or walk to town. In the morning, you can enjoy a delicious buffet breakfast at their Stillwells Restaurant. Try the bacon!
http://www.thelodgeatbigbearlake.com
What to do:
During the fall, the 'to do list' is endless. Check out some of my day activity recommendations from last year here. This time around, let's break it down for your morning, afternoon and evening 'must-do' and 'must-try' itinerary!
In the morning, head down to Holloway's Marina with your friends and/or family and rent yourself a pontoon (best to call ahead of time). There is no better way to start the day than spend a morning out on the lake for a couple of hours. You can jet around and even park the boat and enjoy the beautiful views. This is a great opportunity for some kodak moments and mountain shots.
They also offer other boating choices. You can go fishing, rent fishing equipment, take wakeboard and waterski rides, rent kayaks and canoes, ride the pirate ship, and much more! http://www.bigbearboating.com/
In the afternoon, The Village is the place to be. Charming and full of small town energy, I love to stop by my favorite shops and have lunch in town. All of the shop owners are so friendly. If you want to bring home some beef jerky or a carved bear, pay a visit to:
The House of Jerky
Art Garden – Big Bear Discount
Bear Essentials
Bear Skins… the owner, Debby Sevick just celebrated 24 years in business!
Koo Ran
There are plenty of restaurant choices, from BBQ to California Cuisine and even Italian. If you're a lover of wine… well, mark your calendars for next year (September) because Big Bear Lake Village is now hosting an annual Fall Wine Walk! You can drink, walk and shop until you drop (hopefully at the hotel). Once you have your wine glass and passes, you can go in and out of the participating stores and taste wine, while mingling and shopping.
As you walk through town, you can also be a part of the 3rd Annual Big Bear Lake Village Scarecrow Festival, from now until November 6, 2016. Merchants compete for best scarecrow in six different categories, which includes best reflection of Big Bear, most traditional, spookiest, best use of recycled material, most reflective of business or organization, and most humorous.
Winners of each scarecrow category are determined by votes from the general public. The final day for voting is Sunday, October 30, 2016. An awards ceremony takes place Monday, October 31, 2016 during the Annual Halloween in the Village.
In the evening, I have one word for you: OKTOBERFEST. Except for skiing in the winter, Oktoberfest is the #1 reason to come to Big Bear. It's the best party of the year with dancing, music, food and that crisp fall nighttime weather!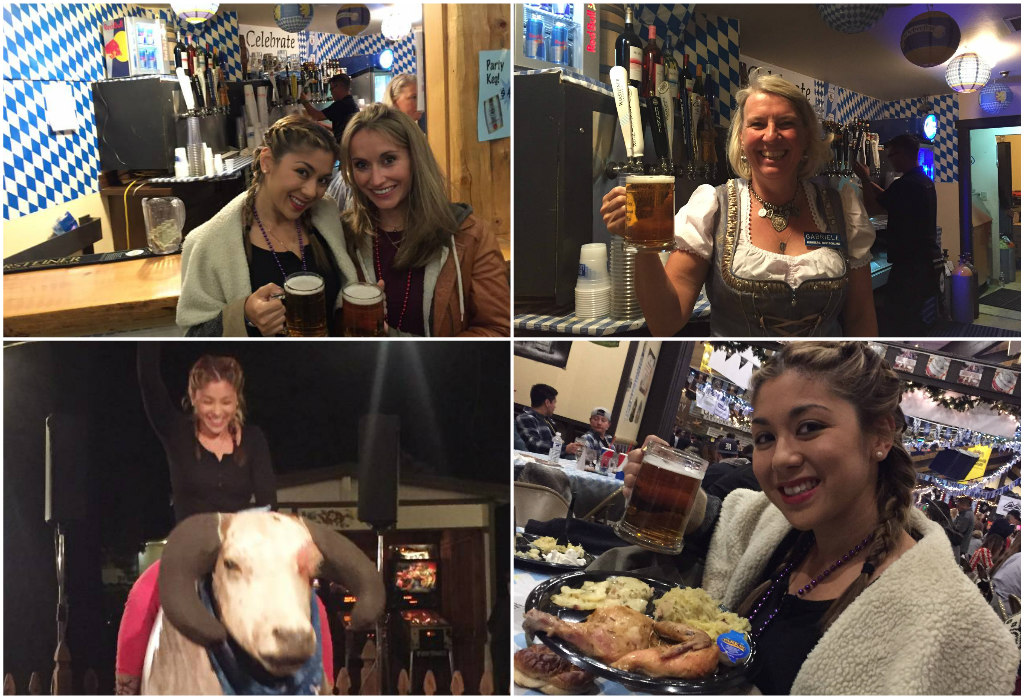 For its 46-year Big Bear Lake Oktoberfest decided to feature three different German bands from September until October 29, 2016. You can enjoy sounds of Bavaria and true traditional music of the original Oktoberfest celebration in Munich, Germany.
"The three German bands we selected to play at this year's Oktoberfest truly have a gift, and that gift is the ability to stir up a lively atmosphere," said Monica Marini, director of Big Bear Lake Oktoberfest.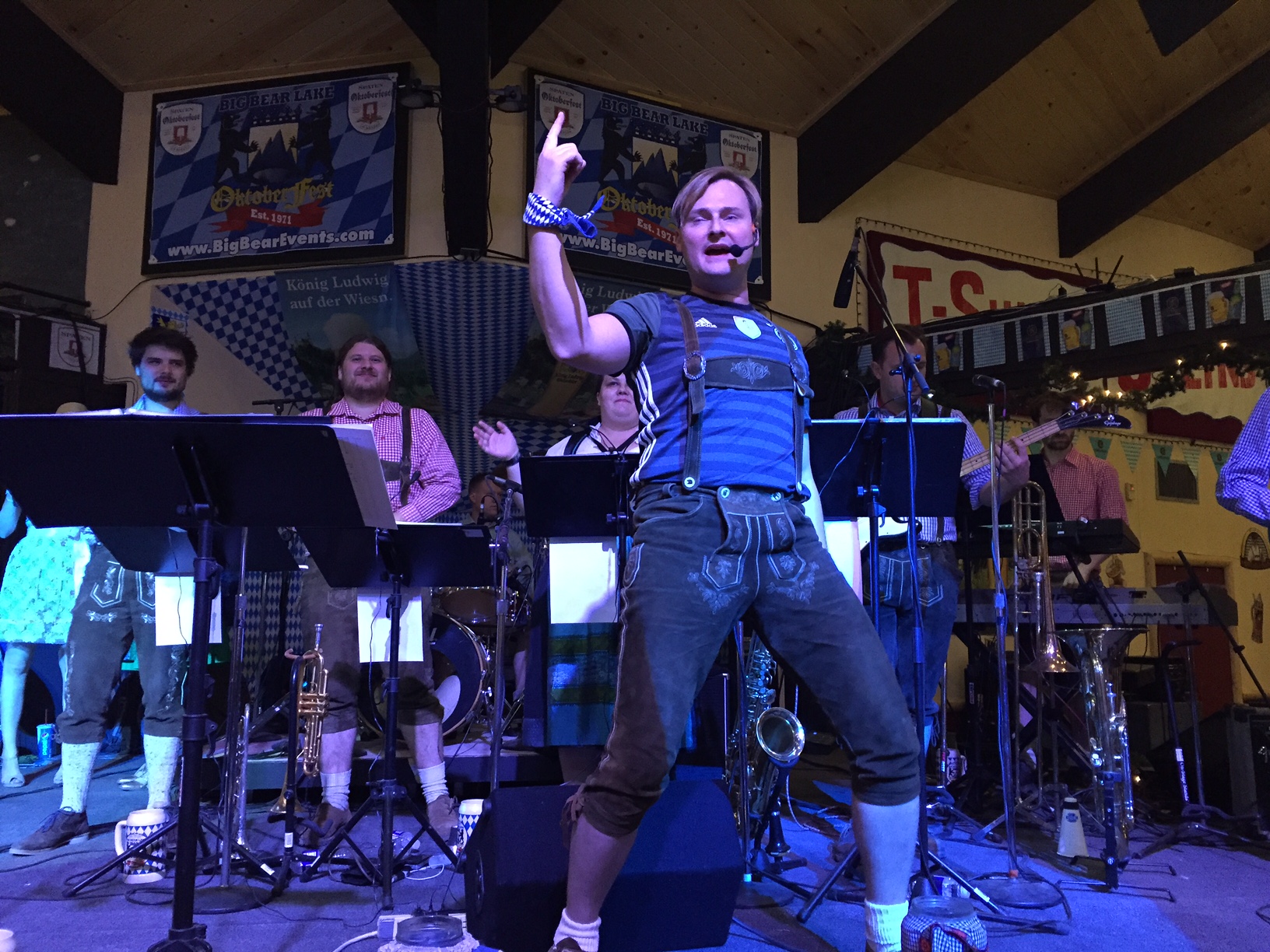 Lively is the keyword. The band we saw, Alpenklänge, were rockstars. They had everyone up on their feet dancing to rock classics and even the 'chicken dance!' until the convention center closed. The New Mainflösser performed three consecutive weekends and the Aalbachtal Express takes the stage October 15-16 and October 22-23. This 11-piece band has grown a solid reputation throughout Europe for its authenticity and upbeat live shows. The Express Band will also be back for October 29th.
Outside, you can enjoy local vendors, more dancing and the popular mechanical bull! If you dare…
Of course, the beer is a star as well. There are two full service bars located inside the Convention Center and three different bier gartens (beer gardens) outside, which includes the Shock Top Sports Garten, Spaten Bier Garten, and Warsteiner Bier Garten.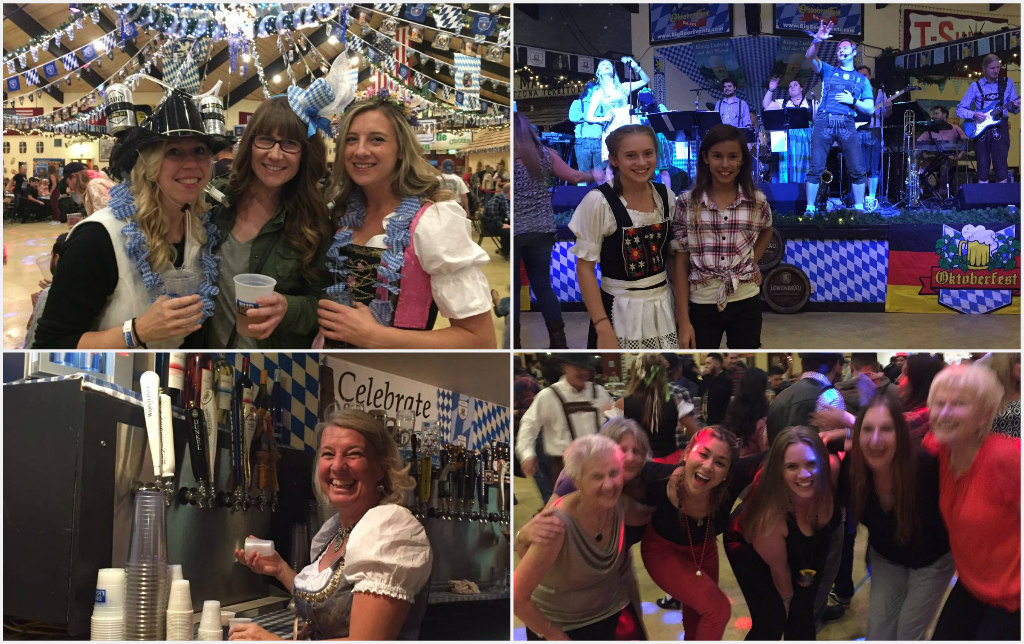 The Craft House is new this year, with an outside bar dedicated to craft beers and micro brews, ideal for beer connoisseurs and casual beer drinkers who want to try something new. German beers such as Spaten (lager and Oktoberfest), Franziskaner, Warsteiner (pilsner and dunkel) and Konig Ludwig, to name a few. The Craft House gives festivalgoers an alternative to a variety of different types of craft beers on tap each weekend such as brown ale, Hefeweizen-style beer, Indian pale ale, pilsner and pumpkin ale. Guests can enjoy beers in pint glasses or a tasting flight of eight different samples. Some of the beers served at the Craft House includes Golden Road Brewing Wolf Pup Session IPA, Golden Road Get Up offa that Brown, Elysian Space Dust IPA, Elysian Night Owl Pumpkin Ale, Elysian Immortal IPA, Blue Point Toasted Lager, Goose Island Four Star Pils and 10 Barrel Brewing Co. Pray for Snow American Strong Ale. Samples are $1 each, pints are $9 each, and can be purchased with beer tickets, Burgermeister Bucks or cash.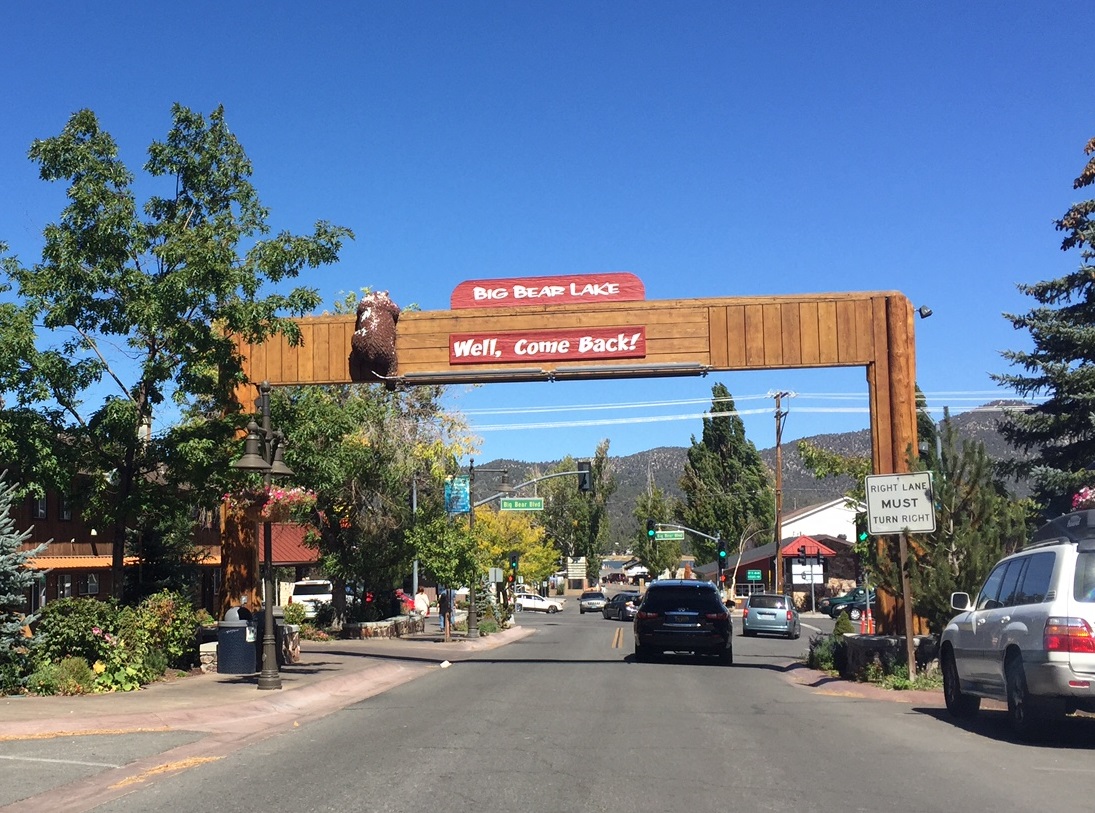 The weekend festivities takes place at The Convention Center of Big Bear Lake located at 42900 Big Bear Blvd.
The next five weekends (Oct. 1 to Oct. 29) general admission on Saturdays is $19.99 for adults, $14.99 for seniors (62+), and $9.99 for children 12 and under; Sunday admission prices $9 for adults, $6 for seniors with children 12 and under FREE.
Combo packs for both Saturday and Sunday admission are $23.99 for adults and $16.99 seniors. For more details regarding online ticket savings, Burgermeister / Über Burgermeister Party Packs, and general information, log on to www.BigBearEvents.com or call 909-585-3000.
If you can make it this season, I would definitely grab some friends and plan the short road trip to this heavenly wilderness hot spot! Until next year, Big Bear! Cheers!