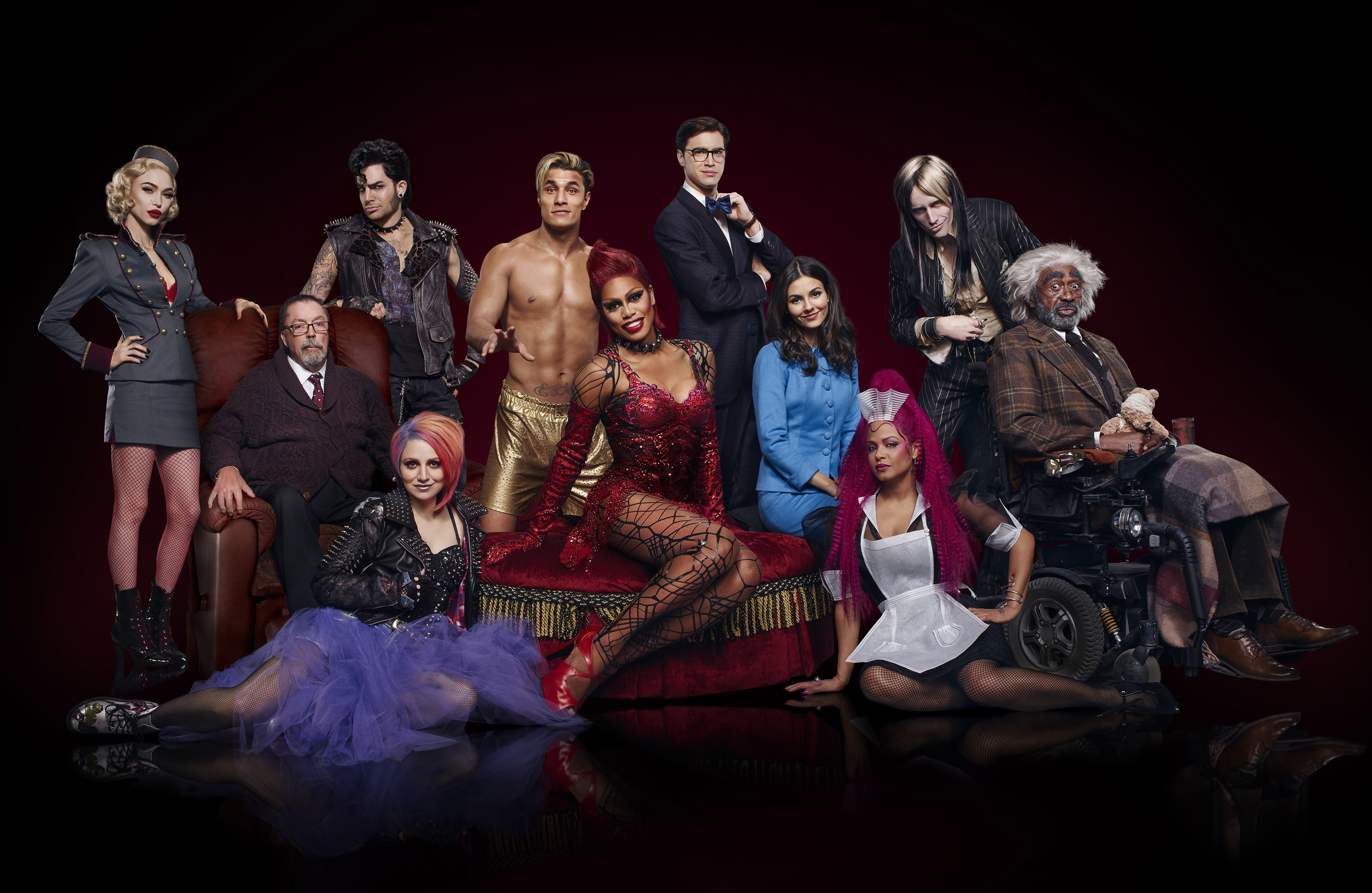 Rocky Horror and friends are traveling from 1975 to 2016, and they're bringing their iconic music with them. The cult classic The Rocky Horror Picture Show will be adapted into a two-hour TV event on October 20, directed by Kenny Ortega (Hocus Pocus, High School Musical). Following the show, The Rocky Horror Picture Show: Let's Do the Time Warp Again soundtrack will release for digital download and streaming.
The soundtrack brings together multitalented singers with backgrounds from Broadway to pop music to breathe new life into the film's iconic songs. Laverne Cox's casting as Dr. Frank-N-Furter marks the Emmy Award-nominated actress' first-ever singing role. Former Nickelodeon actress Victoria Justice, Disney alum Ryan McCartan, American Idol glam-rocker Adam Lambert, and more showcase their pipes on the soundtrack, which brings a vibrant new energy but maintains deep connections to the original film. The soundtrack includes one bonus song not included in the film, "Once in Awhile," sung by McCartan.
Producer Cisco Adler enlisted his studio band to record the soundtrack. The result is a rock 'n' roll sound infused with modern punch and a pop sensibility. The goal for the soundtrack was to "be true to the original, while adding a contemporary touch," said Lou Adler, the soundtrack's executive producer. Cisco added, "I also was very careful to take into consideration this is a beloved cult classic and I have to do it justice and then some. I grew up with this music. It's literally in my blood."
This reimagining of the cult film shows that the original's themes are more relevant than ever in the 21st century. As Dr. Frank-N-Furter said over 40 years ago, "don't dream it, be it."
THE ROCKY HORROR PICTURE SHOW soundtrack track listing:
1. "Science Fiction/Double Feature," Usherette [Ivy Levan]
2. "Dammit Janet," Brad and Janet [Ryan McCartan, Victoria Justice]
3. "Over At the Frankenstein Place," Brad, Janet and Riff-Raff [Ryan McCartan, Victoria Justice, Reeve Carney]
4. "Time Warp," Riff-Raff, Magenta, Columbia, Narrator/Criminologist [Reeve Carney, Christina Milian, Annaleigh Ashford, Tim Curry]
5. "Sweet Transvestite," Frank-N-Furter and Brad [Laverne Cox, Ryan McCartan]
6. "The Sword Of Damocles," Rocky [Staz Nair]
7. "I Can Make You A Man," Frank-N-Furter [Laverne Cox]
8. "Hot Patootie," Eddie [Adam Lambert]
9. "I Can Make You A Man (Reprise)," Frank-N-Furter [Laverne Cox]
10. "Touch A Touch A Touch A Touch Me," Janet [Victoria Justice]
11. "Once In Awhile," Brad [Ryan McCartan] (bonus track)
12. "Eddie," Dr. Scott [Ben Vereen]
13. "Planet Schmanet Janet," Frank-N-Furter [Laverne Cox]
14. "Planet Hot Dog," Frank-N-Furter [Laverne Cox]
15. "Rose Tint My World," Columbia, Rocky, Brad, Janet [Annaleigh Ashford, Staz Nair, Ryan McCartan, Victoria Justice]
16. "Don't Dream It," Frank N Furter [Laverne Cox]
17. "Wild And Untamed Thing," Frank N Furter [Laverne Cox]
18. "I'm Going Home," Frank N Furter [Laverne Cox]
19. "Super Heroes," Brad, Janet, Narrator/Criminologist [Ryan McCartan, Victoria Justice, Tim Curry]
20. "Science Fiction/Double Feature (Reprise)," [Adam Lambert, Ivy Levan]