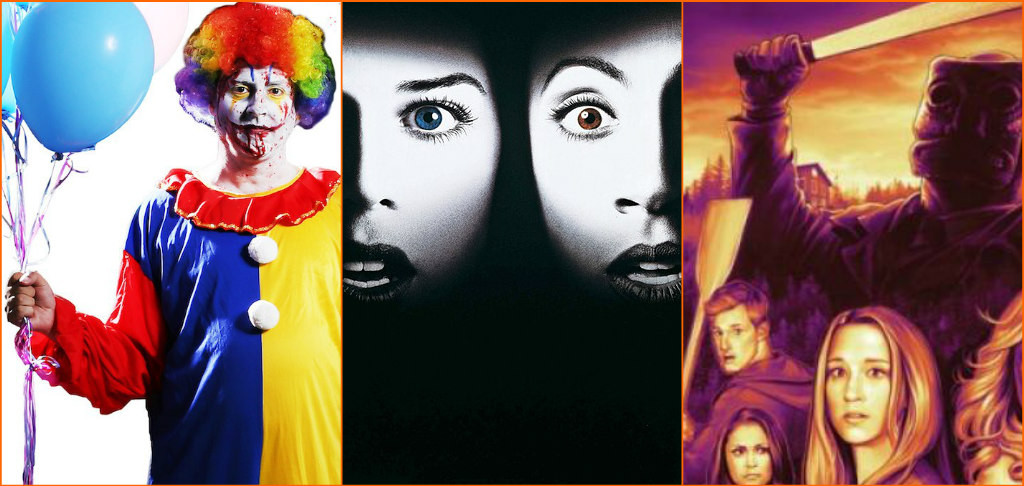 It's countdown to Halloween, which means over-dosing on Kit Kats and cozying up on the couch for scary movie marathons. There's always your go-to scary movies, which you can catch on Netflix this month:
SLEEPY HOLLOW
HUSH
THE AMITYVILLE HORROR
THE LAZARUS EFFECT
SCREAM 2…
But for those who want to check out some newer indie horror films, we have the rundown with our top 3 slasher recommendations:
KILLER PARTY
If it's blood you want, "Killer Party," directed by Alex Drummond is a highly entertaining apocalyptic horror-comedy created by a team of first-time filmmakers inspired by their own life circumstances (minus the murder). Add in some butcher knives, golf clubs and a rage disease and you have a "Killer Party." Shot over an impressive 8 days, the story follows a group of Hollywood friends who get trapped at a baby shower, when a mysterious outbreak turns the infected into homicidal maniacs. Starring Evan Gamble (American Sniper, The Vampire Diaries) and Stephanie Beran (Battle Force, Fatal Call), we immediately meet Nick and Mary. He's an unemployed waiter/screenwriter. She's a waitress and has appeared in four national commercials. During their baby shower, a neighbor frantically knocks on the door. He's hurt, soaked in blood and carrying a big knife. He just stabbed his wife in self-defense after she inexplicably attacked him. And then the trouble really begins… Roads are closed. An infection is spreading across the city and turning people into homicidal maniacs.
Available on VOD platforms by Epic Pictures Group (Turbo Kid, Tales of Halloween) in the US and by Grimm Entertainment in the UK as LA Contagion.
http://www.killerpartymovie.com
THE FINAL GIRLS
High School senior Max (Taissa Farmiga) lost her mother (Malin Akerman) one year ago in a car accident. An aspiring actress, Max's mom was best known for her career as a scream queen in such 80's cult horror classics as "Chopping Mall" and the "Camp Bloodbath" series. On the anniversary of her death, Max's geeky friend Duncan (Thomas Middleditch) asks if she will attend a screening of her mom's films at the local movie theater. For moral support, her best friend Gertie (Alia Shawkat) and her crush Chris (Alexander Ludwig) tag along. Much to Max's chagrin, Chris's ex-girlfriend Vicki (Nina Dobrev) shows up too. And so the show begins… one kid lights a spliff during the opening credits and the theater goes up in flames. Searching for an escape route, Max, Chris, Vicki, Duncan and Gertie fall through the cracks of movie reel time. Next thing they know, they've been transported into the campy horror flick they had just sat down to watch.
Read LATF's movie review here.
COOTIES
And the campy horror continues with COOTIES. In the small town of Fort Chicken, these nuggets find their way onto a hapless preteen's lunch tray on Clint's (Elijah Wood) first day of teaching. Clint has moved back to his hometown to assume a part-time teaching gig while he works on his first book, a sea bound horror novel titled 'I Keel You All.' He totes the manuscript with him everywhere, clinging to his writing dreams, despite his lack of success. His childhood sweetheart, Lucy (Alison Pill) and her misguided jock boyfriend, Wade (Rainn Wilson) also work at the school and make for a hilariously bizarre love triangle. In Clint's very first class, the outbreak begins when a zombie takes a bite out of the class bully, Patriot (Cooper Roth). From there, the teachers assemble in the lounge and watch as the chaos breaks out in the recess yard below them in what Lucy later calls 'the worst Monday ever.' It quickly becomes a game of survival with fellow teachers Doug (Leigh Whannel), Tracy (Jack McBrayer) and Rebekkah (Nasim Pedrad) in supporting roles. This ragtag team fight for their lives through hordes of their own flesh-eating students at every turn, and the directors are fearless in their pursuit of laughter and shock.
Read LATF's movie review here.