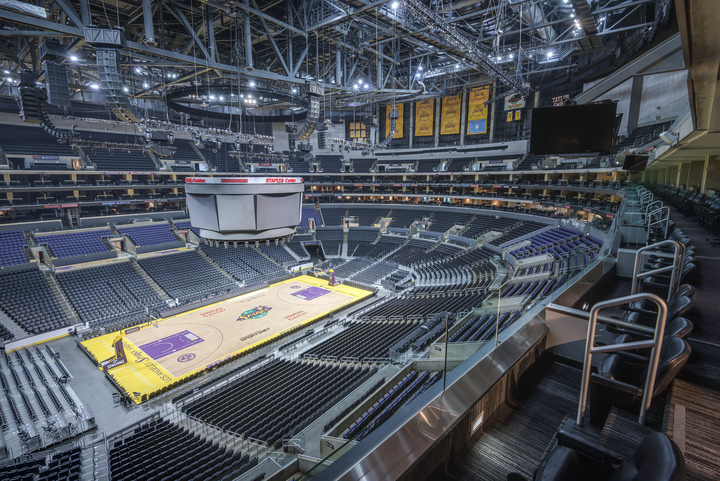 STAPLES Center and President Lee Zeidman have officially unveiled the completion of the upgrades the arena has completed over the past four months.
As part of the $5 million dollar summer upgrade project, STAPLES Center completed full upgrades to all 170 private suites, 16 event suites and the premium level concession stands starting in May and recently completed on September 1st. AEG, the arena's owner and operator, invested just over $7 million in 2014-15 to upgrade its lighting system to energy efficient LED lighting, added a new retractable seating system in the arena and transformed the TEAM LA Store to a larger retail space last December. The additional $8 million investment included the DraftKings Fantasy Sports Bar & Lounge and upgrades to 14 of the concession stands on the main and upper concourses, including the new Bud Cooler that were completed throughout the 2015-16 season.
"We are incredibly excited about all the concession upgrades that we completed during the season last year, but we are even more thrilled with the complete upgrades and redesign of all of our Private Suites and our Event Suites," said Zeidman. "Every year it is our goal to keep STAPLES Center looking fresh, to have industry leading guest amenities and provide state of the art technology to our guests, tenants, promoters and special events."
STAPLES Center and AEG tasked MEIS Architects to create and design the new looks for all 170 Private Suites and the 16 Event Suites. All 170 suites in the venue will be updated to reflect the state-of-the-art in-suite amenity. nt.
With the Event Suites, MEIS Architects and STAPLES Center decided to uniquely celebrate Los Angeles with different themes and significant moments in sports and entertainment at STAPLES Center, as well as distinctive neighborhoods that are part of the city. The parts of Los Angeles that are highlighted include Downtown LA, Venice,
The first installation of custom art was done by Yair Sarmiento, Mural Artist, Heart of Los Angeles (HOLA) inside the Downtown Los Angeles themed event suites.
Additionally, there are custom artist pieces in the Venice-themed rooms by local artists Adrian Sandstrom and Christian Morin. Sandstrom created a custom ceramic tile piece named Aquosity with unique colors and textures that are combined through natural movement. Morin created a one of kind painting on three skateboard decks that he calls Silver Flowers. Music is also highlighted with custom show posters throughout one of the Event Suites primarily created by local Los Angeles artist Kii Arens, as well as a couple designed by Hatch Show Print in Nashville, TN.