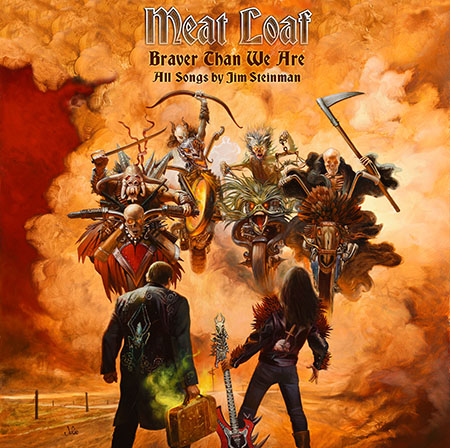 If you watch TV, read magazines, listen to the radio or browse the web, chances are you'll be seeing and hearing Meat Loaf in the coming weeks. To celebrate the release of his highly-anticipated new album "Braver Than We Are" (available Sept. 9 in Europe and Sept. 16 in the US and the rest of the world), the Grammy Award-winning musician and acclaimed film, TV and stage actor will make appearances on numerous TV shows, including NBC's Today and AOL Build on Sept. 12, Fox & Friends on Sept. 13, ABC's The Chew Sept. 14, Oprah's Where Are They Now, Access Hollywood, Entertainment Tonight, The Big Interview with Dan Rather, PBS' Metro Focus, CNBC's Closing Bell and many more, as well as multiple shows on SiriusXM and The Alan Colmes Show on Fox News Radio. Additionally, interviews with Meat Loaf will appear in upcoming issues of People Magazine, Entertainment Weekly, Closer Weekly and Parade Magazine, as well as on Billboard and Huffington Post.
"People won't believe us but we're more excited about this album than we were for "Bat 1" and I'm thrilled to be finally sharing it with the world," Meat Loaf stated.
In a career spanning over four decades, "Braver Than We Are" is Meat Loaf's fourth album featuring songs exclusively written by Jim Steinman. With a painting featuring Meat and Jim together for the first time gracing the cover, the album hearkens back to the hugely successful Meat-Steinman collaborations "Bat Out of Hell" (1977) and "Bat Out of Hell II: Back Into Hell" (1993), which together sold over 67 million units. "Braver Than We Are" is a testament to Meat's artistic rapport with Steinman. The songwriter's strikingly vivid style matched with Meat's incomparable talents not to mention his wit and grandiosity, results in the two successfully connecting with audiences on an epic scale. 429 Records will release "Braver Than We Are" digitally, on CD and vinyl in Europe on Sept. 9 and the U.S. and rest of the world on Sept. 16.