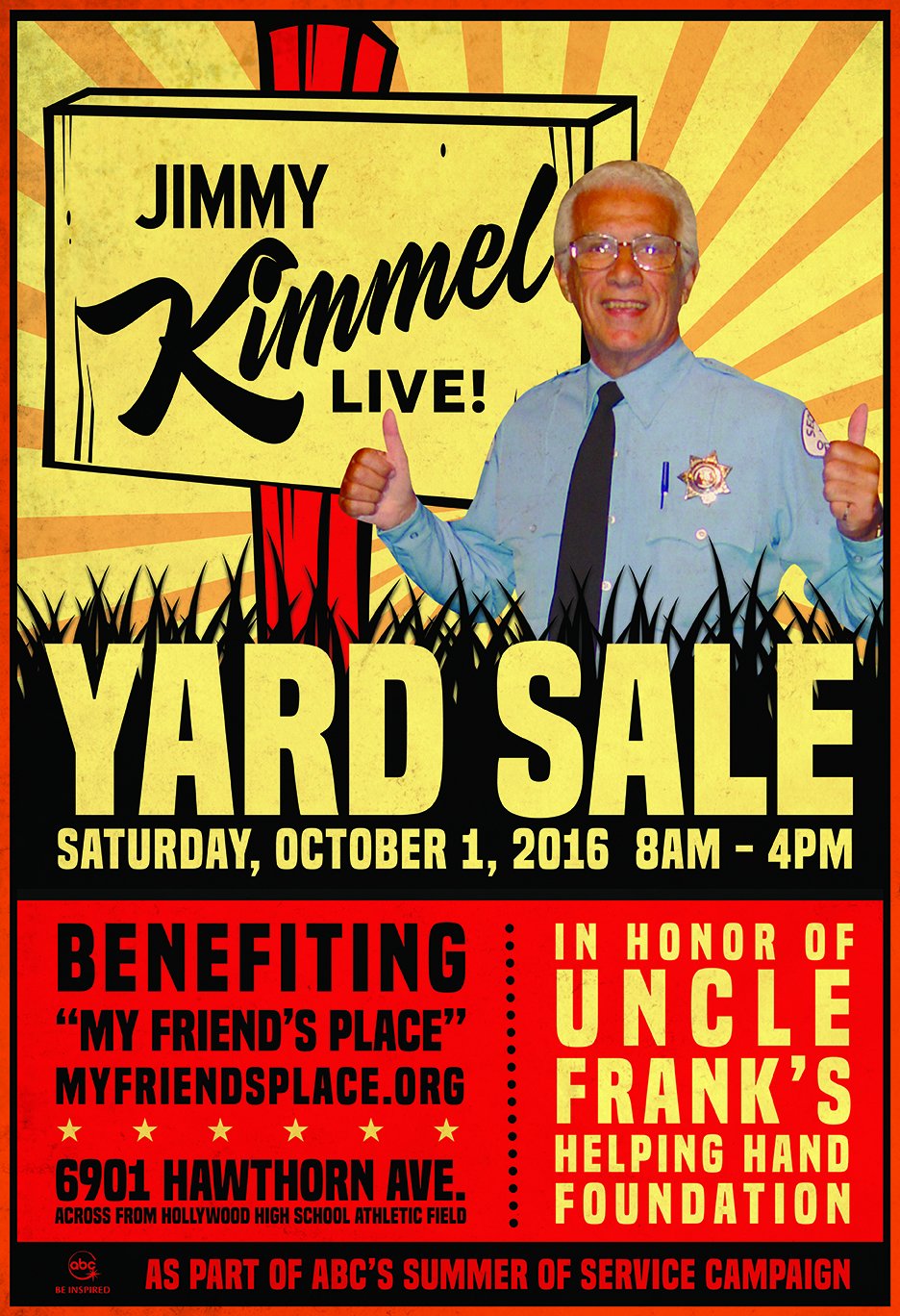 On Saturday, October 1, Jimmy Kimmel Live will be holding its first ever Yard Sale in the studio's back parking lot (6901 Hawthorne Avenue) as a part of ABC's Summer of Service campaign. All proceeds from the event will go directly to My Friend's Place, a nonprofit resource center in Hollywood aiding homeless youth, in honor of Jimmy's late and beloved Uncle Frank's Helping Hand Foundation.
This is a unique opportunity for Jimmy Kimmel Live fans and neighbors to own a piece of the show's history. Items for sale will include various set props, wardrobe and memorabilia previously used on Jimmy Kimmel Live over the show's 14 years on air. For those who are unable to attend the sale in person, there will be an additional opportunity to purchase some of the most noteworthy items from past shows via eBay for Charity starting September 27 at 9pm EDT on www.ebay.com/jimmykimmellive.
The Yard Sale will also serve as the conclusion to ABC's Summer of Service campaign. From June through September, ABC has been inspiring young people to make an impact in their local communities by applying for $500 Summer of Service grants. All summer long, changemakers have been pitching ideas to make their communities healthier, greener and stronger. To learn how you can make a difference, visit YSA.org/BeInspired.
Doors open at 8am and close at 4pm.
For more info go to jimmykimmellive.com or Facebook.com/jimmykimmellive
For more information on My Friend's Place, visit www.myfriendsplace.org
Watch Jimmy announce the yard sale: https://www.youtube.com/watch?v=_T32l9BSTY4