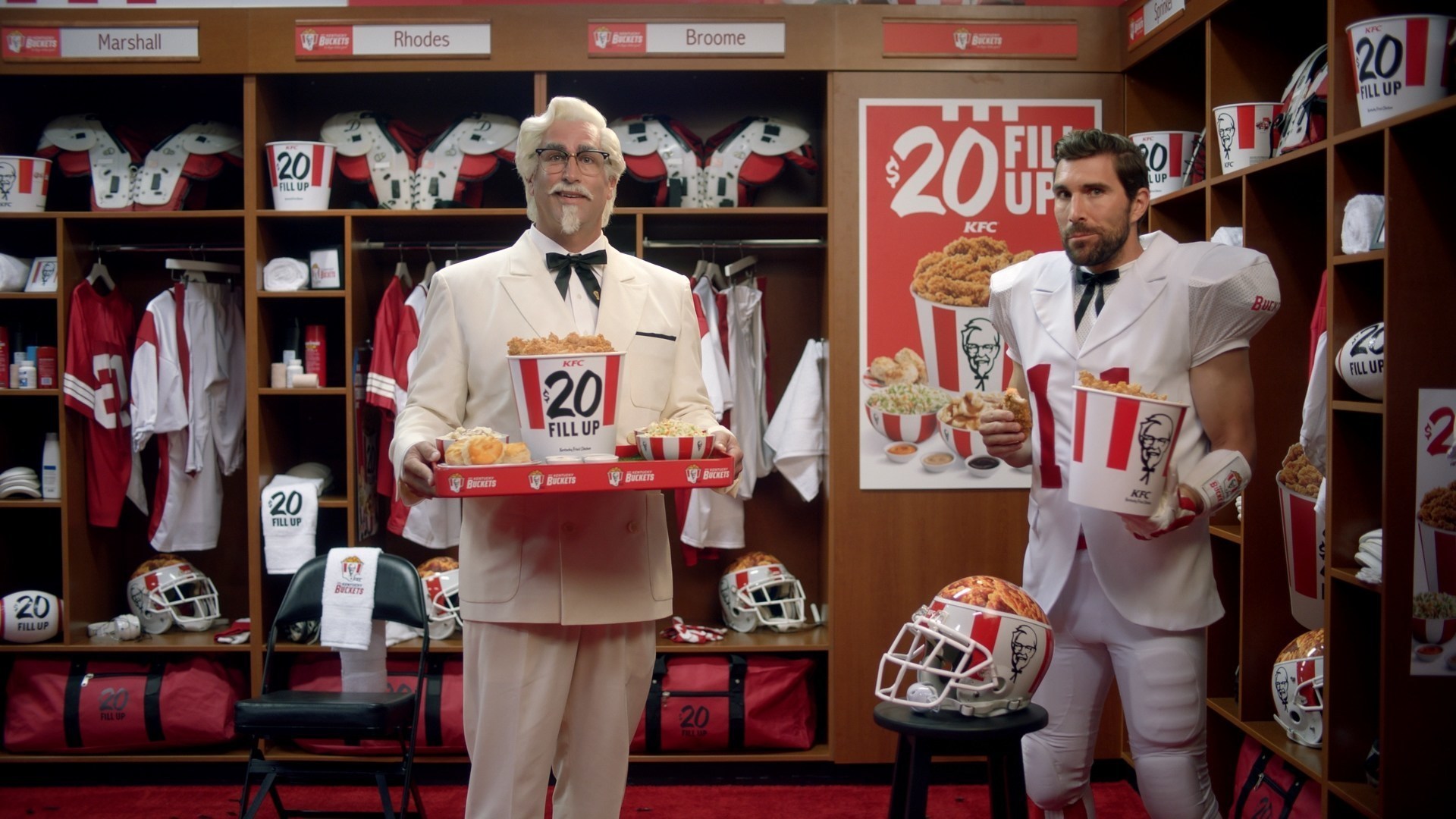 KFC has been on a celebrity spokesperson train… with actors disguised as Colonel Sanders.
This morning Kentucky Fried Chicken's Colonel Harland Sanders announced the formation of the first professional football team fueled by fried chicken, the Kentucky Buckets. Actor, comedian and writer Rob Riggle has been named Coach Colonel and will star in advertisements as the coach of the very real Kentucky Buckets.
"As owner, general manager, head coach, defensive coordinator, offensive coordinator, marketing director, groundskeeper and scouting director of America's newest professional football team, the Kentucky Buckets, I've got one goal in mind," said Coach Colonel Rob Riggle. "To get buckets of delicious chicken across the goal line and in front of millions of fans on football Sundays. And Thursdays. And Mondays."
Taking the field in red-and-white striped jerseys, the Colonel's famous string ties and white helmets graced by delicious fried chicken, the Buckets are embodiment of America's finest gameday fare. When Colonel Coach Riggle dons his headset on the sidelines, he will be joined by his squad, Buckets cheerleaders and "Mr. Bucketeer" the mascot.
A retired Lt. Colonel in the United States Marine Corps Reserve, Riggle is the first actual colonel to take on the role of KFC's famous founder, Colonel Sanders. In other striking biographical similarities, Riggle hails from Louisville, KY, the home of KFC since 1966.
Fans can visit KentuckyBuckets.tumblr.com to learn more about the Kentucky Buckets and their training regimen, which includes hand breading and freshly preparing fried chicken, just as the cooks at KFC restaurants do every day.