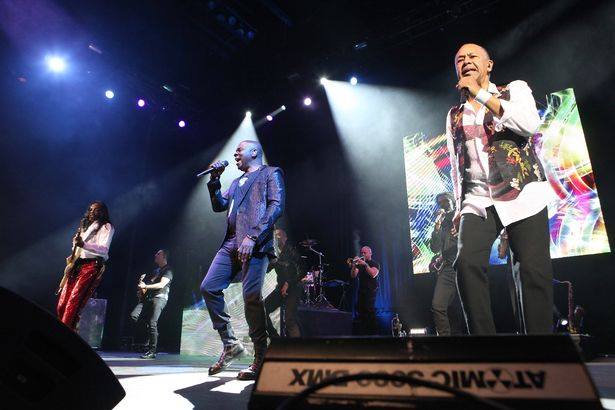 If you want to watch a handful of music legends take the stage, tune in for The Recording Academy®'s "GRAMMY Salute To Music Legends™," a special all-star concert offering a primetime spotlight for The Academy's 2016 Special Merit Awards recipients. The awards ceremony and tribute concert will feature rare performances by honorees and never-before-seen renditions by those they've inspired.
The celebration, recorded at Dolby Theatre in Los Angeles, will air Friday, Oct. 14 from 9–11:30 p.m. on PBS. (Check local listings.) Previously held during GRAMMY® Week, this is the first time The Recording Academy has celebrated the Special Merit Awards with a stand-alone event and musical tribute.
This year's Lifetime Achievement Award honorees are Ruth Brown, Celia Cruz, Earth, Wind & Fire, Herbie Hancock, Jefferson Airplane, Linda Ronstadt, and Run DMC. John Cage, Fred Foster and Chris Strachwitz are Trustees Award honorees; and EMT and Dr. Harvey Fletcher are Technical GRAMMY Award recipients. Also being honored is Phillip Riggs, this year's recipient of the Music Educator Award™.
Along with never-before-seen video packages celebrating each of the honorees' contributions to the music industry and our cultural heritage and heartfelt testimonials from presenters, the star-studded event features performances by Patti Austin, Ry Cooder, Lila Downs, Earth, Wind & Fire, David Foster, Andy Garcia And The CineSon All Stars, Herbie Hancock, Jefferson Airplane, J'Nai Bridges, Kris Kristofferson, Lucrecia, Shelby Lynne, Magnolia Sisters, Martina McBride, Naughty By Nature, Anthony Parce, and JD Souther. Other presenters include David Crosby, Foster, Jimmy Jam, LL Cool J, Michael Tilson Thomas, and Don Was.
Among numerous highlights, psychedelic rock pioneers Jefferson Airplane take fans back in time as they play some of their most memorable hits that shaped much of the San Francisco scene in the 1960s and earned them international mainstream success. Standing in for legendary frontwoman Grace Slick (who is present to accept her award) is GRAMMY-nominated rock songstress Cathy Richardson.
Arhoolie Records founder Chris Strachwitz has made a living recording, preserving, selling, and celebrating the music he loves — music that formed the fabric of both American and international culture. Paying homage to the multifaceted and uniquely talented producer/businessman will be six-time GRAMMY-winning guitar virtuoso Ry Cooder, Chicago bluesman and GRAMMY nominee Henry Gray, and Cajun music jewels and GRAMMY nominees the Magnolia Sisters.
Paying tribute to three-time GRAMMY winner and four-time Latin GRAMMY winner Celia Cruz — internationally known as the "Queen Of Salsa" — are Latin GRAMMY nominee Lucrecia and GRAMMY and Latin GRAMMY winner Andy García, who will bring his Cuban musical group, Andy García And The CineSon All Stars, to the stage.
Six-time GRAMMY winners Earth, Wind & Fire, one of the most important and innovative musical forces influencing music and popular culture across generations, offer a roof-raising performance.
A salute to 10-time GRAMMY winner Linda Ronstadt features pop, country and Latin musical offerings from GRAMMY and four-time Latin GRAMMY winner Lila Downs and GRAMMY nominees Martina McBride and JD Souther.