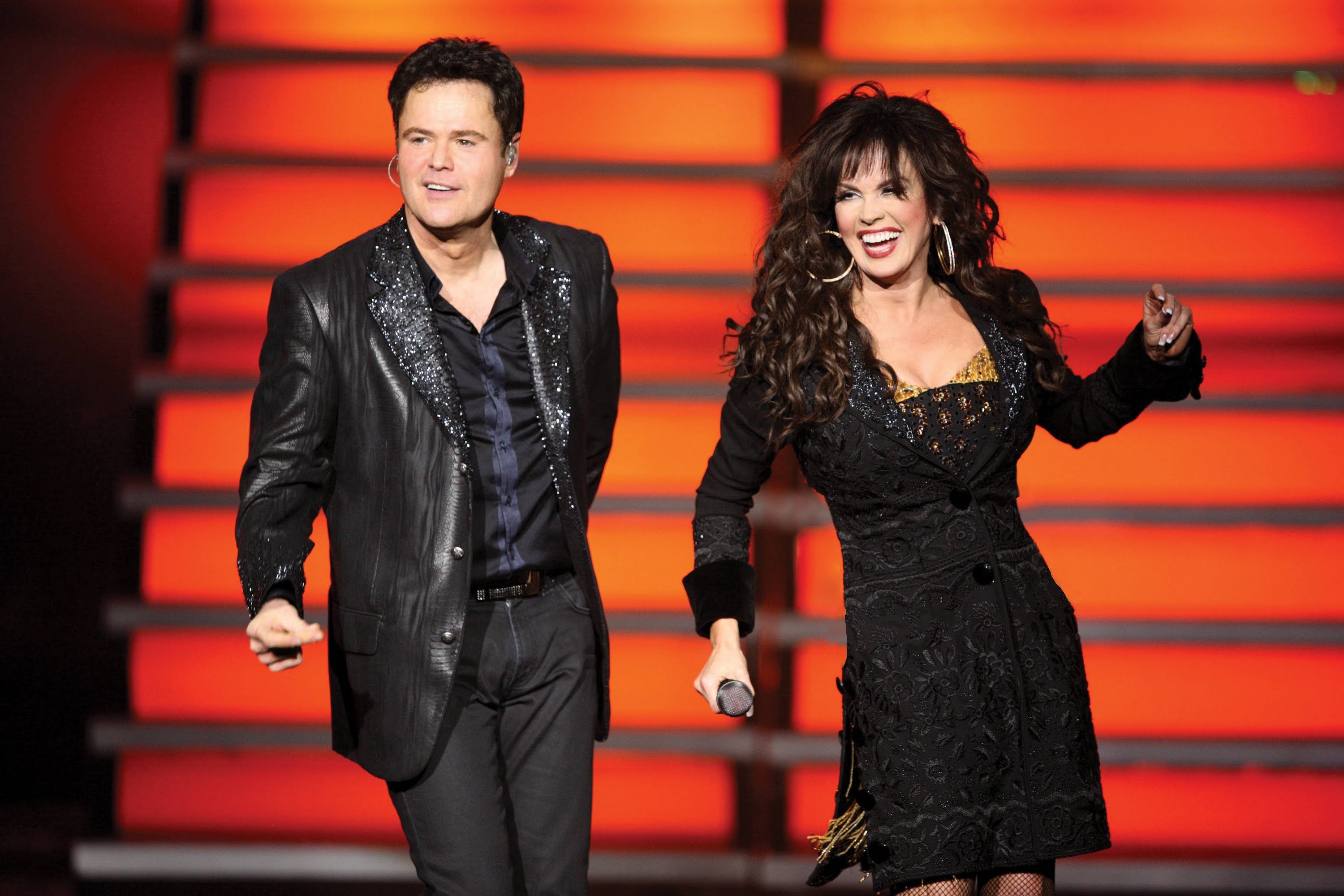 When you think about an artist performing for almost fifty years in the entertainment business, you would assume that artist to be between 70 and 80 years old, but that is not the case for the brother and sister duo of "Donny & Marie." At ages 58 and 56, respectively, these siblings have been performing since they were very young children, which explains how at ease and comfortable the two are on stage. You talk about "Old Pros," these guys are so seasoned; it appears as if they could do their act in their sleep.
Since 2008, Donny & Marie have been hosting thousands of longtime fans at the Flamingo Las Vegas Hotel & Casino playing to rave reviews and sold-out crowds. This incredible brother and sister act are the consummate professionals and both still look great at their ages. Marie can still pull off a form-fitting sequined dress (thanks in part to Nutrisystem), and Donny still has all the moves of a man half his age. I was fortunate enough to catch their act on a recent trip to Vegas where the house was packed with mostly fifty-somethings and up. The show, scheduled to begin at 7:30 pm, kicked off at exactly that time, and 90-minutes later, as advertised, they bid their farewells.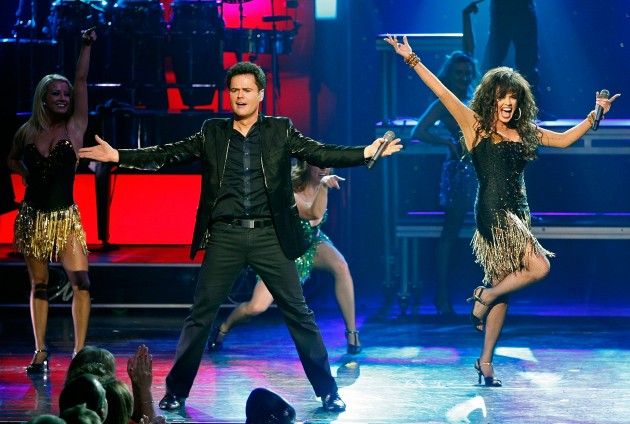 But during that sensational set, Donny and Marie featured many of their chart-topping hits, including: "Puppy Love" (a crowd favorite), "Paper Roses," "Morning Side Of The Mountain," "I'm Leavin' It (All) Up To You," and "Soldier Of Love." And even though the duo don't have ninety minutes worth of their own hits, they more than make up for it with popular cover tunes that they personalize to blend with their "I'm a little bit country/I'm a little bit rock 'n roll" style. Great covers like Aerosmith's "Walk This Way," Martha Reeves and The Vandellas' "Dancing In The Street," Marvin Gaye & Tammi Terrell's "It Takes Two" and Sly & The Family Stone's "I Want To Take You Higher," to name just a few. The show was equally divided to showcase both singers' solo careers, with each taking sole possession of the stage at different times.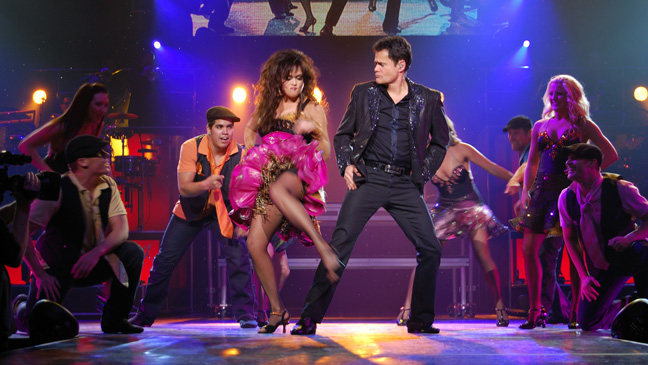 But their time on stage together is really what makes you realize how much more entertaining they are jointly than apart and reminds you of their 70s variety shows which incorporated dancing and comedy, featuring their inimitable brother and sister banter that they are so well known for. Both Donny and Marie are very quick-witted, and seem to have an abundance of corny jokes, funny stories and references. And while the staging and costumes are more than suitable for this type of Vegas production, what stands out more is the duo's singing and performance skills. Although there was a little "enhancement" in regards to the background vocals (there were background vocals on just about every song, but no background vocalists on stage), Donny and Marie's lead vocals were refreshingly quite live, and spot on. I was particularly impressed with Marie's beautiful rendition of the Andrew Lloyd Webber classic, "Pier Jesu," which proved to anyone doubting her singing ability that she is much more than just a country/pop singer, but equally adept in the classical genre.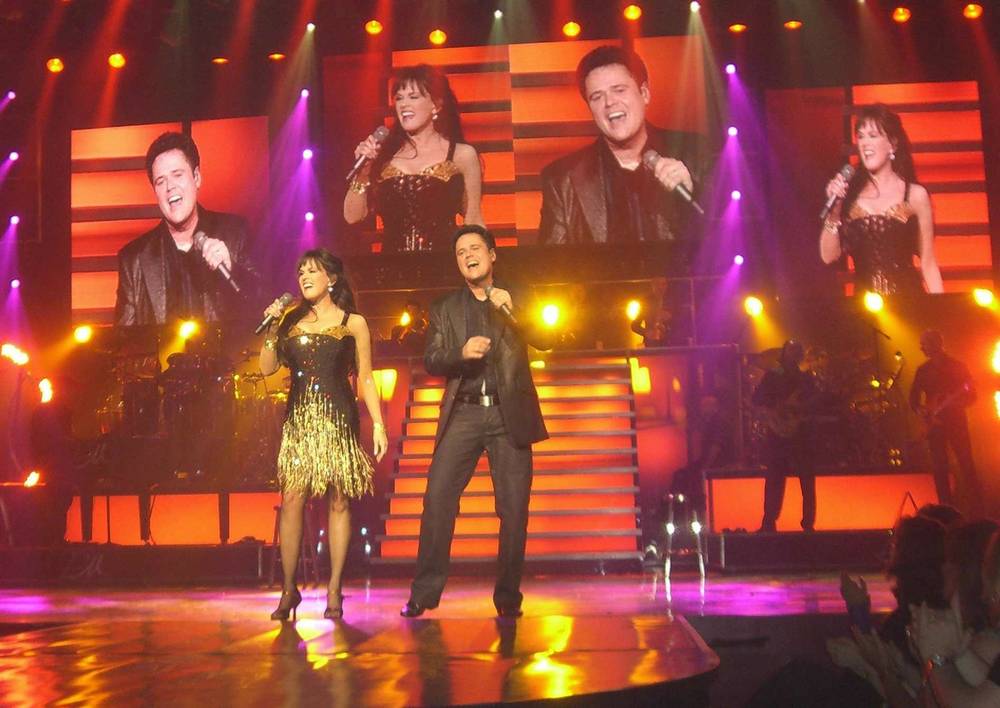 Their nine-piece band was top-notch and clicking on all cylinders, as they and the assortment of dancers supplied all the support needed for these talented two to give their audience all they came for and more. And if you happen to be down front, you might just get a high-five from Donny as he and Marie make it a point to interact with the audience as much as possible. It was also a nice touch to see the many facets of their careers projected on the screens above the stage including footage of the duo with everyone from Bob Hope to Michael Jackson, and Donny's debut on "The Andy Williams Show" in 1963, one day after his sixth birthday. Ah, the good ol' days. And in a day and age when the music business is trying to put classic acts like Donny and Marie out to pasture, it's good to see that these "Old Pros" still have a lot left in the proverbial tank.
For ticket information visit:
https://www.caesars.com/flamingo-las-vegas/shows/donny-and-marie