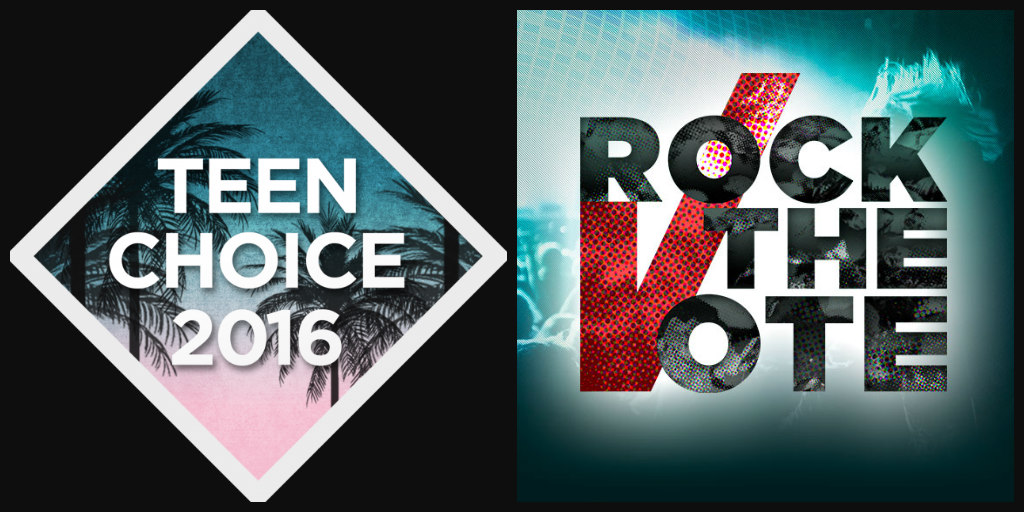 As the presidential campaign takes center stage, TEEN CHOICE 2016™ and Rock the Vote have partnered to poll teens about their 'Choice President.' This partnership gives teens the power to make their voices heard by voting for whom they think should be the next United States President. The results of the youth poll will be revealed during the LIVE broadcast of TEEN CHOICE 2016, airing this Sunday, July 31 (8:00-10:00 PM ET live/PT tape-delayed) on FOX.
Voting for 'Choice President' is now officially open via vote.teenchoice.com, the FOX NOW app and on Twitter using #ChoicePresident @HillaryClinton or #ChoicePresident @realDonaldTrump. Starting today through Sunday, July 31 at 6:00 PM PT, teens can vote once each day, per platform user ID, for their TEEN CHOICE 2016 'Choice President.' Once teens cast their vote, they will have the opportunity to register to vote in November through Rock the Vote's online voter registration tool or – if they are not yet of age – pledge to Rock the Vote once they turn 18.
So far this year, Rock the Vote has registered more than 400K people with its online voter registration tool. Now, the organization is looking to register an additional two million young voters before Election Day. As the largest and most diverse generation in American history, millennials have the strength and passion to come together and help shape the nation's future this November.
Hosted by WWE® Superstar John Cena (AMERICAN GRIT) and Victoria Justice (star of FOX's upcoming THE ROCKY HORROR PICTURE SHOW: Let's Do the Time Warp Again), TEEN CHOICE 2016 will honor the year's iconic stars from the best films, most-loved TV shows, fiercest music and the top moments in fashion, digital and comedy with coveted TEEN CHOICE Surfboard awards. Five-time NBA champion Kobe Bryant will present the Decade Award to global superstar Justin Timberlake. Four-time TEEN CHOICE 2016 nominee Charlie Puth, Jason Derulo, Flo Rida, NE-YO and EMPIRE's Serayah will perform. Jessica Alba, Jennifer Garner, Lea Michele, Sarah Hyland, Chloë Grace Moretz, Chris Evans, Daisy Ridley, Shay Mitchell and Ashley Benson are among the celebrities scheduled to appear.
For more information visit: vote.teenchoice.com or https://www.rockthevote.com/