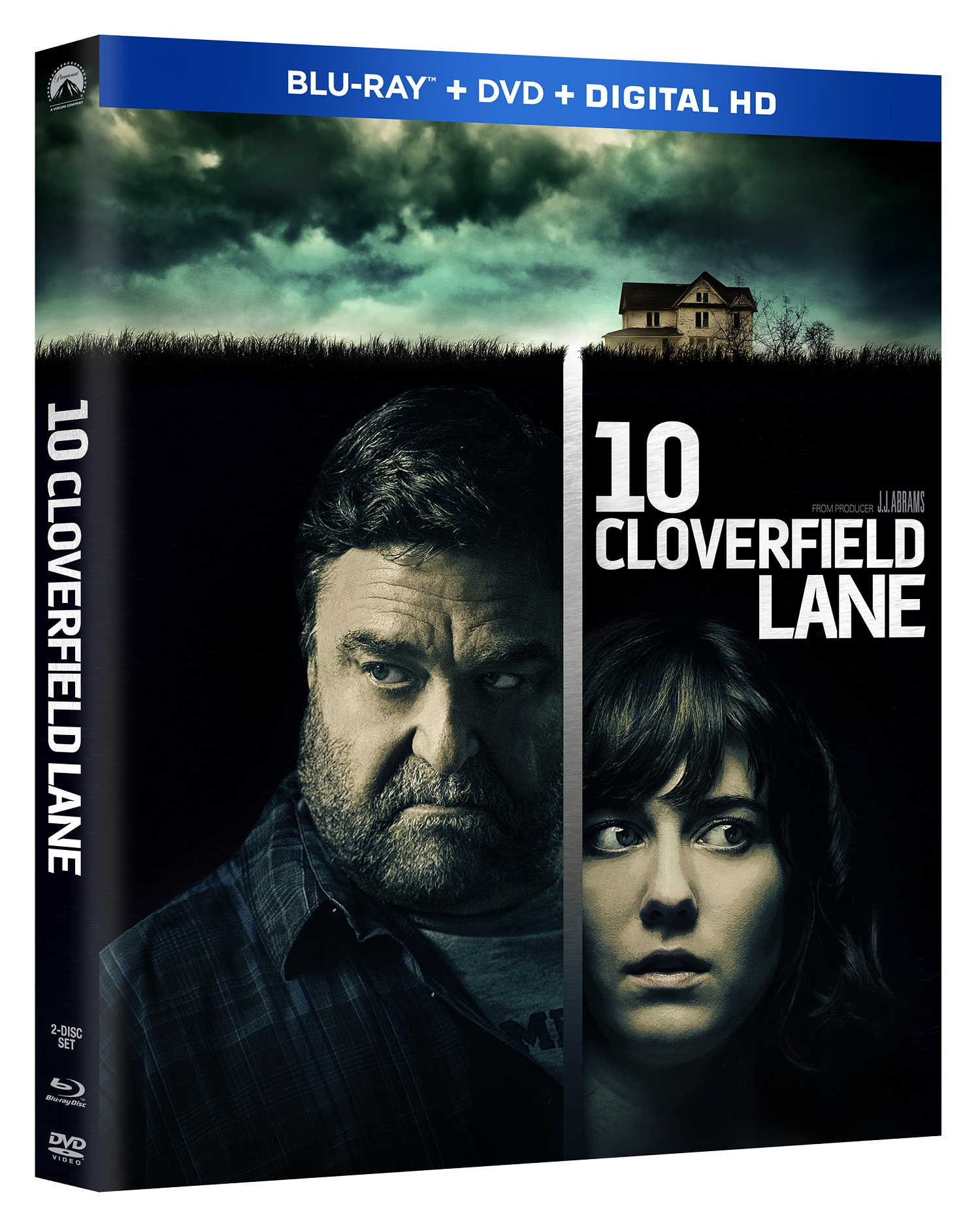 Now you can bring home 10 CLOVERFIELD LANE on Blu-ray Combo Pack, DVD. From acclaimed producer J.J. Abrams and up-and-coming director Dan Trachtenberg, LATF called 10 CLOVERFIELD "delightfully shocking!" Read our movie review HERE. See below for contest details.
After a catastrophic car crash, a young woman (Mary Elizabeth Winstead, Scott Pilgrim vs. The World) wakes up in a survivalist's (John Goodman, Argo) underground bunker. He claims to have saved her from an apocalyptic attack that has left the outside world uninhabitable. His theories are supported by a mysterious stranger who is in the bunker with them (John Gallagher, Jr., "The Newsroom"), but as his increasingly suspicious actions lead her to question his motives, she'll have to escape in order to discover the truth.
10 CLOVERFIELD LANE looks phenomenal on Blu-ray. The Combo Pack includes Digital HD, commentary with director Dan Trachtenberg and producer J.J. Abrams, and over 30 minutes of special features. Take an extensive look behind-the-scenes with Abrams and the cast as they revisit the legacy of 2008's CLOVERFIELD, and discuss how 10 CLOVERFIELD LANE went from script to production. Continue with a tour of the ominous bunker, see how the costume designer was challenged to create a homemade Hazmat suit, follow the production team and sound designers as they work on the movie's epic finale, and hear the unique scores composed for each character. Plus, for a limited time only, get a bonus Digital HD copy of the original CLOVERFIELD with the Blu-ray Combo Pack.
The 10 CLOVERFIELD LANE Blu-ray is presented in 1080p high definition with English Dolby Atmos, French 5.1 Dolby Digital, Spanish 5.1 Dolby Digital, Portuguese 5.1 Dolby Digital and English Audio Description and English, English SDH, French, Spanish and Portuguese subtitles. The DVD in the combo pack is presented in widescreen enhanced for 16:9 TVs with English 5.1 Dolby Digital, French 5.1 Dolby Digital, Spanish 5.1 Dolby Digital and English Audio Description and English, French, Spanish and Portuguese subtitles. The combo pack includes access to a Digital HD copy of the film as well as the following:
Feature film in high definition
Commentary by director Dan Trachtenberg and producer J.J. Abrams
Over 30 minutes of Behind-The-Scenes Footage
DVD
Feature film in standard definition
The Blu-ray Combo Pack available for purchase includes a Digital HD version of the film that can be accessed through UltraViolet™, a way to collect, access and enjoy movies. With UltraViolet, consumers can add movies to their digital collection in the cloud, and then stream or download them—reliably and securely—to a variety of devices.
ENTER THE CONTEST
TWO winners will be selected to win (1) Blu-ray/DVD copy of '10 Cloverfield Lane'.
CONTEST QUESTION:
10 Cloverfield Lane originated from a spec script by Josh Campbell and Matt Stuecken. What was the title?
Email your answer, full name, DOB, mailing address and phone number to CONTEST(at)LATFUSA.COM
——————————————————————————
OFFICIAL RULES
NO PURCHASE NECESSARY.
1. How To Enter: Beginning after 12 am PST on July 7, 2016 visit www.LATFUSA.com and follow the entry directions. Each entry must be filled in completely with correct and accurate information. Qualified entrants may enter as often as they wish. All materials submitted may be obtained as part of LATFUSA ("Sponsor") giveaway records.
2. Winner Selection / Random Drawing: Two winners will be selected in a random drawing to be held on or about July 18, 2016 from among all eligible entries that are complete. The random drawing will be conducted by representatives from Sponsor whose decisions are final and binding in all respects relating to this Giveaway. Odds of winning a prize depend upon the total number of eligible entries received.
3. Prizes: (1) Blu-ray copy of 10 Cloverfield Lane
4. Giveaway is open only to legal residents of the fifty (50) United States and the District of Columbia, 13 years or older. Employees of Sponsor, their affiliates, subsidiaries, advertising or promotion agencies, and their immediate family members and/or those living in the same household of each are not eligible. Void in Puerto Rico, Canada, and where prohibited or restricted by law. No substitution or transfer of Prize by Winner is permitted. All federal, state and local taxes and any expenses relating to the acceptance and use of a Prize are the sole responsibility of each Winner. All federal, state and local laws apply.
5. Potential Winners must submit an Affidavit of Eligibility / Release of Liability / Prize Acceptance Form within seven (7) business days of attempted notification. If any Prize or affidavit or release is returned to Sponsor as undeliverable or if Sponsor does not receive a response from any potential Winner within seven (7) business days of attempted notification, such Winner may be disqualified and such Prize will be awarded to an alternate Winner. Non-compliance shall result in disqualification and award of Prize to an alternate Winner. By accepting Prize, Winners consent that Sponsor may use the Winners' names, photographs, or other likenesses, the Winners' hometown and biographical information, statements concerning the contest entry, or Sponsors' products without compensation for purposes of advertising, promotion, and merchandising, and grant all rights to edit or modify and to publish and copyright it. Winners assume all liability for any injury or damage caused, or claimed to be caused, by participating in this Giveaway. By participating in this Giveaway, entrants agree to abide by and be bound by these Official Rules, and understand that the Giveaway results are final in all respects. By participating in this Giveaway, entrants agree to hold Sponsor, its respective directors, officers, employees, and assigns, harmless against any and all claims and liability arising out of Prize. Entrant is responsible for all online charges incurred by Internet Service Provider.
6. Neither Sponsor, any telephone network, nor service providers are responsible for incorrect or inaccurate transcription of entry information, or for any human error, technical malfunctions, lost/delayed data transmission, omission, interruption, deletion, defect, line failures or any telephone network, computer equipment, software, inability to access any Web site or on-line service, or any other error or malfunction, or late, lost, illegible, incomplete damaged, postage-due, mutilated or misdirected entries or entries not properly forwarded to Sponsor.
NOTE: Internet entry must be made by the entrant, only at the authorized website address of www.latfusa.com. Entries made by any other individual or entity and/or originating at any other Internet website or e-mail address, including but not limited to commercial contest subscription notification and/or entering service sites, will be declared invalid and as such ruled ineligible for this contest.
7. Any information entrants provide to the Sponsor will be used to communicate with entrant in relation to this Giveaway. Sponsor may also share this information with third parties who are participating in this program. Sponsor or third parties may contact entrants at a future date about services the Sponsor believes entrants will find of interest.
8. For the names of the Winners, mail a self-addressed, stamped envelope to: LATFUSA Giveaway, LATF USA, 7551 Sunset Blvd. Suite 202, Los Angeles, CA 90046. Requests for the names of Winners must be received by no later than one year following the end of entry.
9. This Giveaway is sponsored by LATF USA 7033 Sunset Blvd. Suite 206, Los Angeles, CA 90028.
10. By entering, participants represent that they are eligible, and agree (a) to be bound by these rules and the decisions of the judges, (b) to release Sponsor, its parent, subsidiaries, affiliates, directors, officers, employees, and agents from any and all liability for any injuries, losses, or damages of any kind caused by any prize or resulting from acceptance, possession, use, or misuse of any prize.