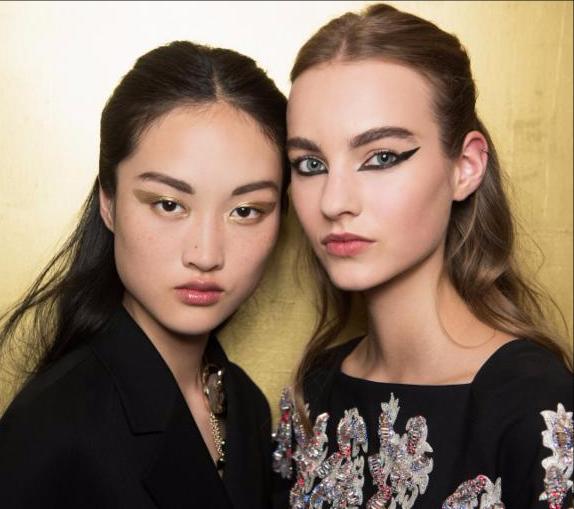 Step inside the Dior Haute Couture show in Paris on July 4th. Peter Philips, the Creative and Image Director for Dior Makeup reveals his looks with graphic eyeliner.
Philips said, "I wanted to create, for more than forty looks, a free variation on eyeliner. It was a challenge to customize the look each time in an unusual and audacious way, creating make-up that was made-to-measure, just like Haute Couture is."
EYE LOOK 1 (Black Eyeliner)
Diorshow Pro Liner Waterproof #092 Pro Black
Diorshow Art Pen Intense Professional Felt-Tip Eyeliner #095 Catwalk Black
Diorshow Maximizer 3D Triple Volume Plumping Lash Primer
Diorshow Iconic Overcurl Mascara #090 Over Black
EYE LOOK 2 (Gold Shadow)
Dior Addict Fluid Shadow #545 Phenix**
Available on Sephora.com.
"The challenge involved taking inspiration from the eye shape of about forty different models to apply black eyeliner on each of them in a unique and hyper-modern way, using the precision of the black Diorshow Pro Liner or Diorshow Art Pen, depending on the eye shape. Whether exaggerated, underlined, framed or ringed, the eyes were the dominant feature. Eyeliner was drawn on in a confirmed and sophisticated graphic style. Only the upper lashes were coated, first with Diorshow Maximizer 3D, then with Diorshow Iconic Overcurl Mascara."
In a reflection of the runway silhouettes and the touches of gold in the décor, some models wore only gold eyeliner. I envisaged these looks as punctuation, using the Dior Addict Fluid Shadow in Phenix, applied with a brush in broad gold color-blocking, to obtain a dramatic, gold, textured effect."