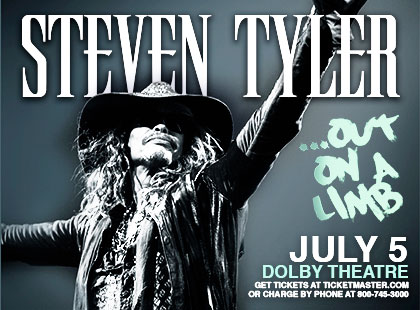 Don't miss "STEVEN TYLER…OUT ON A LIMB" Tuesday, July 5th at the Dolby Theater.
The legendary frontman to a series of intimate venues for a once-in-a-lifetime evening with rock royalty. Backed by his Nashville-based band, Loving Mary, the GRAMMY® Award-winning Tyler gets up-close-and-personal like never before as he shares his real-life heartaches, trials, and tribulations from his piano upbringing to worldwide fame and life with his band. In a time-traveling musical journey that spans his career, the industry Icon doesn't hold back as he recounts in-depth stories of his life from his musical ancestors in Calabria, Italy all the way to Route 440 and Nashville's country music.
Directed by award-winning director, Brett Ratner, the critically-acclaimed intimate concert performance "STEVEN TYLER…OUT ON A LIMB" first premiered at Lincoln Center's David Geffen Hall as a benefit for the legendary frontman's philanthropic initiative, Janie's Fund.