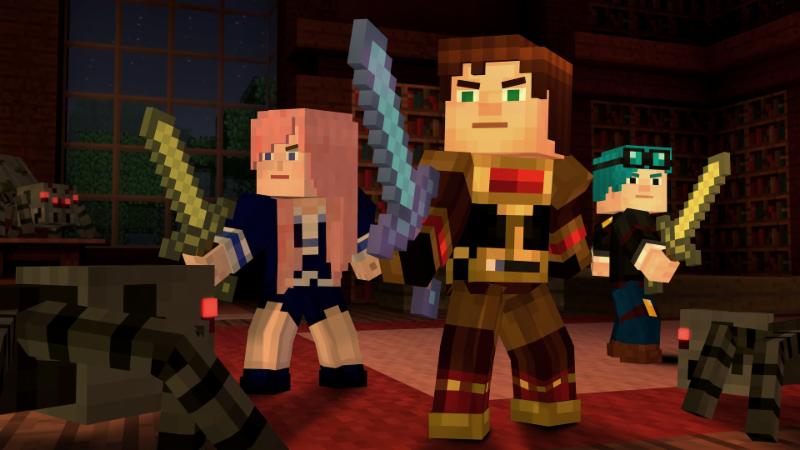 Minecraft: Story Mode – A Telltale Games Series
In gaming news:
PaperSeven announced a new story-driven adventure game, Blackwood Crossing, coming to PlayStation 4, Xbox One and PC in 2016. The team at PaperSeven developing the game is made up of former Disney Black Rock Studio developers, as well as Oliver Reid-Smith, writer of The Room.
Blackwood Crossing is a story-driven first-person adventure game exploring the relationship between Scarlett and Finn, orphaned siblings growing apart as Scarlett is coming of age and leaving childhood behind. When they cross paths with a mysterious figure, a seemingly ordinary train ride evolves into a magical story of life, love and loss.
You can watch the teaser trailer of Blackwood Crossing here: https://www.youtube.com/watch?v=rjHWP0KIVUE.
——
The next chapter of doom and bloom is here! PopCap Vancouver released the latest free* content update to Plants vs. Zombies™ Garden Warfare 2, Trouble in Zombopolis: Part One – available now for all players on Xbox One, PlayStation®4 and Origin™ on PC. Trouble in Zombopolis: Part One delivers a giant new map, two crazy new characters and over 1,200 new character customization items for players to outfit their plant and zombie heroes. Dive into Zombopolis, the biggest zombie map ever created, where Dr. Zomboss and the zombies are plotting to build a Mega Zombot that may put the fate of plant-kind in grave danger.
Click here to watch the Trouble in Zombopolis: Part One trailer.
—–
This War of Mine: The Little Ones DLC Lands today on Steam and Games Republic..
The biggest expansion to This War of Mine (over 100 awards, including IGF and SXSW Festival Award) explores the hardships of wartime survival as seen from an entirely new perspective ― that of a child. This DLC puts you in charge of a group of adults and children stuck in a besieged city, struggling with basic necessities. This War of Mine: The Little Ones focuses not only on the reality of enduring war, but also on how even in times of conflict, kids are still kids: they laugh, cry, play, and see the world differently. In addition to thinking about survival, you'll have to summon your inner child to understand how to protect the little ones.
——
Dead Island Definitive Collection is now available. The wait is over; now players can appreciate every drop of blood in full remastered goriness as it splatters across the screen.
Comprised of the original Dead Island and its undead successor Dead Island: Riptide (including all previously released DLC), Dead Island Definitive Collection brings the two legendary zombie games together for the first time, completely remastered to Xbox One, the all-in-one games and entertainment system from Microsoft, PlayStation®4 computer entertainment system and PC.
Within the collections, and making its debut in the mix of flesh-rending zombie chaos is a new gem just waiting to be discovered: a classic side-scrolling/endless runner action game, Dead Island Retro Revenge. www.deepsilver.com
—–
And last but not least… Telltale Games, and world-renowned game developer Mojang announced the release date and special community guest stars for the sixth episode in Minecraft: Story Mode – A Telltale Games Series.
The first episode in an add-on series of three new adventures, Episode 6: 'A Portal to Mystery' will be available digitally worldwide starting Tuesday June 7th on PC and Mac from the Telltale Online Store, Steam, and other digital distribution services, on the PlayStation®Network for PlayStation 4 and PlayStation 3, on the Xbox Games Store for Xbox One® and Xbox 360®, for compatible iOS devices via the App Store, and for compatible Android-based devices via Google Play and the Amazon Appstore. The episode will also be coming to the Windows Store.