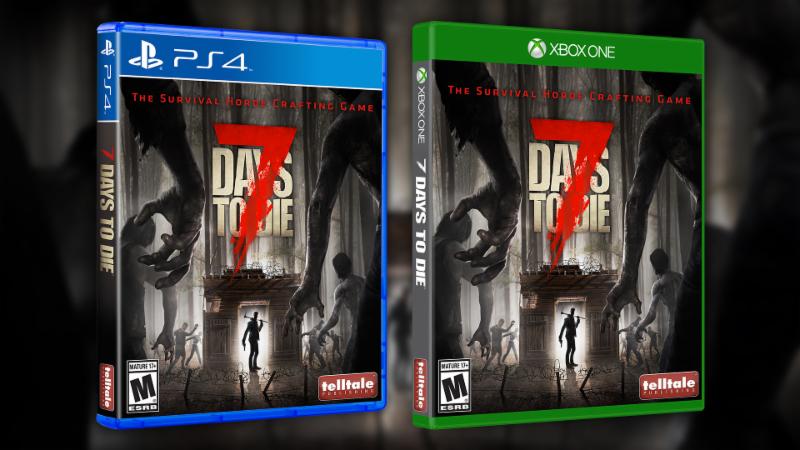 Telltale Publishing announced the release of hit survival horde crafting game 7 Days to Die on PlayStation 4 and Xbox One for the first time, as a digital, and a retail product in collaboration with the Dallas-based independent developer, The Fun Pimps.
7 Days to Die is now available in stores at retail and digitally in North America on the PlayStation®Network for PlayStation 4, the Xbox Games Store for Xbox One®. The game will also be available starting July 1st both digitally and at retail for PlayStation 4 and Xbox One in Europe.
Set in a brutally unforgiving post-apocalyptic world overrun by the undead, 7 Days to Die is an open-world survival game that is a unique combination of first person shooter, survival horror, tower defense, and role-playing games. It presents combat, crafting, looting, mining, exploration, and character growth, in a way that has seen a rapturous response from fans worldwide, generating hundreds of thousands of hours of community content on YouTube and other streaming video platforms.
"7 Days to Die has already proven to be wildly popular with over 1.5 million PC users worldwide, and we're thrilled to be expanding this unique take on the survival genre to console players everywhere," said Steve Allison, SVP Publishing at Telltale, Inc. "The Fun Pimps have created something special with this title. The way the game seamlessly combines elements from disparate yet complementary genres, it all comes together in a challenging, terrifying, and above all, enormously fun experience – one that we're incredibly excited to bring to a whole new audience on consoles."