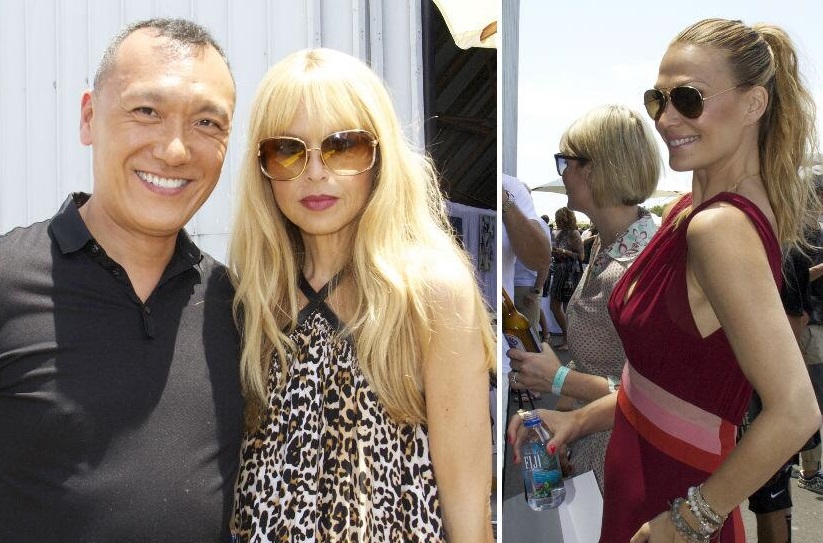 Rachel Zoe and Molly Sims, Super Saturday 2014
One of our favorite California-based clothing lines, Hale Bob is joining the celebrity filled day-long charity sale… Super Saturday LA! Mark your calendars for Saturday, June 11th at the historic Barker Hangar at the Santa Monica Airport in California from 12:00 PM to 5:00 PM.
This is one of our favorite charity events… because who doesn't love shopping for a cause?! Hale Bob joins other vendors, including Trina Turk, Wildfox, Lauren Moshi, Calleen Cordero, Jenni Kayne, Black Halo, Brighton Collectibles and more.
Hosted each year by Rachel Zoe and Rodger Berman, with Molly Sims and Scott Stuber, Super Saturday LA is welcoming "QVC Presents Super Saturday LIVE" to the West Coast for the first time ever. The broadcast brings together all the celebrity excitement and fantastic shopping finds for a worthy cause to more than 106 million homes. "QVC Presents Super Saturday LIVE" has generated more than $10.3 million since 2007.
The unique designer garage sale gives to its patrons the VIP shopping experience and the opportunity to buy great products at incredible discount. Hale Bob is our go-to for resort fashion, often worn by Sofia Vergara, Eva Longoria, Heidi Klum, Cameron Diaz, Salma Hayek, Halle Berry and Cindy Crawford. Daniel Bohbot, owner of Hale Bob said, "We are proud to support the Ovarian Cancer Research Fund Alliance and do our part by participating in this incredible charity event."
Super Saturday LA offers a day of fun for the entire family.
Ticket prices for OCRFA's Super Saturday LA are $75 for general admission and $50 for children ages 6-16 (kids 5 and under are admitted free). VIP tickets featuring exclusive benefits are available for $200 and include: early access to the luxury designer sale at 11:00 AM, preferred parking, VIP-only concierge shopping services and a Super Saturday goodie bag.
To purchase tickets or for more information, please visit Ovarian Cancer Research Fund Alliance's website at http://supersaturday.ocrf.org/