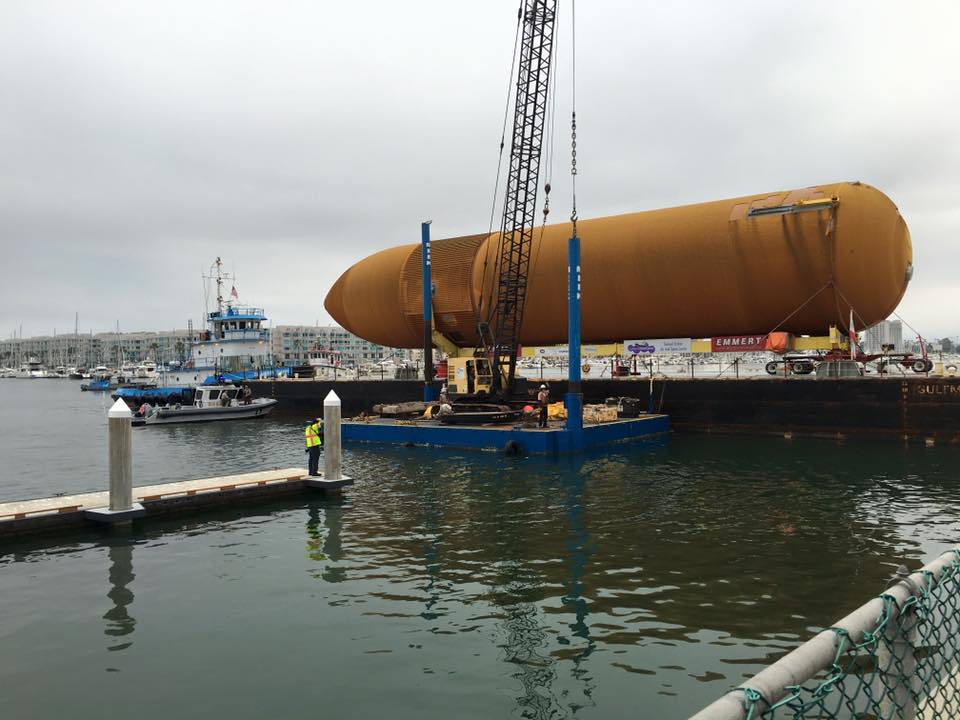 The California Science Center Foundation is preparing for a big road trip. And we mean BIG.
They announced the route for "Mission 26: ET Comes Home," the journey of the external tank (ET-94). It will travel from the Michoud Assembly Facility through the Panama Canal by barge to Los Angeles, then on through city streets, pulled by a truck on dollies, to its final destination near the California Science Center's Samuel Oschin Pavilion. The entire journey will take six to eight weeks. ET-94 is expected to arrive around May 21, 2016.
Larger and longer than Endeavour, the ET was the Orbiter's massive "gas tank" and contained the propellants used by the Space Shuttle Main Engines (though ET-94 is empty). The tank, the only major, non-reusable part of the space shuttle, is neither as wide as Endeavour (32 feet versus 78 feet) nor as high (35 feet versus 56 feet). Because of this, fewer utilities will be impacted and no trees will be removed along ET's route from the coast to Exposition Park, though some light trimming may be necessary. The path it will take through the streets was planned with input from city officials, utilities and community groups.
The route is as follows –
Marina Del Rey parking lot to Fiji Way
Fiji Way to Lincoln (PCH)
Lincoln to Mindanao Way
Mindanao Way to CA-90
CA-90 to Culver Blvd
Culver Blvd. to Lincoln via transition ramp
Lincoln to Loyola Blvd

Loyola Blvd. to Westchester Pkwy
Westchester Parkway turns into Arbor Vitae St. at Airport Blvd; Arbor Vitae St. to La Brea Ave
La Brea Ave. to Manchester Blvd
Manchester Blvd. to Vermont Ave
Vermont Ave. to Martin Luther King Blvd.

Martin Luther King Blvd. to Exposition Park.
The journey through the streets to the Science Center is expected to take 13-18 hours.
"With the transfer of ET-94 from NASA, we will have the ability to preserve and display an entire stack of flight hardware, making the Samuel Oschin Air and Space Center an even more compelling educational experience. With the same outpouring of community support we saw with the arrival of Endeavour, we look forward to celebrating this gift from NASA as it journeys from the coast through city streets to the California Science Center," said California Science Center President Jeffrey N. Rudolph.
The donation of this never-used artifact from NASA is significant, and allows the Science Center to fulfill its vision of building a full stack for Space Shuttle Endeavour's final display in the launch position in the future Samuel Oschin Air and Space Center. This will mark the only time an ET has traveled through urban streets and will evoke memories of when Endeavour traveled 12-miles from the Los Angeles International Airport to the Science Center and was cheered on by a crowd of 1.5 million in 2012.