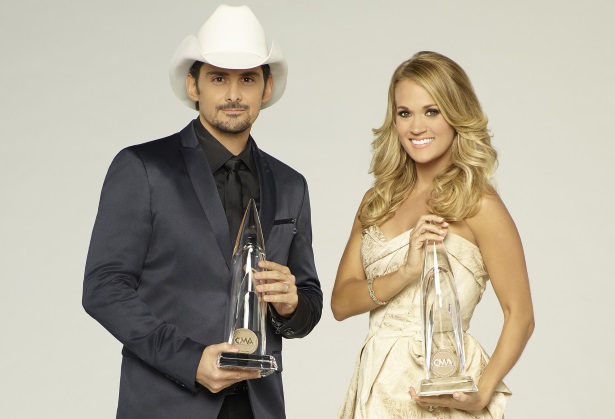 Country superstars Brad Paisley and Carrie Underwood are always busy. If they're not on tour, then they're hosting a hit Country award show.
This year they will be returning to host Country Music's Biggest Night in 2016. "The 50th Annual CMA Awards" airs live from the Bridgestone Arena in Nashville on WEDNESDAY, NOVEMBER 2 (8:00-11:00 p.m. EDT), on ABC.
The return of the popular pair was announced during Paisley's appearance on "Jimmy Kimmel Live!" and via Underwood's social network. The follow-up CMA social announcement included a video highlight reel of the first 50 years of CMA Awards moments.
"I really enjoy hosting the CMA Awards with Brad," said Underwood. "Of course we have fun up there, but we take the responsibility of honoring the best artists in the format and shining a positive light on Country Music very seriously. And this year, the bar will be even higher as we celebrate the 50th Anniversary of the CMA Awards. I can't wait."
"I look forward to hosting the CMA Awards each year," said Paisley. "Carrie and I have certainly hit our stride in terms of balancing humor and a genuine respect for the nominees and winners. This year the stakes are higher than ever as we honor the legacy and traditions of the past 50 years. We will give it everything we've got."