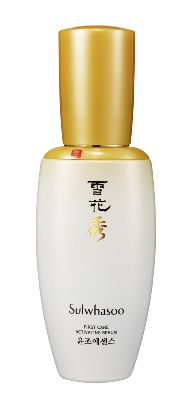 Korea is known to be the number one country when it comes to popularity with plastic surgery. Women there take their skin and beauty very seriously, therefore it is no wonder that great products are made there.
Achieve skin's perfect balance with the first of boosting serums, Sulwhasoo's signature First Care Activating Serum EX for youthful and resilient skin. Discover the power of holistic skincare that merges ancient herbal wisdom with the advancements of modern science.
Milkvetch promotes natural skin circulation
Dwarf Lilyturf and Licorice boost synergy among herbal extracts to restore skin's healthy radiance
Replenishes essential moisture and nutrients
Massage Tips
Pump First Care Activating Serum 2-3 times, and apply to thoroughly cleansed skin. Help skin absorb products by gently massaging cheeks in circular motion with fingers.
Using middle fingers and ring fingers, massage smile lines and around the nose, avoiding eye area.
Using all fingers, massage forehead cross diagonally 3 times.
Starting from mouth area, gently massage towards above, following the jaw line.
Let us know how it worked for you.
$84.00 for 2.02 fl.oz
Now available at Neiman Marcus for the Angelenos.