Imposter! Fraud! Imitator! Copycat! These words used to be an insult to anyone who was accused of such behavior. Nowadays, those types of descriptions are not only complimentary, but also considered grounds for a career. There's quite a bit of money in the pretend-world of a "Tribute Band." Just ask Steve Landes (Vocals, Rhythm Guitar, Piano, Harmonica), Paul Curatolo (Vocals, Bass, Piano, Guitar), Alastar McNeil (Vocals, Lead Guitar, Guitar Synth) and Aaron Chiazza (Drums, Percussion, Vocals), an all American cast, and the four gentlemen who respectively portray John, Paul, George and Ringo, better known as The Beatles. Along with "fifth Beatle" keyboardist Mark Beyer they are billed as "Rain: A Tribute To The Beatles." "Rain" is the longest-running Beatles tribute act, being arguably the most successful, and it predates the popular Broadway show "Beatlemania" by several years. The production has appeared on Broadway, and toured for years. The name "Rain" was derived from a relatively unknown B-Side of the "Paperback Writer," single, which were both songs recorded during the sessions for "Revolver," though neither song appears on that album… go figure.
Landes, Curatolo, McNeil and Chiazza are all accomplished musicians, which explains how they are able to replicate the Beatles' characters and music as remarkably as they do. The show is somewhat of a chronological journey of the Beatles through their music. They perform about 30 songs during the performance, and there is very little dialogue during the show other than a little onstage banter. For legal reasons, the cast never refer to themselves by the actual names of the Beatles.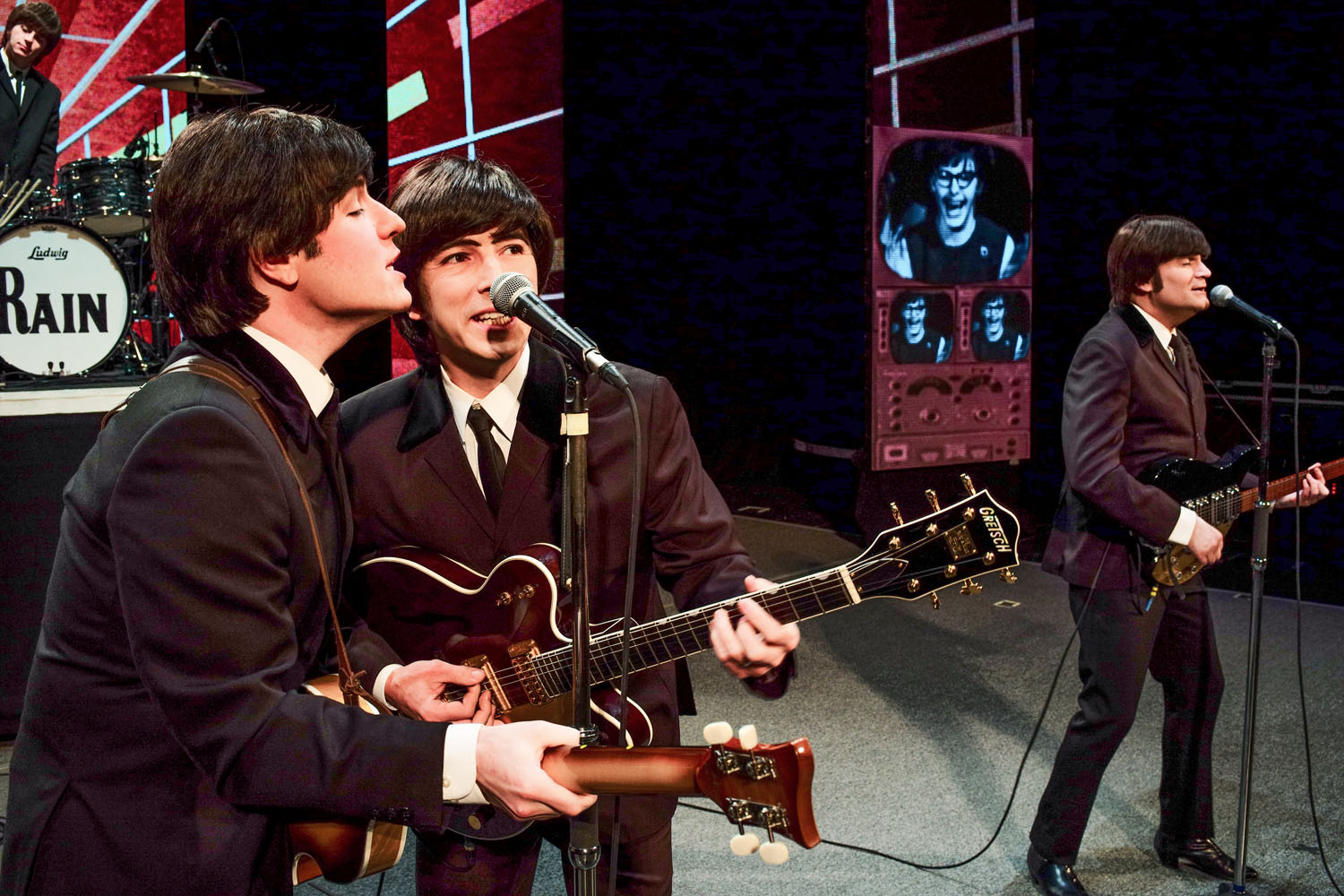 You could certainly describe this production as a "Magical Mystery Tour," because of the trip down memory lane that you are taken on. Replete with the costumes that accompanied each musical direction the band explored, the multimedia production uses high-definition backdrops that feature psychedelic effects, vintage television commercials, and video footage of "Rain" cast members recreating iconic Beatle moments. The fact that they use the same type of Vox amplifiers, Ludwig drums and Rickenbacker Guitars, as the Beatles, in addition to a reproduction of Paul's classic "Violin Bass," gives the production an even greater feel of authenticity.
For the mostly baby-boomer crowd that filled the Pantages theater on opening night, along with the timeless Beatles' music, we were treated to vintage commercials like The Flintstones' cast of Fred, Barney, Wilma and Betty pitching Marlboro cigarettes, and good ol' Kellogg's Corn Flakes, among other favorites, which were just priceless and enhanced the journey back to the sixties. What stands out most, is the substantive music this quartet was able to create and the way that the lyrics, melodies and production of these enduring songs are as relevant today as they were when produced over 50 years ago.
If you are a Beatles fan, this is as close as you'll get to a Beatles live performance experience. And as someone who was never afforded the opportunity as a young man to see the real deal, this is as good as it gets.
————-
Get your tickets for this weekend! The show is here until Sunday, April 10.