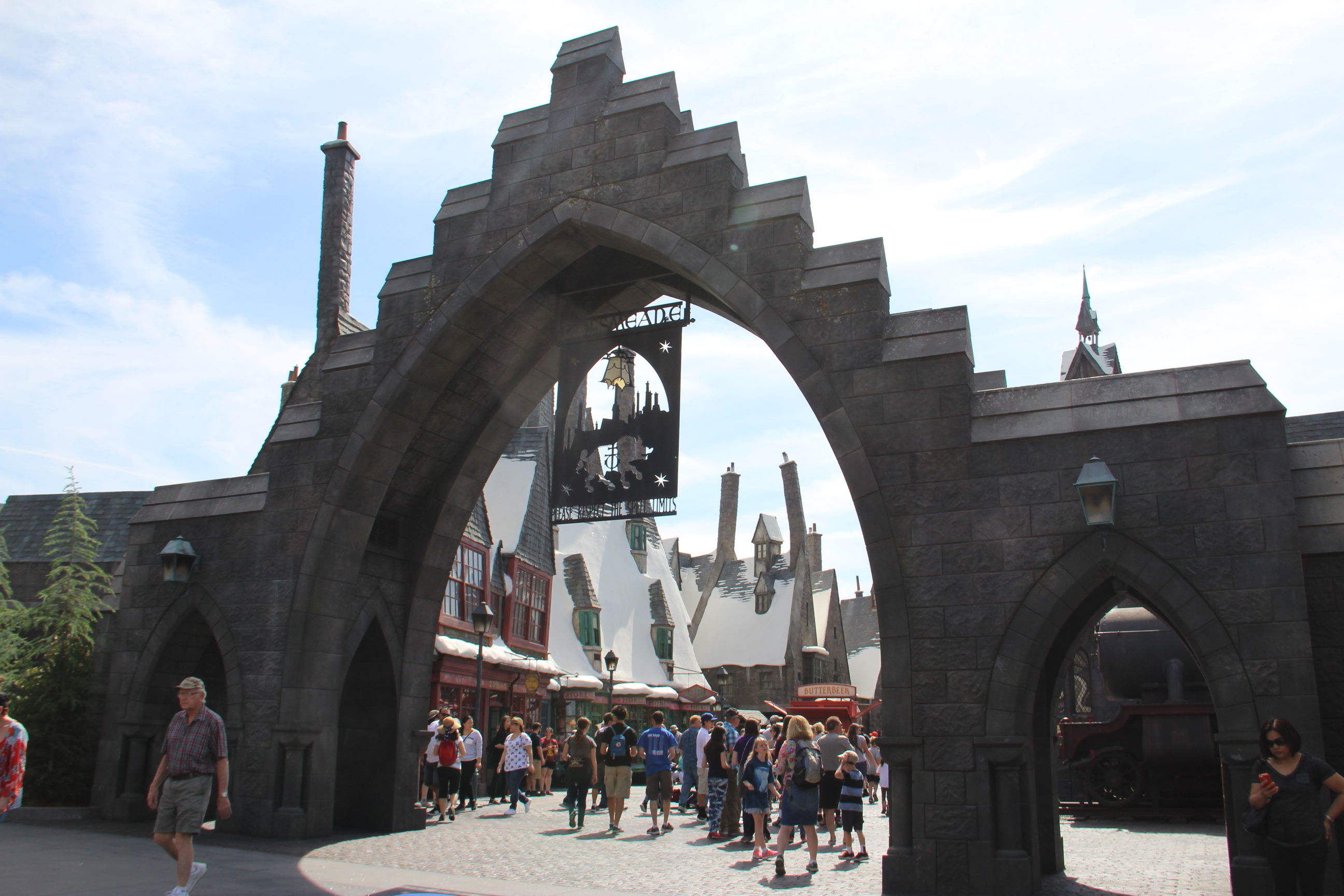 It's OK if you happen to be a muggle (someone with no magical powers)… because as soon as you enter The Wizarding World of Harry Potter at Universal Studios Hollywood and ride the magnificent "Forbidden Journey" in 3D… you will feel as if you've earned your wand and powers! Naturally, plenty of park-goers donned their wizard capes with wands in hand.
With all the anticipation and hype after it's April 7th opening, LATF USA finally experienced Hogsmeade Village in all its glory. Not far from Universal's main ticketing entrance, The Wizarding World of Harry Potter is impressive even before you pass through the stoned archway. On the right is the Hogwart's Express with the trusty train conductor ready for photo-ops at any second!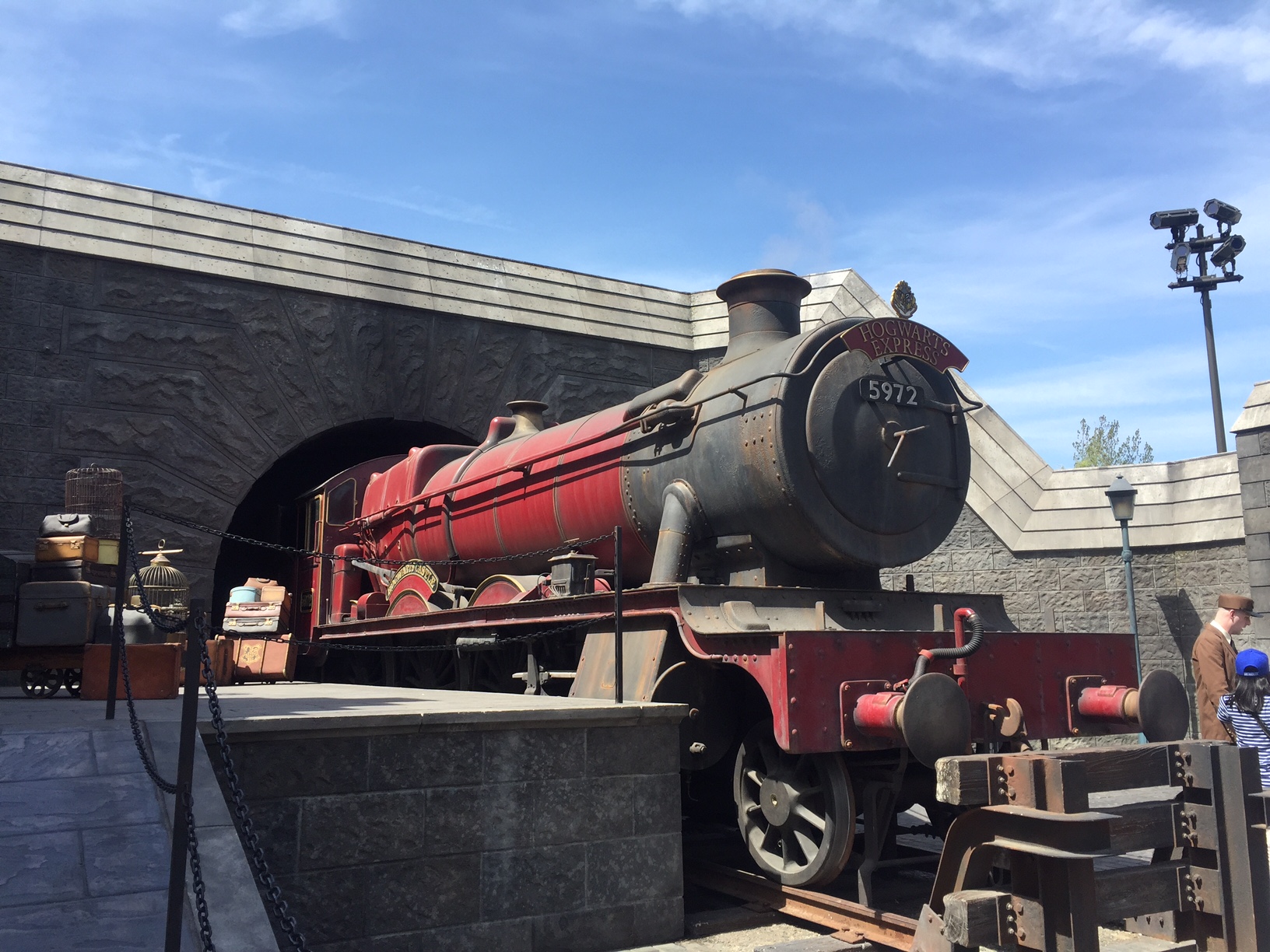 Past the train, the village is just as we imagined, with snow covered rooftops and tall thin chimneys. Colorful shops with pink and green painted signs line the cobblestoned streets. There are eight retail locations to be exact: Honeydukes™, Ollivanders™, Owl Post™, Zonko's™ Joke Shop, Wiseacre's Wizarding Equipment, Dervish and Banges, Gladrags Wizardwear and Filch's Emporium of Confiscated Goods™.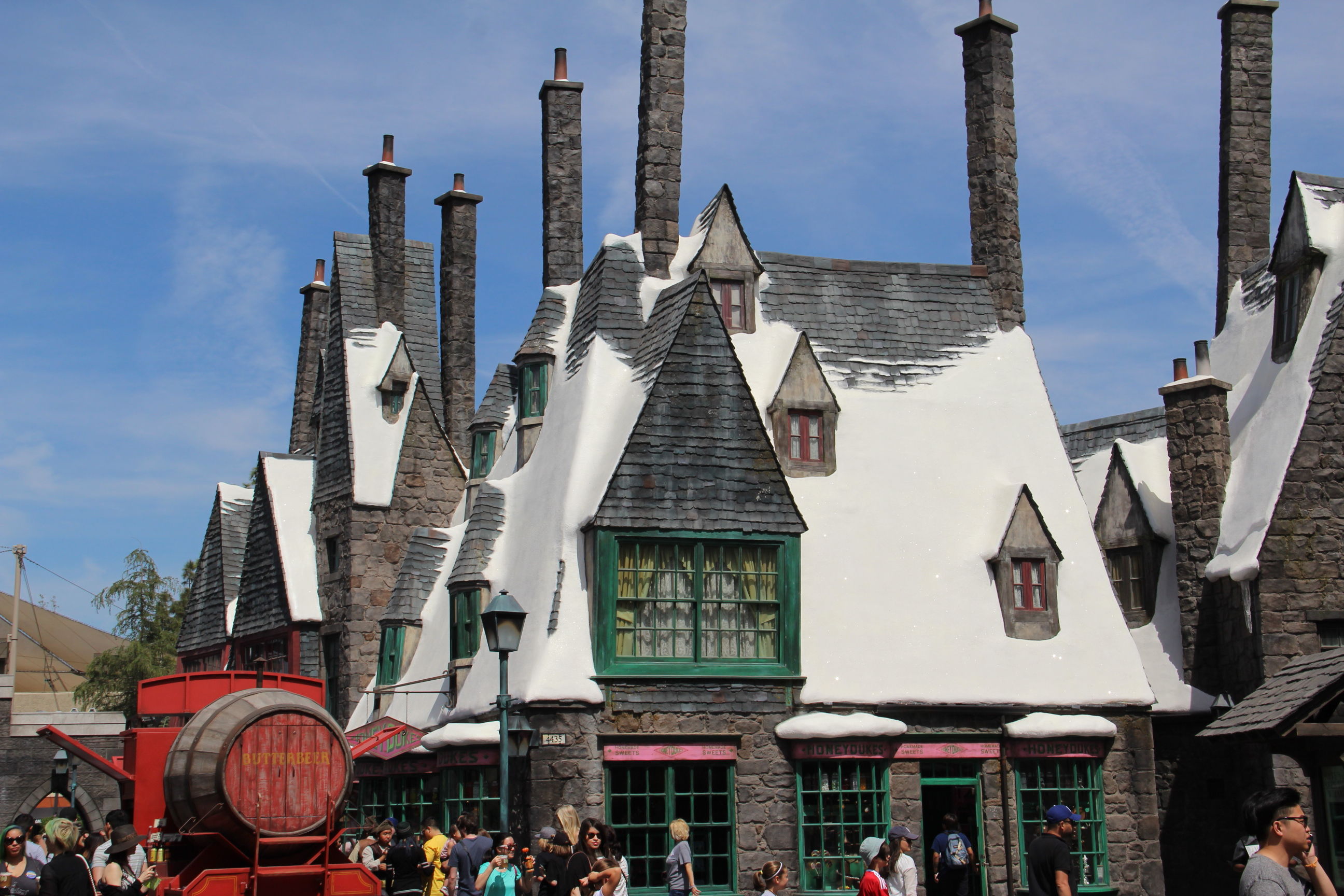 After seeing the red Butter Beer cart, we decided to bypass our immediate cravings and head for the main attractions. For the more family friendly ride (this one's for the kids!), hop on board the brief, yet thrilling roller coaster, Flight of the Hippogriff™! Just before you swoop down, up and over, you pass a life-like Hippogriff!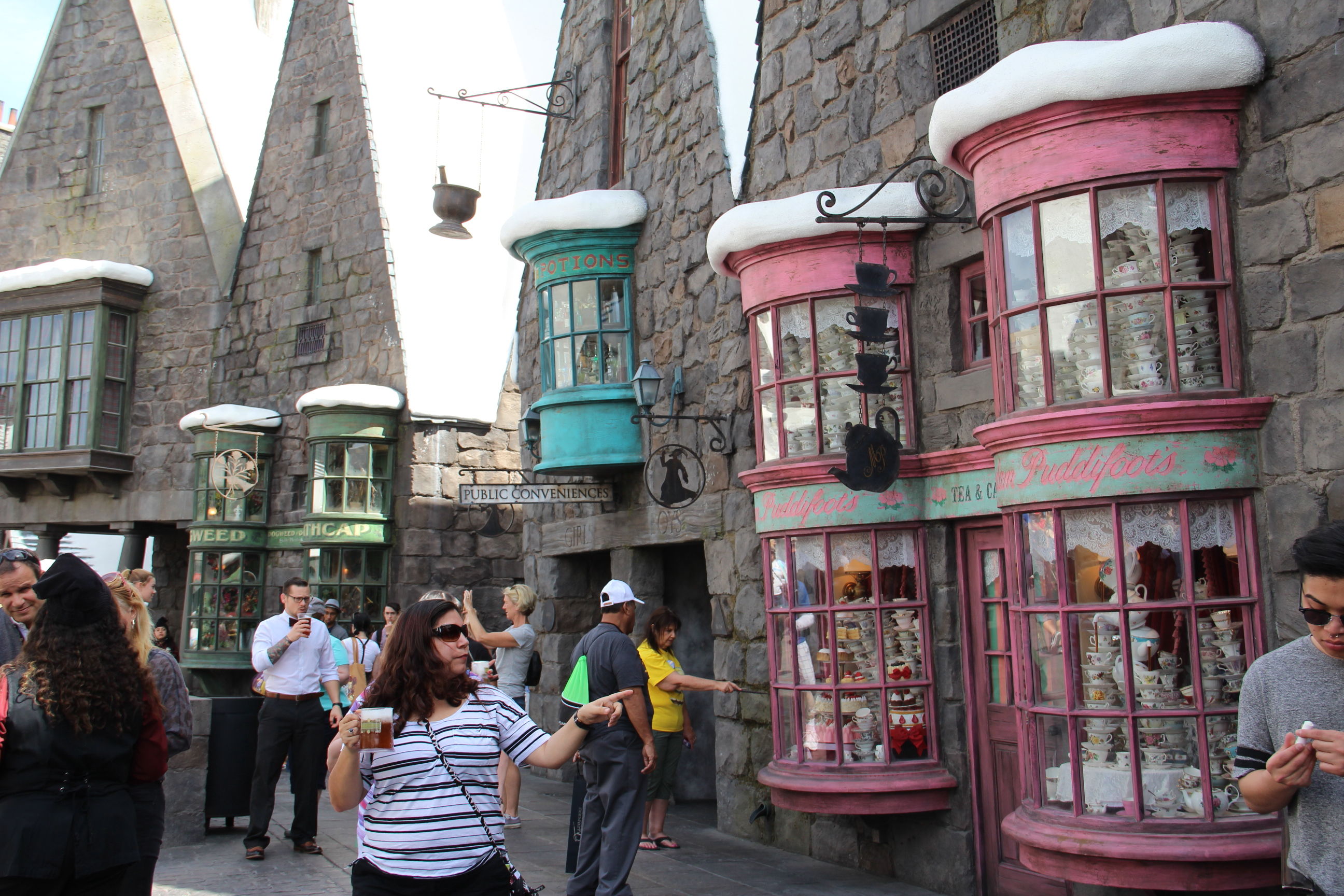 For the more mature Potter fans, make your way to the majestic and haunting Hogwarts School of Witchcraft and Wizardry! Members of Pottermania will melt around every dark corner, with paintings coming to life and holograms of Dumbledore instilling some wisdom. You even run into Harry, Hermione and Ron, who appear incredibly lifelike!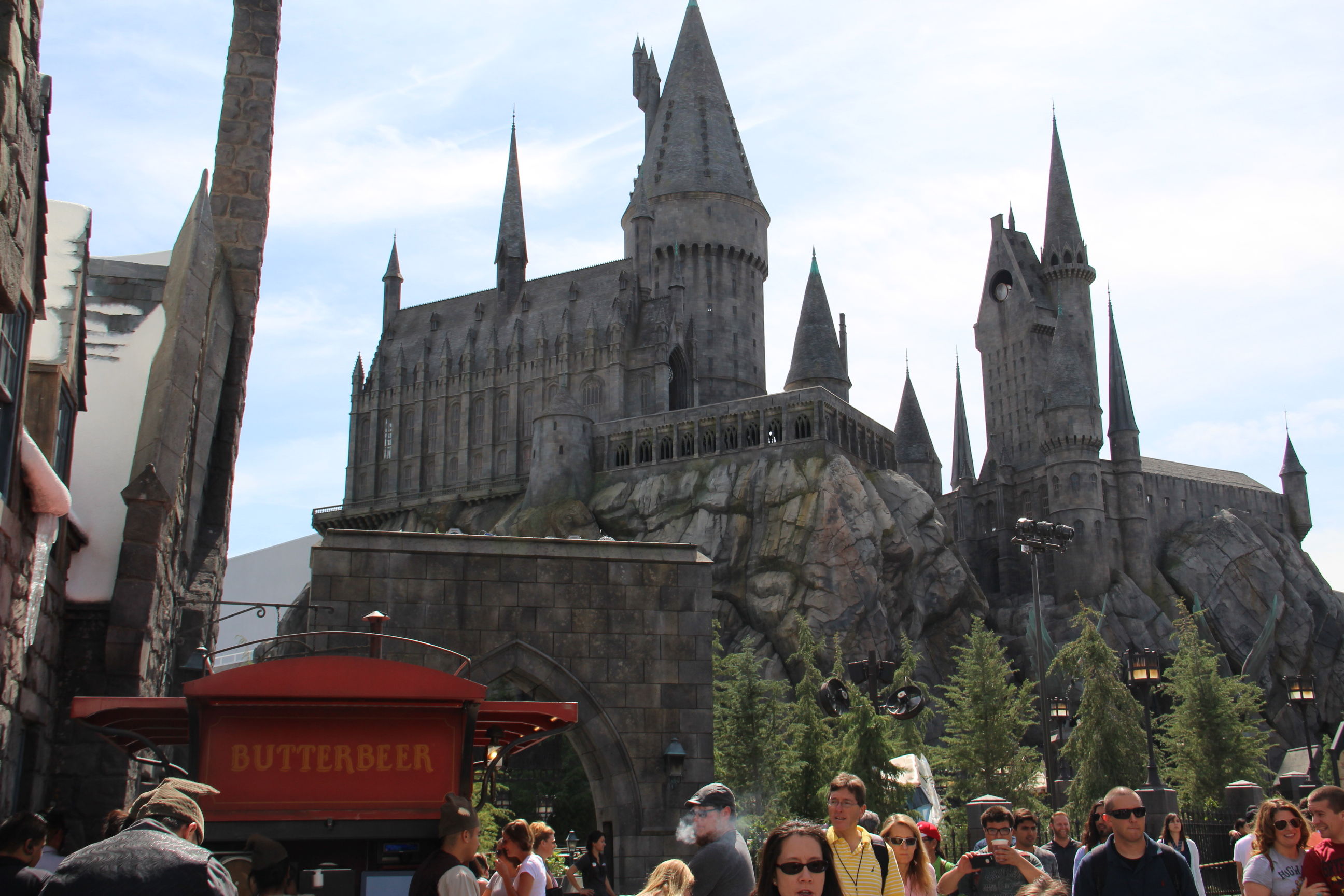 Once you get to the Forbidden Journey, be quick about hopping into your seat! You must run onto the constant-moving floor and make it to your seat or else… who knows what will happen (you could run into Lord Voldemort's Death Eaters!). Someone will pass you a pair of Quidditch-inspired 3D glasses for the adventure. When they said hyper-realistic 3D-HD, they weren't joking. You are immediately thrusted up and transported into the sky, flying your broomstick right behind Harry. Spiraling, pivoting and flipping 360-degrees on a whirlwind journey, make sure you don't get motion sickness… and don't have a huge issue with over-sized spiders ;-).
We worked up quite an appetite and our sweet tooths were craving that Butterbeer™! We popped over to one of the carts and had ourselves a sweet drink! Imagine rootbeer with heavy amounts of caramel, sugar and whipped cream, and voila! That's Butter Beer!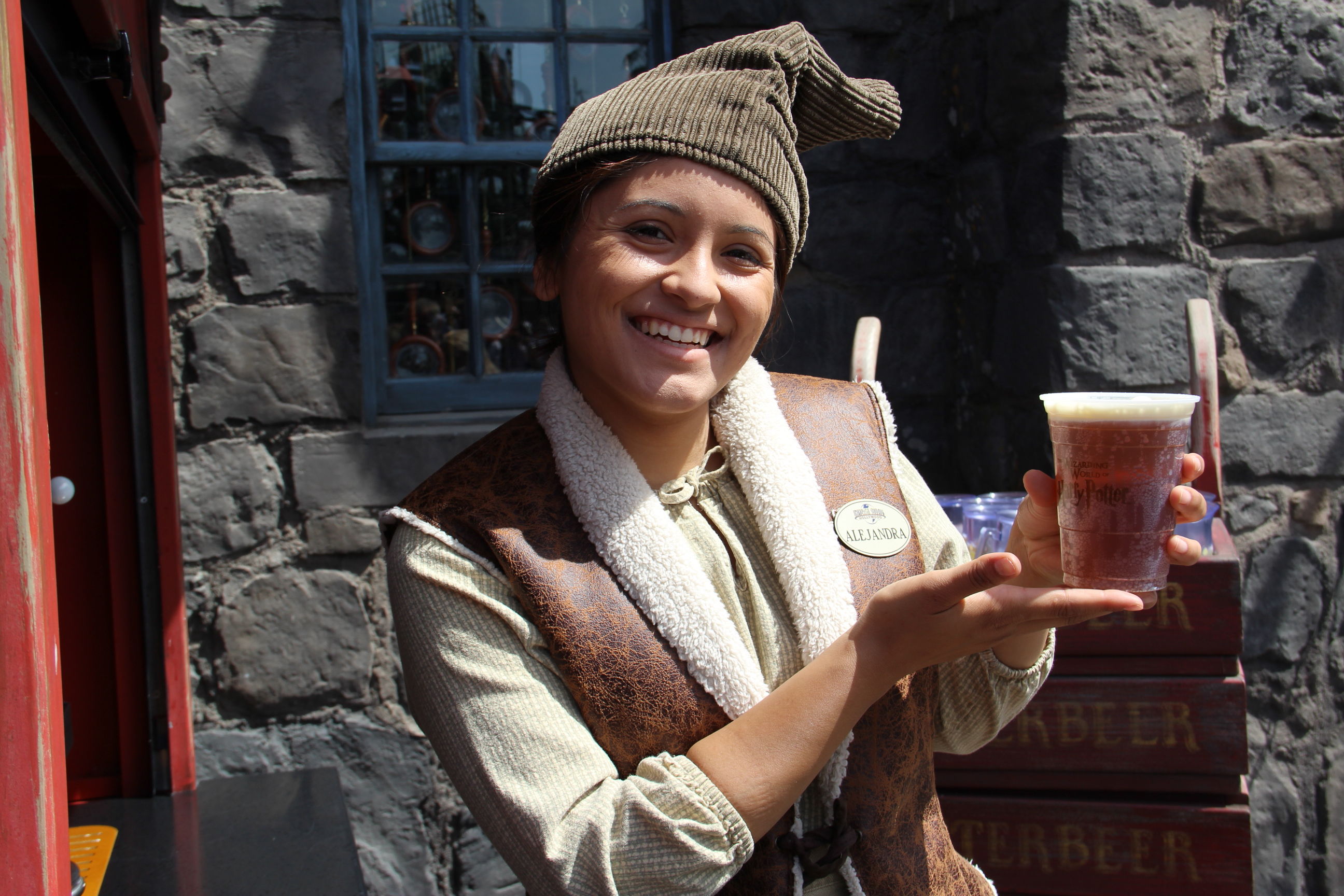 For dining, you have your choice of the Three Broomsticks™, and Hog's Head pub, where guests can enjoy traditional British dishes. Three Broomsticks is an aged rustic tavern with dishes from Bangers & Mash (savory grilled English sausages with creamy mashed potatoes and minted peas) to Shepherd's Pie (ground beef and vegetables, crowned with potatoes), Beef Sunday Roast (prime rib of beef with Yorkshire pudding and gravy) and Beef, Lamb & Guinness Stew and Fish & Chips!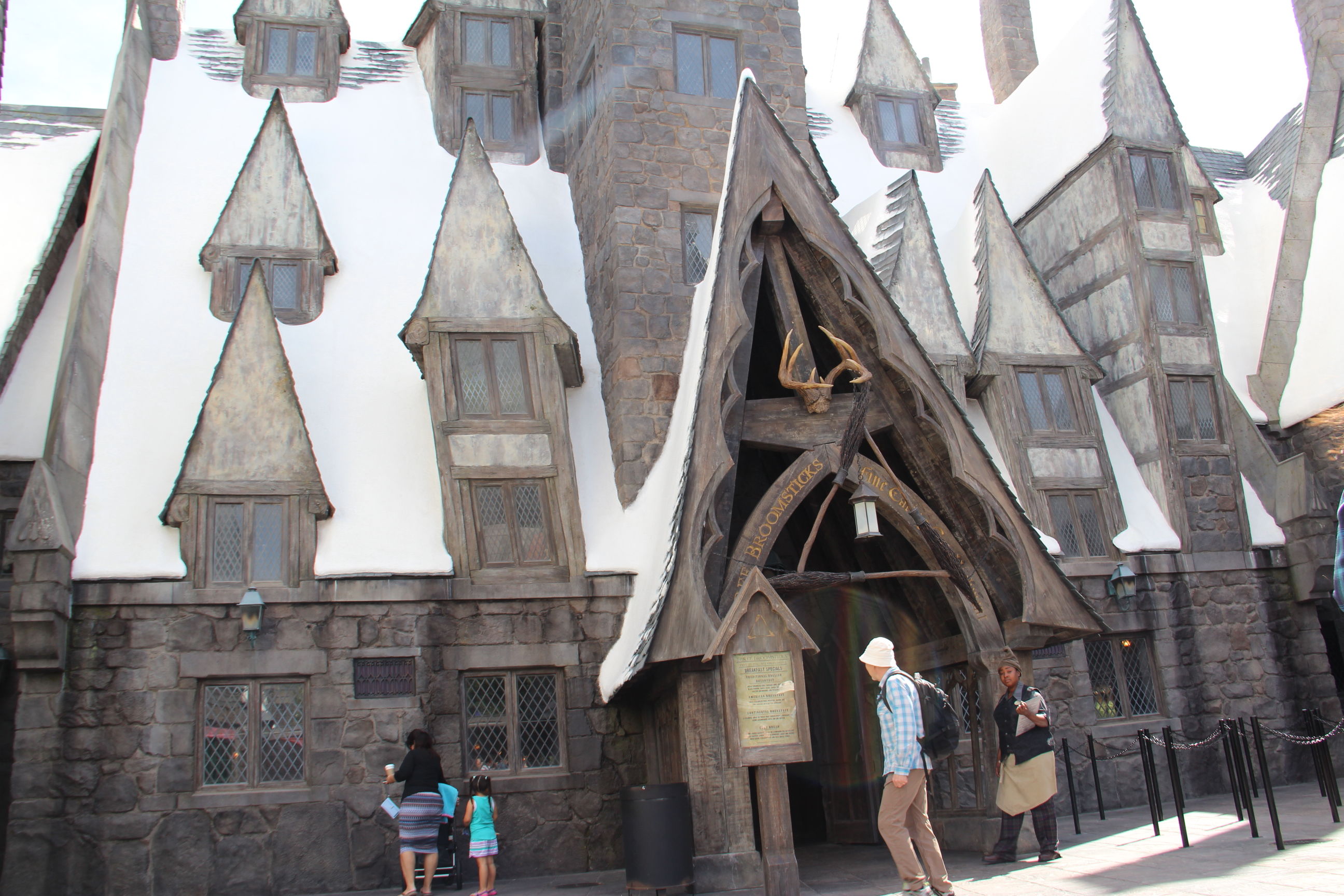 If you're hoping that the Wizarding World of Harry Potter is:
Enchanting
Magical
Whimsical
…. it's all of the above!
So, by all means… Dissendium!!!
www.universalstudioshollywood.com
Cheers! (For more photos CLICK HERE)