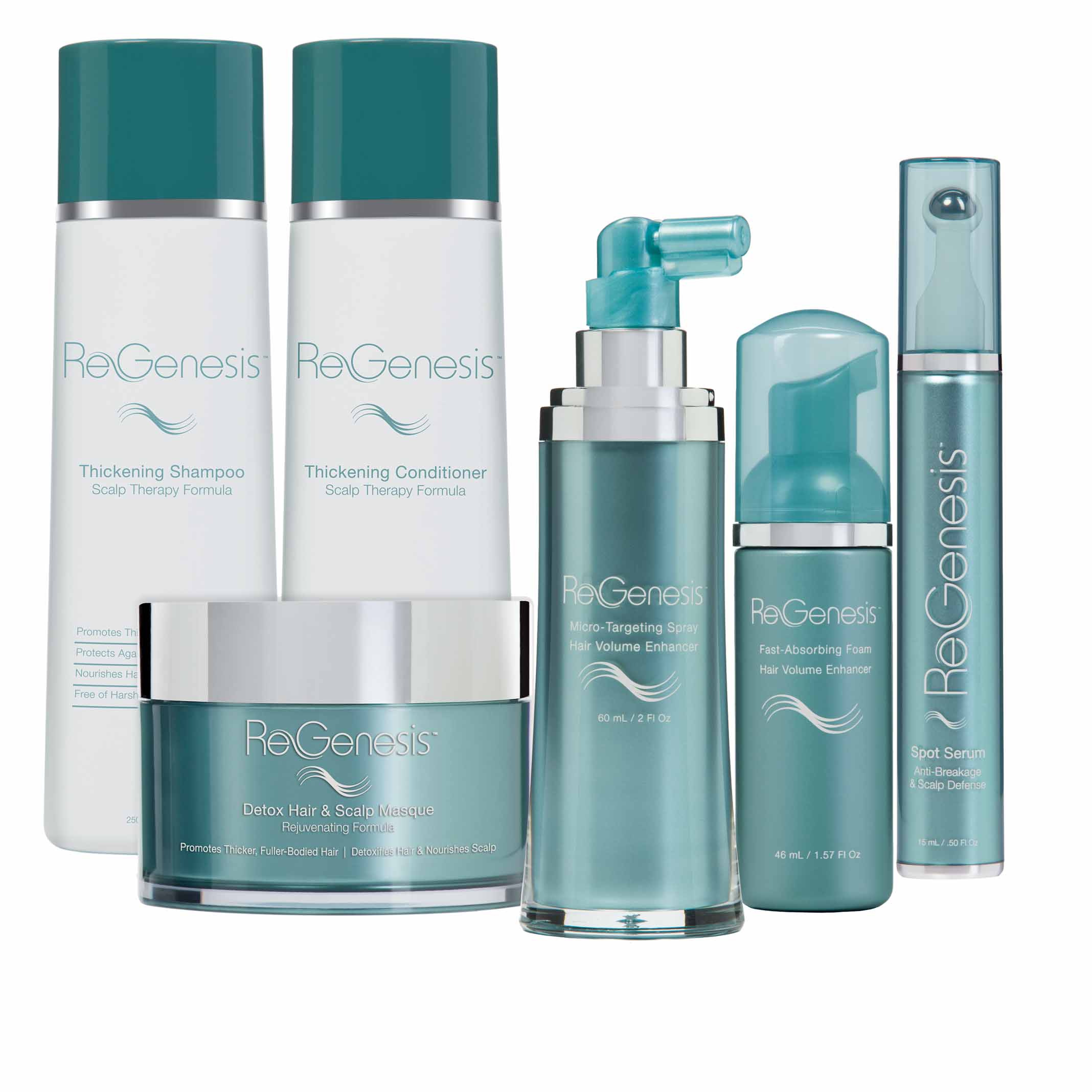 Who doesn't like to have beautiful thick and healthy hair?
If yours needs a little help, ReGenesis from Revitalash offers a full line of hair products that may just be the solution for you.
Not just a shampoo and conditioner, these unique thickening and scalp therapy formulas feature specialized anti-oxidant and cleansing ingredients to optimize scalp health, and strengthening and conditioning ingredients to fortify hair. The phyto-infused formula optimum scalp health fortifies the hair cuticle and works to improve hair shaft thickness.
Thickening shampoo 8.5 fl oz for $34.00
Thickening conditioner 8.5fl oz for $36.00
Hair may thin for different reasons; health or getting older can be the agent provocateur.
At the heart of the ReGenesis Hair Enhancing System is the Hair Volume Enhancer: The Micro-Targeting Spray with an advanced formula that features BioPeptin Complex® which is designed to enhance beauty, texture and strength. It targets low hair density, defends against hair breakage and promotes the look of thicker, fuller bodied hair. 2fl Oz for $149.00
Also highly recommended is the Spot Serum, vitamin-enriched, it provides on-the-go defense against breakage with Loquat Leaf, Flax Protein and Biotin to target trouble zones like hairline and hair part.
50Fl oz for $40.00
Once a week use the Detox Hair and Scalp Masque which is a treatment to rejuvenate scalp and hair, featuring Belarus Bioactive Silt to help lift impurities.
5.5 Fl oz for $42.00
Finally, the Fast-Absorbing Foam Hair Volume Enhancer. The ReGenesis™ Fast-Absorbing Foam has an advanced formula that features proprietary BioPeptin Complex® and is designed to enhance the volume and beauty of hair. To be used on wet hair. It is a leave-in conditioner.
Size: 46 mL / 1.57 Fl Oz for $149.00, includes a 3 month supply