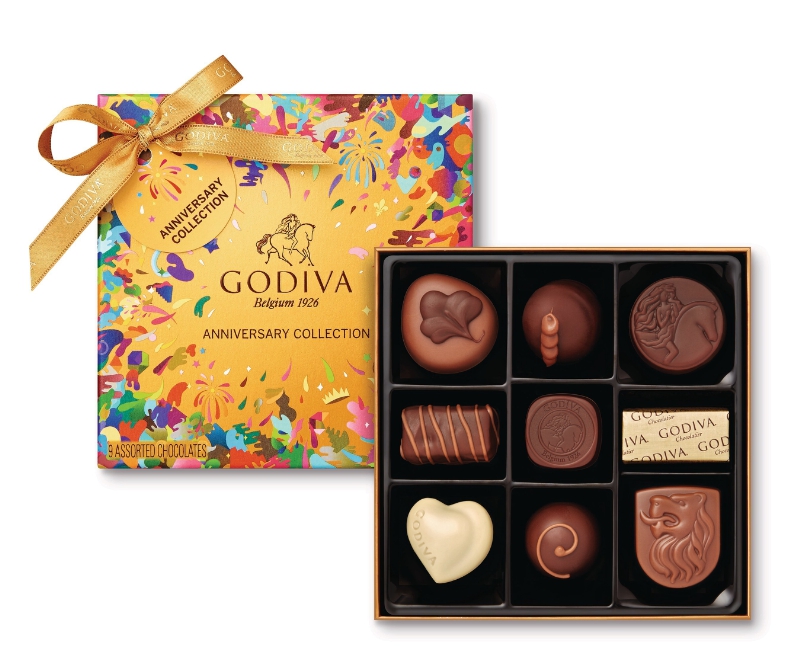 Celebrate 90 years with Godiva Chocolates and indulge in sweet delicacies of the "Limited Edition Gold Anniversary Collection."
GODIVA Chocolatier is kicking off its 90th Anniversary with the launch of a new limited edition collection that celebrates the brand's roots while crafting the future. The collection is both sweetly nostalgic and at the cutting edge of chocolate and design innovation. Featuring eight of GODIVA's most iconic chocolates – one for each decade since the company's inception in 1926 – the collection is completed by the brand new 'Egérie Noir,' a contemporary creation of the smoothest raspberry ganache, delicately balanced with essence of rose petals, and encased in rich, dark Belgian chocolate.
Both the filling and the shape of the Egérie Noir shell are exciting new creations – a testament to GODIVA's innovative flair. The delicate rose and raspberry flavor is one that will play an exciting part in the chocolatier's anniversary throughout the year.
Additional chocolates available in the US for the first time include the Noblesse (1959) and Nippon (1972). The Noblesse is based off a traditional Italian recipe of rich hazelnut praliné that is skillfully blended with smooth milk chocolate. Taking its inspiration from the brand's arrival in Japan, the Nippon has a dark and milk chocolate center combined with elements of hazelnut praliné and puffed rice.
"We're excited to celebrate 90 years of craftsmanship, passion and innovation with the Gold Anniversary Collection. It's truly a representation of how GODIVA's chocolate has evolved over the past 90 years while staying true to our core values and heritage," explains Michelle Chin, Head of North America Marketing & Product Development.
Belgian artist Oli-B, famed for his bold and vibrant work, was commissioned to redesign the iconic gold box. The young Belgian created a tableau of vibrant colors that captures the energy of fireworks.
"It has been a pleasure and a great challenge to introduce my art to GODIVA's iconic aesthetic. My inspiration across our entire collaboration was joy and celebration – and nothing encompasses that better than the colorful, energetic firework!" said Oli-B.
Rounding out the 90th Anniversary collection and the raspberry-rose theme are the Raspberry & Rose Chocolixir and Raspberry & Rose Soft Serve, which will include elements of both flavors. The collection will also include a limited edition truffle box, to be released in September.
The limited edition Gold Anniversary Collection is now available in U.S. stores and GODIVA.com in boxes of 9 ($20) and 18 pieces ($36).
Follow @GODIVA on the brand's social media channels as they celebrate their 90th anniversary with #Godiva90 and for more information visit: godiva.com