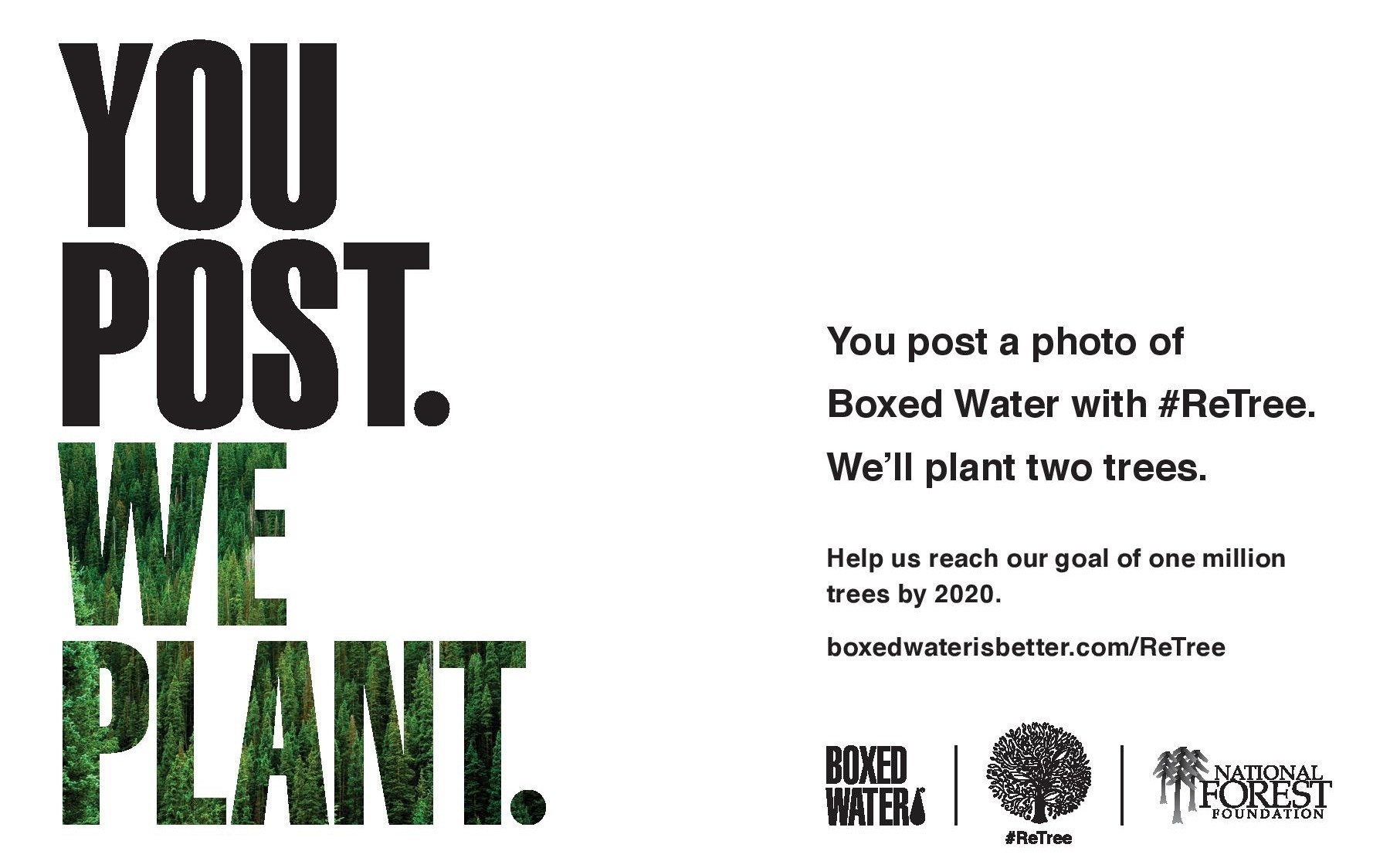 In celebration of Earth Day, Boxed Water Is Better and the National Forest Foundation (NFF) announce the return of ReTree, a partnership aiming to plant more than 200,000 trees in 2016. Now in its second year, ReTree is one of the largest tree planting commitments for the NFF, with the five-year goal of planting one million trees by 2020 in National Forests across the country.
Boxed Water is a sustainable alternative to bottled water committed to helping the environment through reforestation relief efforts. Last year Boxed Water planted more than 100,000 trees through its partnership with the NFF and with the help of consumers who supported the cause via a matching program on social media. This year Boxed Water is doubling its commitment to reforestation by planting two trees for every photo posted via social with Boxed Water and the #ReTree tag. Available in 500 ml, 250 ml and 1-liter sizes, all Boxed Water cartons are made from trees and are 100 percent recyclable and BPA-free, making it a sustainable alternative to plastic water bottles.
"The ReTree program is an impactful effort to help create a significant change, " said Matt DeWitte, vice president of marketing for Boxed Water. "It's reflective of the simple choice consumers can make by switching from plastic water bottles to alternative packaging. We were thrilled with the response to the ReTree program last year that helped us plant trees in Oregon's Deschutes National Forest. This year we aim to make an even bigger impact in our continued effort to create a better earth."
The National Forest Foundation is the only conservation organization that is dedicated to supporting 154 National Forests and 20 Grasslands throughout the United States. The organization focuses on restoring critical ecosystems and planting native trees to help those ecosystems thrive. In 2016, all photos posted with Boxed Water and the #ReTree tag will benefit the Custer-Gallatin National Forest in Montana, a region that lost nearly 500 acres due to wildfire damage from 2012's Ash Creek Fire.
"Boxed Water and its customers are making a real difference on our National Forests," said Bill Possiel, NFF President. "Boxed Water's commitment to restoring our National Forests is a model for how beverage companies can minimize environmental impacts through creative production and distribution. Without healthy National Forests, we stand to lose one of the most critical services these public lands provide – clean water."
The ReTree program will start on Earth Day, April 22, 2016, and last throughout the summer. For more information about ReTree's planting progress and how to get involved to help reforestation, visit www.boxedwater.com/retree.