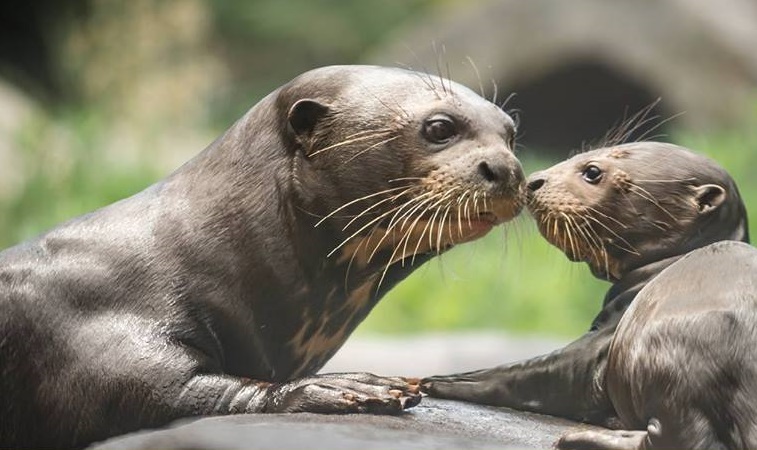 The Los Angeles Zoo's new WILD FOR THE PLANET debuts on Saturday, April 23 in celebration of "Earth Day" and runs on five weekends, concluding Sunday, May 22, 2016, following "Endangered Species Day," with activities, fun and information that all spotlight the importance of protecting the environment and its creatures.
Adults and youngsters can enjoy a day at the Zoo, home to a diverse collection of 1,100 animals representing 250 different species, many of which are rare or endangered, with special opportunities, entertainment, information and tips about everyday ways to sustain and preserve. Wild for the Planet takes place on April 23/24, April 30/May 1, May 7/8, May 14/15 and May 21/22, from 10 am to 4 pm. All activities are included with paid Zoo admission.
Special animal feedings and zoo keeper talks underscoring conservation take place every weekend at 1 and 2 pm, with each weekend day featuring two animals, among them Tasmanian devils, giraffes, tigers, mountain tapir, chimps, elephants, jaguars, okapi, orangutans, pronghorn sheep, lions, gorillas, snow leopards, cassowary, zebras, Komodo dragons, tomistomas and flamingos. Youngsters and families will also learn how to make a positive impact on the environment during an interactive puppet show, held at 11 am, 1 pm and 3 pm, starring a brave raccoon leading a quest to save an endangered species, assisted nobly by the Green Rangers – a.k.a the audience – along with a magnificent condor puppet inspired by the Zoo's vital work with the California Condor Recovery Program. Visitors can post their conservation action pledge to reduce their impact on the planet's natural resources on a Pledge Wall, then encourage friends and family to do the same by sharing on Facebook, Instagram and Twitter using #WildForThePlanet for a chance to win a compost bin or tickets to the new "Dinosaurs: Unextinct at the L.A. Zoo" exhibit. (Official sweepstakes rules available at www.lazoo.org/wildfortheplanet.)
Also featured is a colorful, wildlife-themed sculpture comprised of paintings of local threatened species, including the monarch butterfly, mountain lion, peregrine falcon and steelhead trout, made with help from 200 underserved Northeast Los Angeles youth in the Wild Art program of RuckusRoots, a sustainable non-profit arts organization. Combining ecology, wildlife and art training the students created the sculpture in order to bring awareness of the diverse range of species that call Los Angeles home and to encourage viewers to consider ways in which humans, plants and animals can coexist harmoniously in our great city. This sculpture was made possible in part by the Highland Park Neighborhood Council and will find its permanent home in the students' community of Highland Park after its exhibition at the L.A. Zoo.
Other Earth-friendly actions that guests are encouraged to take include participation in the L.A. Zoo's electronic device recycling program. Each contribution of a retired cell phone, smartphone, iPod, iPad, tablet or MP3 player directly benefits animal conservation programs and reduces the demand for mineral mining that threatens the natural habitats of endangered animals such as the western lowland gorilla.
Additional activities are featured on the first and last weekends, April 23 and 24 and May 21 and 22, including photo ops with "Rascal the Raccoon" from 10:30 am to 1:30 pm; fun at an Upcycling Inspiration Lab illustrating creative crafts people can make with recyclable materials; Worm Composting Demos from the Los Angeles County Department of Public Works' Smart Gardening Program on Saturday, April 23 and Saturday, May 21; and education stations focusing on "Earth Day" (April 23/24) and endangered species (May 21/22). The Environment expo emphasizes local conservation efforts for the planet and animals with booths from organizations such as Channel Islands National Park Service, Channel Islands National Marine Sanctuary, Dept. of Public Works – Storm Water Program, Los Angeles Conservation Corp, Theodore Payne Foundation, The Climate Registry, Wild Birds Unlimited, National Park Service – Santa Monica Mountains National Recreation Area, Friends of the L.A. River and Bowling for Rhinos on April 23/24, and Theodore Payne Foundation, Cabrillo Marine Aquarium, Bolsa Chica Conservancy, Long Beach Aquarium and Los Angeles Sanitation-Solid Resources Citywide Recycling Division on May 21/22.
The Wild for the Planet schedule is available online at www.LAZoo.org and is subject to change.