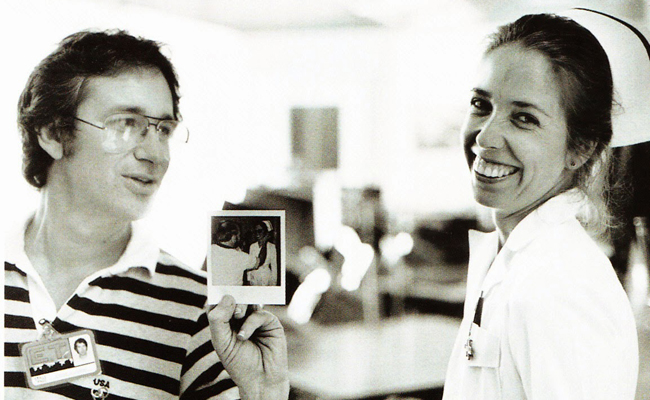 Director Steven Spielberg with screenwriter Melissa Mathison on the set of E.T. (TheBeardedTrio.com)
The Hamptons International Film Festival (HIFF) have announced the mentors and screenwriters for the 16th annual Screenwriters Lab, which will take place April 8-10 in East Hampton, NY. The Lab pairs up-and-coming screenwriters with established screenwriters, directors and producers for a weekend of one-on-one mentoring sessions.
"The Screenwriters Lab is a highlight of the year-round work that HIFF does as we bring together a wide range of artists from the industry and pair them with a new wave of writers and filmmakers who are at crucial junctures of their developing careers," said Artistic Director David Nugent. "Our submissions were up over 40% this year, and these three projects really represent some of the most exciting voices we had the pleasure of reading."
The three selected screenplays for 2016 are Shane Andries' "The Delegation", Cathy Yan's "Dead Pigs", and Marshall Curry and Davy Rothbart's "Biggz".
This year's mentors include Debra Granik, the writer and director of the Oscar-winning film "Winter's Bone"; Michael Weber, the co-writer of "(500) Days of Summer" and "The Fault in Our Stars"; Pixar writer Mike Jones, who wrote the English adaptations of the Oscar-nominated films "The Wind Rises" and "The Tale of Princess Kaguya"; and Master Class participant Alexander Dinelaris, a recent Academy Award winner for "Birdman: Or the Unexpected Virtue of Ignorance" and co- producer of last year's "The Revenant".
HIFF is also featuring a screenwriting Master Class, open to the public, with last year's mentor and Academy Award Best Original Screenplay winner for "Birdman: Or the Unexpected Virtue of Ignorance", Alexander Dinelaris. Dinelaris will take participants through all the stages of a critically acclaimed project, from the original writing phase to how a film's script changes and morphs through to the final edited picture. Dinelaris will use film clips to detail all that goes into writing an Oscar-winning script like Birdman. Don't miss this special opportunity to hear from one of the most talented writers working in film. The Class will take place at 5:30pm on April 9th in East Hampton. For more information on this program, check our website or email Marissa@hamptonsfilmfest.org.
SCREENPLAYS
The Delegation by Shane Andries
Longline: When a rookie congressional aide learns that a group of Americans living in a remote jungle commune might be in danger, she convinces a maverick Congressman to send a delegation to investigate the truth behind the group's nefarious and questionable leader–Jim Jones.
Bio: Shane Andries won the Grand Prize at the 2015 Slamdance Screenplay Competition. Born and raised in Houston, TX, Shane went on to attend The University of North Carolina School of the Arts, where he received a B.F.A. in drama. After spending several years as an actor in Blue Man Group, Shane returned to NYC with his wife, Bethany, and their dog, Hudson–named after his favorite Paul Newman film, Hud. A writer, director, and actor, Shane has worked in regional theatre and television, directed several short films, and is currently producing his first feature film.
Biggz by Marshall Curry and Davy Rothbart
Longline: Big is a white, 350-pound aspiring rapper from Downriver Detroit who makes a living as a small-time drug dealer and babysitter. When repair costs for a leaky roof push him to get involved in a smuggling operation, he finds that making easy money is harder than he thought.
Bios: Marshall Curry is a two-time Academy Award nominated documentary director, cinematographer, and editor. His films cover a wide range of interests and include Street Fight, about Cory Booker's tumultuous run for mayor of Newark, N.J.; Racing Dreams, which tells the story of three tweens who dream of becoming NASCAR drivers; If a Tree Falls: A Story of the Earth Liberation Front, which chronicles the rise and fall of a radical environmental group; and Point and Shoot, about an American who leaves home to join the Libyan revolution. These films have won top honors at Tribeca and Sundance and have played in theaters and on television around the world. Curry's documentary writing has twice been nominated for Writer's Guild Awards, and his non-fiction Racing Dreams is currently being adapted into a narrative feature by Dreamworks. In addition to his own films, Curry also had the pleasure of being Executive Producer and additional editor of Mistaken for Strangers about his favorite band, The National.
Davy Rothbart is the creator of Found Magazine, a contributor to public radio's This American Life, and the author of a book of personal essays, My Heart Is An Idiot, and a collection of stories, The Lone Surfer of Montana, Kansas. He writes regularly for GQ Magazine, and he and his work have been profiled in The New Yorker and The New York Times. His documentary film, Medora, which he directed with Andrew Cohn, is about a resilient high-school basketball team in a dwindling Indiana town; it aired on the acclaimed PBS series Independent Lens, won a 2014 Emmy Award, and can now be streamed on Netflix. Rothbart is also the founder of Washington To Washington, an annual hiking adventure for inner-city kids. He lives between Los Angeles, California and his hometown of Ann Arbor, Michigan.
Dead Pigs by Cathy Yan
Longline: While thousands of dead pigs float down the Huangpu River, five people cross paths as they search for their place in a rapidly transforming, modern China.
Bio: Cathy Yan is a filmmaker based in New York City, born in China and raised between Hong Kong and Washington, DC. She received her MBA from NYU's Stern School of Business and an MFA from the Tisch Graduate Film Program. Her feature script, Dead Pigs, was on the Purple List 2015, selected by industry judges as one of the best screenplays from NYU. Dead Pigs is slated to shoot Fall 2016 in Shanghai — Alibaba Pictures and Media Asia financing with Cathy as writer/director and China's premiere arthouse filmmaker, Jia Zhangke, as executive producer. Producing credits include the feature films Color of Time and Sky Ladder: The Art of Cai Guoqiang. She has also produced content for brands such as Armani, Subway, Spotify, and The Innocence Project. Previously, she was a reporter for The Wall Street Journal in New York, Hong Kong and Beijing. Cathy graduated from Princeton University, magna cum laude. She is also developing a feature set in the high-fashion world in Shanghai, as well as a comedic series about a disapproving Korean mother and her gay son.
MENTORS
Michael H. Weber
Bio: Michael H. Weber is a screenwriter and producer of various studio and independent films. With Scott Neustadter he adapted The Fault in Our Stars and The Spectacular Now. Their breakthrough was (500) Days of Summer, for which they won an Independent Spirit Award for Best Screenplay.
Their adaption of The Disaster Artist wrapped production in February. Directed by James Franco, the cast includes Seth Rogen, Dave Franco, Sharon Stone and Bryan Cranston. Currently they are adapting the novel Our Souls at Night for Netflix. Starring Robert Redford and Jane Fonda, it is set to begin shooting this summer.
Debra Granik
Bio: Debra Granik is a filmmaker working in both fiction and non-fiction. After clocking considerable time in the world of educational media production, she had the chance to work on several longform documentaries in the Boston area. After attending NYU's Graduate Film program, she directed Down to the Bone, which was awarded the Best Director prize at the 2004 Sundance Film Festival. Her next film, Winter's Bone, was nominated for four Oscars, including Best Picture, and won the Grand Jury Prize at the 2010 Sundance Film Festival. Her most recent film, Stray Dog, created with Tory Stewart, is a feature length documentary, which aired on PBS in November 2015.
She is currently working on a non-fiction film about the challenges that confront people returning home from prison. Since October 2014, she's been filming a group of men in New York City as they transition out of incarceration. In this film, she is attempting to illustrate the numerous structural impediments to successful re-entry and to humanize a population that has been repeatedly dehumanized — in the criminal justice system, in the media, and in political discourse.
Mike Jones
Bio: Mike Jones is currently a writer for Pixar. He worked as a journalist in New York before moving to film writing. He has since written for Columbia, MGM, Warner Bros, Disney, and Fox, among others. His script In the Event of a Moon Disaster was featured on the 2011 Black List. Jones also wrote the English adaptations of Studio Ghibli's Oscar-nominated films The Wind Rises and The Tale of Princess Kaguya. He is a McDowell Colony fellow, one of Filmmaker Magazine's 25 New Faces of Independent Film, and Variety's 10 Screenwriters to Watch.
For more information visit: HamptonsFilmFest.org