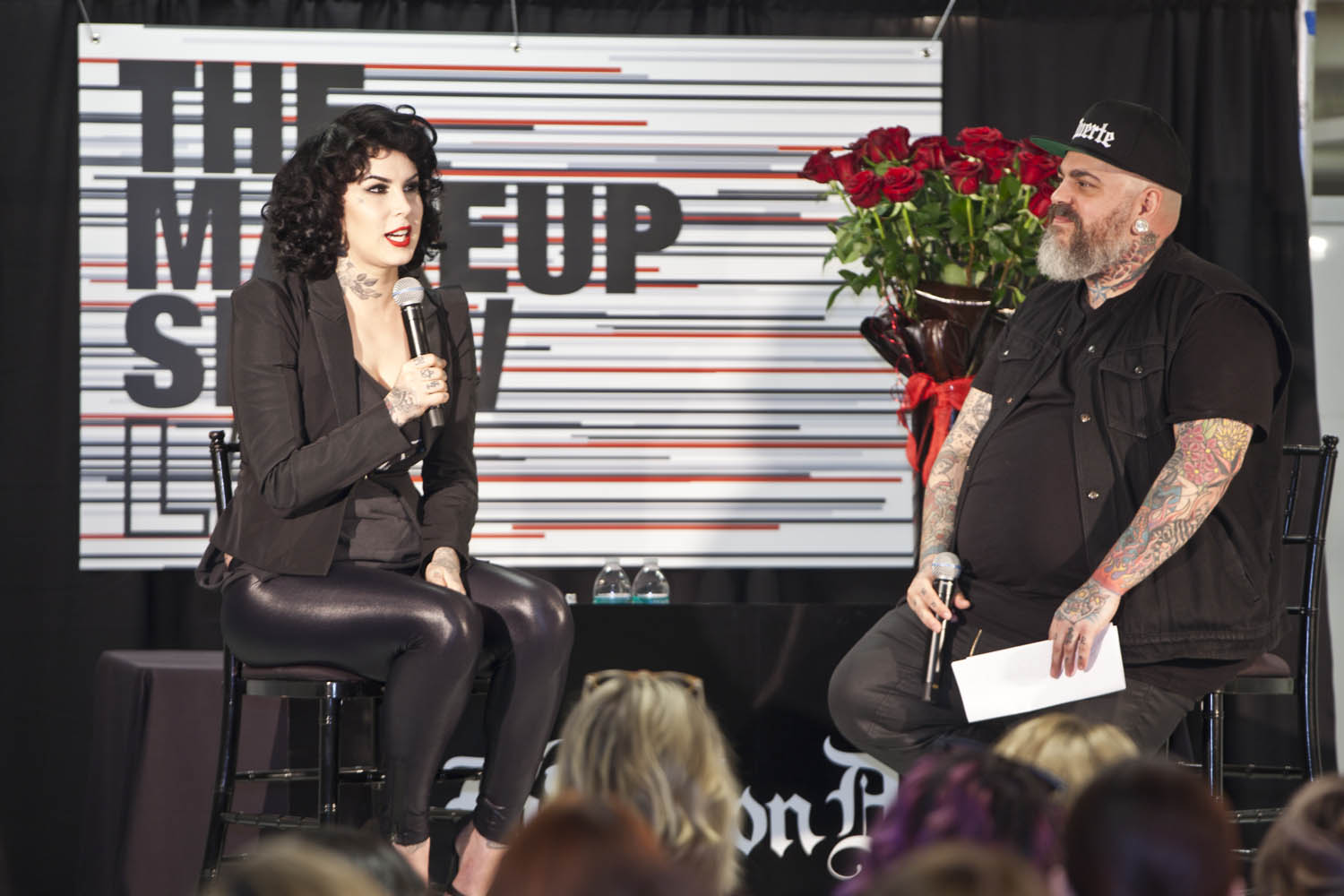 Kat Von D and James Vincent
Makeup, what would we do without it? For us who follow the beauty trends, we are always looking for the latest and best eye-liner, bronzer, lipstick and more. We leave it up to the beauty professionals to test, try and showcase the best of the best products for us!
That's where The Makeup Show LA comes into play! Beauty professionals from all corners of the industry packed the California Market Center this past weekend, mingling with some of the makeup world's heaviest hitters.
4,500 people attended the biggest pro-driven beauty event in the world. Back in its 8th year, The Makeup Show LA showcased keynote speeches from some of the best the industry has to offer and allowed artists to shop exclusive new products from The Makeup Show sponsors.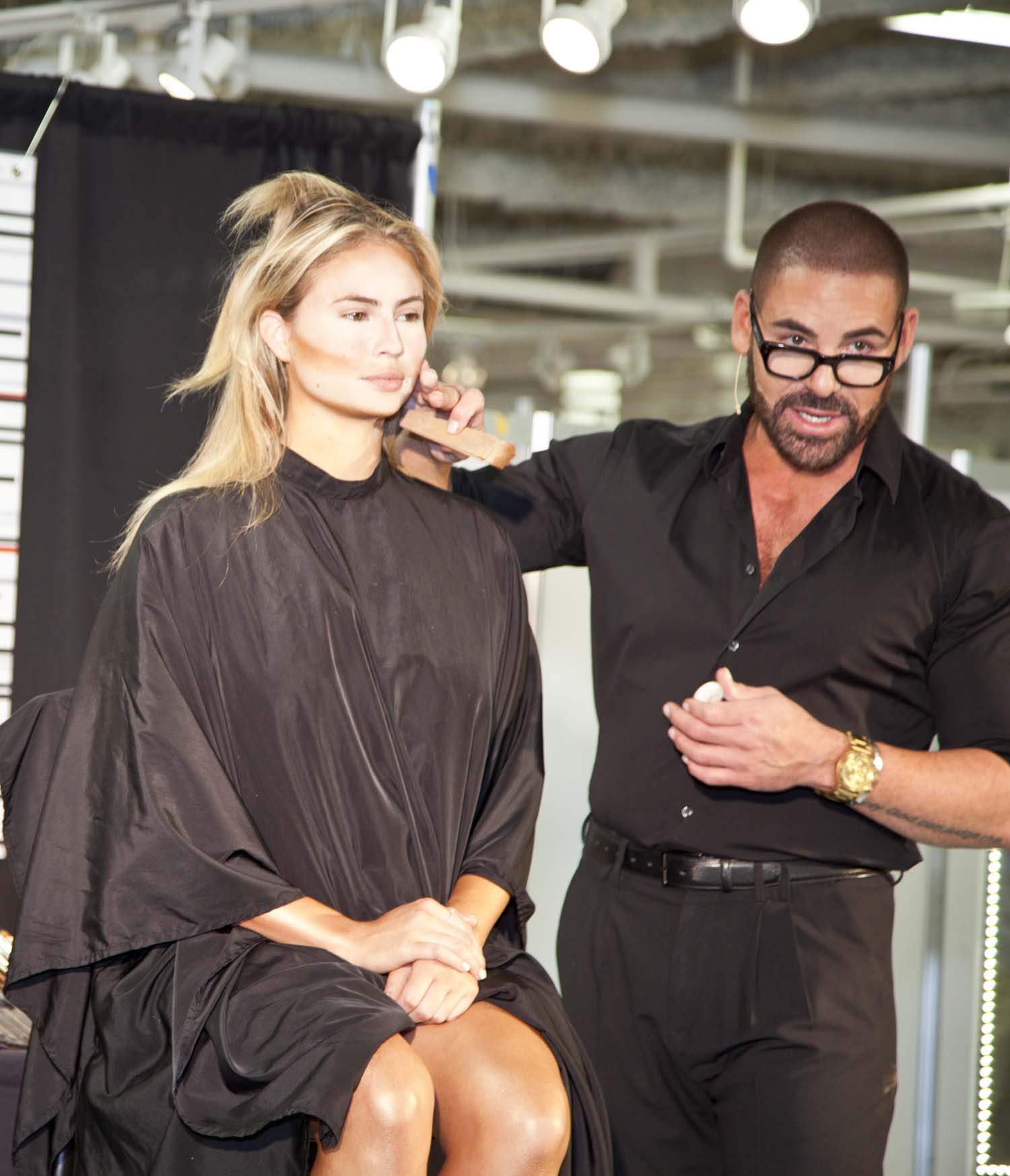 Shelly Taggar, owner of The Makeup Show said, "We were so thrilled to follow up a successful roundup of events celebrating our ten-year reunion with The Makeup Show LA, which was a tremendous success. It is a rare opportunity for artists to network and grow their careers within the makeup community. Every show last year was able to see record-breaking numbers, and we look forward to even more success with The Makeup Show 2016 in New York, Dallas, Chicago and Orlando, and pop-up shops in Atlanta, San Francisco and NYC."
The Makeup Show LA featured over 75 top beauty brands including: Diamond Sponsor MAKE UP FOR EVER, Platinum Sponsors Crown Brush and Temptu PRO, Silver Sponsors Frends Beauty, Obsessive Compulsive Cosmetics and NARS Cosmetics, Supporting Sponsors Smashbox and MustaeV, Contributing Sponsors Pinnacle Cosmetics and Glamcortec, and School Sponsor Ruby Makeup Academy. Other brands included: Kat Von D Beauty, Kevyn Aucoin, NYX Cosmetics, Scott Barnes Beauty, Senna Cosmetics to name a few.
The Makeup Show LA kicked off on the evening of Friday, March 18th with the first ever The Makeup Show Gala, sponsored in part by NARS Cosmetics, Crown Brush, MAKE UP FOR EVER, Glamcortec, Nigel Beauty Emporium, Kat Von D Beauty, Temptu Pro, Alcone, Ruby Makeup Academy, Smashbox Pro, Obsessive Compulsive Cosmetics, Frends Beauty, Embryolisse and Senna Cosmetics.
Marking the official conclusion of The Makeup Show's 10th anniversary, guests at the Gala celebrated with cocktails, hors d'oeuvres and dancing while reveling to the theme of the classic Femme Fatale at the Millennium Biltmore Hotel, site of the very first Academy Awards. Guest of honor Susan Cabral-Ebert was honored as well for her tireless dedication to the makeup industry as President of The Makeup Artists and Hair Stylists Guild, IATSE Local 706 and Eugenia Weston founder of Senna Cosmetics for her 40 years in the industry.
This year's Icon Galleries celebrated the work of two of the industry's most beloved artists: Eugenia Weston and Davis Factor. Guests were able to peruse and be inspired by the work of these two legendary figures, whose work on display illustrated the creative processes, tools and techniques that have brought them to their heights of achievement.
The Makeup Show LA also featured a lineup of today's most prominent celebrity artists in a series of keynote speeches. A few in attendance included Kat Von D, Scott Barnes, Eugenia Weston and Charlie Green. Each of these artists shared their secrets to success and techniques with inspiring speeches and demonstrations.
The Makeup Show LA brought show attendees Master Classes. A few of these hands-on workshops sold-out and allowed a limited number of dedicated artists to be a part of intense learning with some of the largest names in the industry including Orlando Santiago and Bethany Townes who spoke on topics from Red Carpet Beauty to color theory.
Until next year!
www.themakeupshow.com/the-makeup-show-blog/