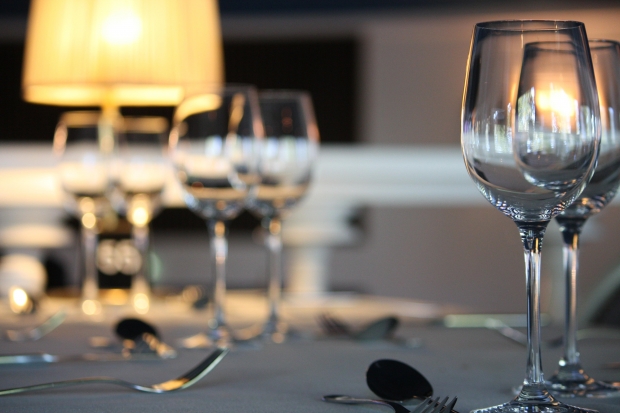 Our appetites are happy to report that Los Angeles has a number of "hot spot" restaurants on OpenTable's 100 Hottest Restaurants in America for 2016.
How do we know they're hot? The list is generated from more than 5 million restaurant reviews collected from verified OpenTable diners between March 1, 2015, and February 29, 2016.
Based on this methodology, the following restaurants, listed in alphabetical order, comprise the 100 Hottest Restaurants in America according to OpenTable diners. The complete list may also be viewed at http://www.opentable.com/m/100-hottest-restaurants-in-america/.
2016 Top 100 Hottest Restaurants in America
40/40 Club – New York, New York
8 Up – Louisville, Kentucky
Acorn – Denver, Colorado
Alley Cat Oyster Bar – Cleveland, Ohio
AsiaSF – San Francisco, California
B.B. King's Blues Club – Memphis, Tennessee
B.B. King's Blues Club – Orlando, Florida
Beauty and Essex – New York, New York
Bestia – Los Angeles, California
Buccan – Palm Beach, Florida
Buddakan – New York, New York
Café Martorano – Fort Lauderdale, Florida
Cassia – Santa Monica, California
Chino Latino – Minneapolis, Minnesota
Cork & Pig Tavern #2 – Odessa, Texas
Culinary Dropout – Tempe, Arizona
Current – Salt Lake City, Utah
Departure Restaurant and Lounge – Portland, Oregon
Dinosaur Bar-B-Que – Rochester, New York
do Restaurant at the View – Atlanta, Georgia
E.P.+L.P. – West Hollywood, California
Eight4Nine – Palm Springs, California
El Camino Mexican Soul Food & Tequila Bar – Delray Beach, Florida
Empire – Boston, Massachusetts
Forno Kitchen and Bar – Columbus, Ohio
Gato – New York, New York
Girl & the Goat – Chicago, Illinois
Gjelina – Venice, California
The Grey – Savannah, Georgia
Gypsy Kitchen – Atlanta, Georgia
High Rooftop Lounge – Venice, California
The Hudson Room – Peekskill, New York
.ink – West Hollywood, California
The Ivy – West Hollywood, California
Izakaya Den – Denver, Colorado
Juniper & Ivy – San Diego, California
Kettner Exchange – San Diego, California
La Esquina – New York, New York
The Lark – Santa Barbara, California
Linger – Denver, Colorado
Lolita Cocina & Tequila Bar – Boston, Massachusetts
Manhattan Beach Post – Manhattan Beach, California
Marble + Rye – Buffalo, New York *
middle fork kitchen bar – Lexington, Kentucky
Momotaro – Chicago, Illinois
MUA – Oakland, California
The Nest – Indian Wells, California
The Nice Guy – West Hollywood, California
O-Ku – Charleston, South Carolina
Ophelia's Electric Soapbox – Denver, Colorado
Palace Bar – Miami Beach, Florida
Palmilla Cocina Y Tequila – Hermosa Beach, California
Peck's Arcade – Troy, New York
Perch LA – Los Angeles, California
Pitch Coal-Fire Pizzeria – Omaha, Nebraska
Pitch Pizzeria-West – Omaha, Nebraska
Prato – Winter Park, Florida
Pump – West Hollywood, California
Red Ginger – Traverse City, Michigan
Red Rooster Harlem – New York, New York
Republic – Detroit, Michigan
Republique – Los Angeles, California
The Rest – Salt Lake City, Utah
Rizzuto's Oyster Bar and Restaurant – Westport, Connecticut
RoCA – Des Moines, Iowa
Rocco's Tacos & Tequila Bar – Orlando, Florida
Rose. Rabbit. Lie. at The Cosmopolitan of Las Vegas – Las Vegas, Nevada
RPM Italian – Chicago, Illinois
Santina – New York, New York
Shakou Sushi – Libertyville, Illinois
Shakou Sushi – St. Charles, Illinois
Shaya – New Orleans, Louisiana *
SoBe Restaurant & Lounge – Lanham, Maryland *
Spoon and Stable – Minneapolis, Minnesota
STK-NYC-Meatpacking – New York, New York
STK-The Cosmopolitan of Las Vegas – Las Vegas, Nevada
Streets-BK – Brooklyn, New York
Strip by Strega – Boston, Massachusetts
SumoMaya Mexican-Asian Kitchen – Scottsdale, Arizona
Sur Restaurant – West Hollywood, California
Talde – Jersey City, New Jersey
Tao Downtown – New York, New York
Tao Restaurant and Nightclub – Las Vegas, Nevada
Tender Bar + Kitchen – Pittsburgh, Pennsylvania
Three Dots and a Dash – Chicago, Illinois
Three Muses – New Orleans, Louisiana
Toca Madera – West Hollywood, California
Toutant – Buffalo, New York
The Tropicale – Palm Springs, California
Tsunami Shaw Center – Baton Rouge, Louisiana
Uchi – Austin, Texas
Uchi – Dallas, Texas
Uchi – Houston, Texas
Uchiko – Austin, Texas
UMI – Atlanta, Georgia
Union 50 – Indianapolis, Indiana
Untitled – Chicago, Illinois
Vitello's – Studio City, California
Yokozuna-Downtown – Tulsa, Oklahoma
Ysabel – West Hollywood, California