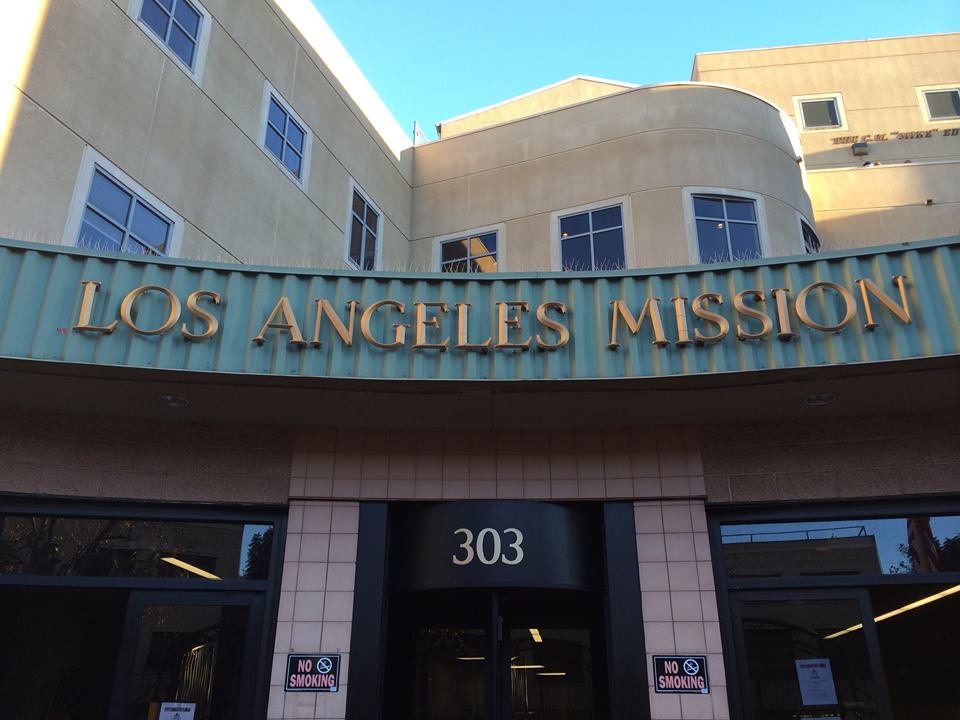 Join the Los Angeles Christian Health Center and volunteers this Good Friday, March 25, 2016, serving the communities with food, Easter baskets, Foot Washing, New Shoes & Socks.
Preparation for the Easter dinner starts at 4:30 AM. Meals served beginning at 11 AM. More than a thousand Easter baskets hand packed for the children.
Foot-washing tent opens at 11:15 AM staffed by Los Angeles Christian Health Center and volunteers. Etniessm, volunteers to give out 2000 pairs of new shoes. Bombas has donated more than 1,200 pairs of special socks for the homeless.
Celebrity volunteers to serve more than 3000 meals to the homeless in a joyful spring-themed outdoor dining area.
WHAT: Traditional Easter meal served to thousands of men, women and children. Volunteers from the entertainment industry, local political leaders and Mission supporters gather to spread the joy of new possibilities to the homeless of Skid Row.
Each child will receive an Easter basket full of goodies. Adults receive hygiene kits along with new shoes and socks. Foot washing has both a spiritual and a practical meaning for the homeless. The Los Angeles Christian Health Center will coordinate foot washing and podiatric medical care.
More than 2,000 pairs of new shoes will be given away. etniessm, the world's leading Action Sports footwear and apparel manufacturer, is donating the shoes. etnies staff and volunteers work to ensure a proper fit for everyone.
WHEN: Friday, March 25, 2016 (Good Friday) Street Event from 11:00 AM until 3:00 PM.
4:30 am Food preparations, shoe set-up, and the packing of the Easter baskets begin in the Mission kitchen and dining area (continuing until 10:30 am)
5:00 am Breakfast provided for overnight guests and those living at the Mission
6:00 am Street is closed to traffic to allow set-up of tents, serving area, tables, etc.
8:00 am Breakfast offered to guests in line outside
10:45 am Celebrities and other volunteers arrive at the decorated section of street.
11:00 am Food Service starts – Holiday meal prepared by Mission chefs
11:15 am Foot Washing Begins – Easter basket distribution begins
3:00 pm Event Ends
WHERE: Los Angeles Mission, 303 E. 5th Street (Corner of Fifth and Wall St.) Los Angeles, CA 90013
WHO: Celebrities and political leaders will join hundreds of Mission volunteers. The Easter Bunny to make an appearance for children in attendance.
WHY: Easter Week foot washing is a Christian tradition. It is an act of humility and service memorializing Jesus washing the feet of his disciples the night before he was crucified.
Los Angeles Christian Health Center sponsors the foot-washing tent.
Many who live on the streets seldom experience kind and caring human contact. Foot washing is combined with podiatric care and individually fitted new shoes and socks. It is a practical and considerate gift to people who are always on their feet.
This event includes a lavish holiday meal. This act of hospitality invites the homeless to learn about the Mission's array of services, including its long-term program of restoration and renewal to get off the streets permanently.