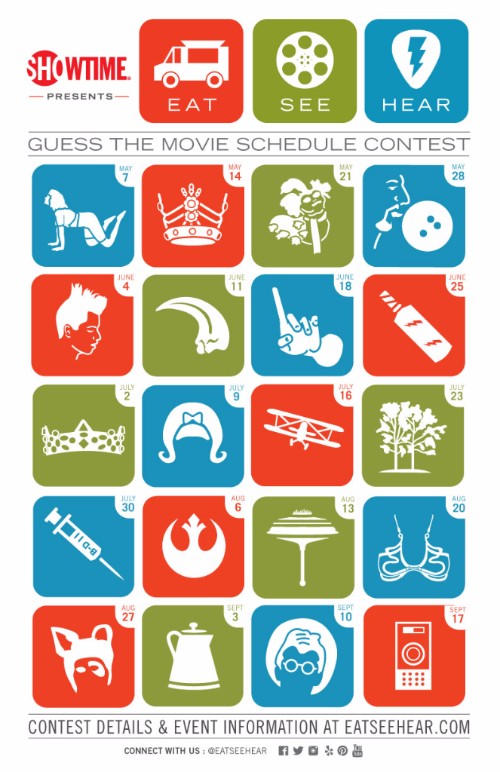 LA's biggest outdoor film / band / food truck weekly extravaganza, EAT | SEE | HEAR, has announced their Spring/Summer schedule with a contest.
Creating icons to represent each film shown, the schedule is made visual and fans are invited to guess the movies. One lucky grand prize winner will receive a Fashionably Late Season Pass for two, along with other prizes from partners Showtime, The Autry, Laemmle Theatres and Brasil Kiss Coffee.
Details of the schedule will be made public on March 14, 2016 when tickets go on sale and winners will be announced on or around March 21st.
Movies, Band pairings and food truck lineup will be announced, as will special information about unprecedented events dominating the month of August.
Also resuming is Eat|See|Hear's relationship with Best Friends Animal Society – Los Angeles and the NKLA Initiative.
To date, Eat|See|Hear has donated nearly $30,000 for the great organization to help further the amazing work they do.
Voted "Best Outdoor Movie Series" by Los Angeles Magazine in 2014, the Eat|See|Hear outdoor movie, food truck and live music series brings an evening of fun to Los Angeles-area venues each summer.
For more info: www.eatseehear.com