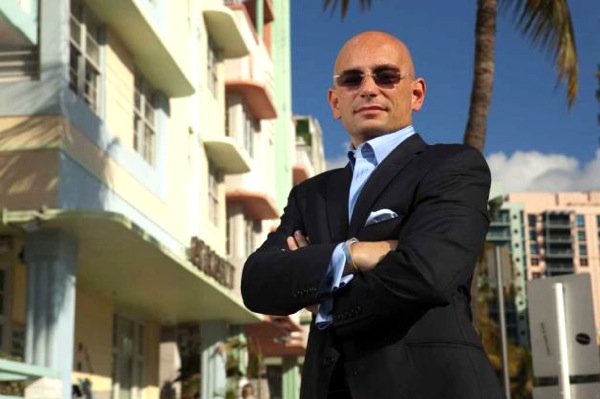 Hotel expert Anthony Melchiorri returns to upgrade Monday nights with an all-new seventh season of Travel Channel's hit series "Hotel Impossible," premiering on Monday, April 18 at 9:00 p.m. ET/PT.
As one of the network's top-rated series for 2015, this new season, comprised of 13 one-hour episodes, is filled with big surprises, moving moments, outrageous characters and unforgettable confrontations. Armed with over 20 years of experience in the hospitality business, a no-nonsense approach and a team of skilled designers, Melchiorri is on a mission to revive and repair every property he visits. Some hotels will follow his advice and be saved, others won't!
"Call me a man on a mission," says Melchiorri, who also serves as co-executive producer of the series. "I am obsessed with turning around hotels that are struggling to survive. And this season, we have found an unbelievable array of hotels plagued with an unbelievable array of problems. I'm talking about places that are literally on life support. But I refuse to pull the plug. I am willing to do whatever it takes to bring these properties back to life."
In the season premiere, Melchiorri tackles his first hostel – located within the historic Gardner Hotel, a second generation,family-run business in El Paso, Texas. Hoping to capitalize on the budget-friendly trend of room-sharing accommodations, Joe, the owner, has converted half of the Gardner's rooms into a hostel. Melchiorri quickly becomes concerned with guest security and safety, cringing at the health risks in a guest kitchen. To keep the Gardner Hotel from closing its doors, Melchiorri must convince Joe to hand over the keys to the third generation, his daughter.
Incredible stories of turnaround this season, in locations spanning the country, include: Anchorage, Alaska; Bayfield, Wis.; Branson West, Mo.; Cody, Wyo.; Libby, Mont.; Lihue, Hawaii; North Conway, N.H.; Rockland, Maine; Shreveport, La.; Westerly, R.I. and Winter Haven, Fla.