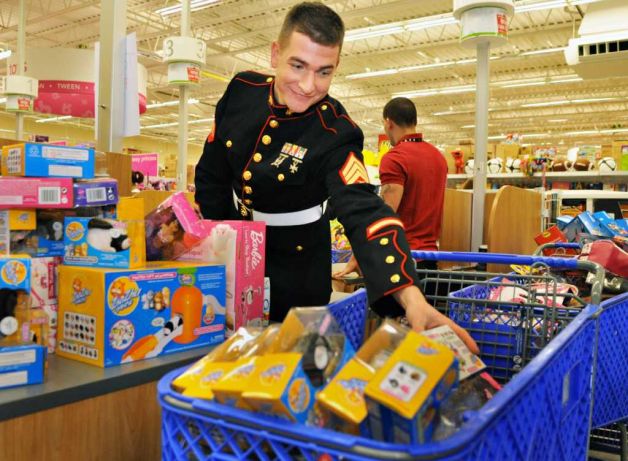 Toys"R"Us® announced that its annual nationwide fundraising campaign to benefit the Marine Toys for Tots Foundation raised more than $5.8 million and collected over 200,000 toys. During the 2015 campaign, customers helped bring holiday joy to some of the 15.5 million kids in need across the U.S. by donating new, unwrapped toys at Toys"R"Us® and Babies"R"Us® stores nationwide and through monetary contributions made in stores and online at Toysrus.com/ToysforTots.
"In our twelfth year of partnership with Toys for Tots, we are grateful to our passionate team members and loyal customers for helping us make a difference for families in need this holiday season," said David Brandon, Chairman and CEO, Toys"R"Us, Inc. "Their tremendous support and the success of our 2015 campaign has allowed us and Toys for Tots to once again create magical experiences for the millions of kids living in poverty in the U.S who may have otherwise gone without a toy to open on Christmas morning."
As part of this year's campaign, NBA Legend Shaquille O'Neal suited up as Shaq-A-Claus to help Toys"R"Us support its partnership with the Marine Toys for Tots Foundation and encourage customers to #PlayItForward, an initiative designed to further spread awareness of the cause and to inspire families to donate.
"I'm so thrilled to have partnered with Toys"R"Us for another holiday season to 'Play It Forward' and help families in need through the amazing work of Toys for Tots," said Shaquille O'Neal. "I want to extend my thanks to everyone who donated. Your contributions gifted countless kids the awesome moment of finding a toy under the tree this Christmas. As Shaq-A-Claus, my role is to ensure we put smiles on the faces of children in need, and I am happy to report that with your help, we did just that!"
Additionally, hundreds of online shoppers purchased and donated toys featured on The Great Big Shaq-A-Claus Wish List, which were shipped directly to the Marine Toys for Tots Foundation and distributed to children in impoverished communities across the country this holiday season.
As the largest retail partner in the history of the Marine Toys for Tots Foundation, Toys"R"Us has raised nearly $48 million and collected more than 4 million toys since the partnership began in 2004.