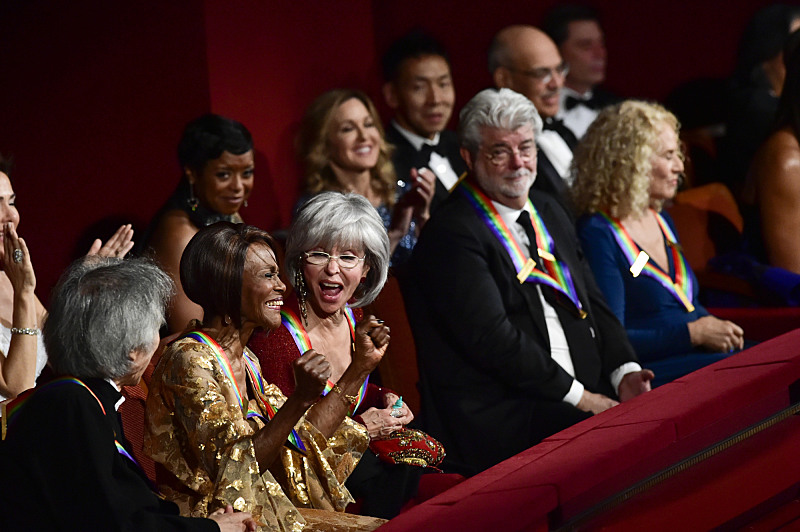 The Kennedy Center Honors with singer-songwriter Carole King, filmmaker George Lucas, actress and singer Rita Moreno, conductor Seiji Ozawa and actress and Broadway star Cicely Tyson will air Tuesday, Dec. 29 (9:00-11:00 PM, ET/PT) on CBS.
"The Kennedy Center Honors recognizes the extraordinary and unparalleled talents of individuals whose impact and genius have left an indelible mark on civilization," stated Kennedy Center Chairman David M. Rubenstein.
In a star-studded celebration on the Kennedy Center Opera House stage, the 2015 Honorees will be saluted by great performers from Hollywood and the arts capitals of the world. Seated with President and Mrs. Obama, the Honorees will accept the thanks of their peers and fans through performances and heartfelt tributes.
The President and Mrs. Obama will receive the Honorees, members of the Artists Committee who nominate them, and the Kennedy Center Board of Trustees at the White House prior to the gala performance taping on Dec. 6. The 2015 Kennedy Center Honors Gala concludes with a supper dance in the Grand Foyer.
The Honors recipients are recognized for their lifetime contributions to American culture through the performing arts – whether in dance, music, theater, opera, motion pictures or television – and are selected by the Center's Board of Trustees. The primary criterion in the selection process is excellence. The Honors are not designated by art form or category of artistic achievement; over the years, the selection process has produced a balance among the various arts and artistic disciplines.
Ricky Kirshner and Glenn Weiss of White Cherry Entertainment are executive producers of the special. White Cherry Entertainment is well known for producing the award-winning Tony Awards for the last 13 consecutive years, and also for producing the Emmy Awards, NFL Opening Kickoff and Super Bowl Halftime Shows, the Democratic National Convention, Presidential Inaugural Galas, and many others. To date, White Cherry Entertainment has won eight Emmy Awards, while Kirshner and Weiss have individually received an additional four Emmy Awards, six Directors Guild Awards, a Peabody Award, and more than 30 Emmy nominations.