What if Newman from "Seinfeld" got his own spin-off? What if we knew more about Gunther before he landed his job at Central Perk in "Friends?" Some of the most memorable characters in sitcoms are the ones who may not have the most lines or screen time. Enter, Rick Glassman who portrays Burski on NBC's "Undateable," which is now in its 3rd and LIVE season…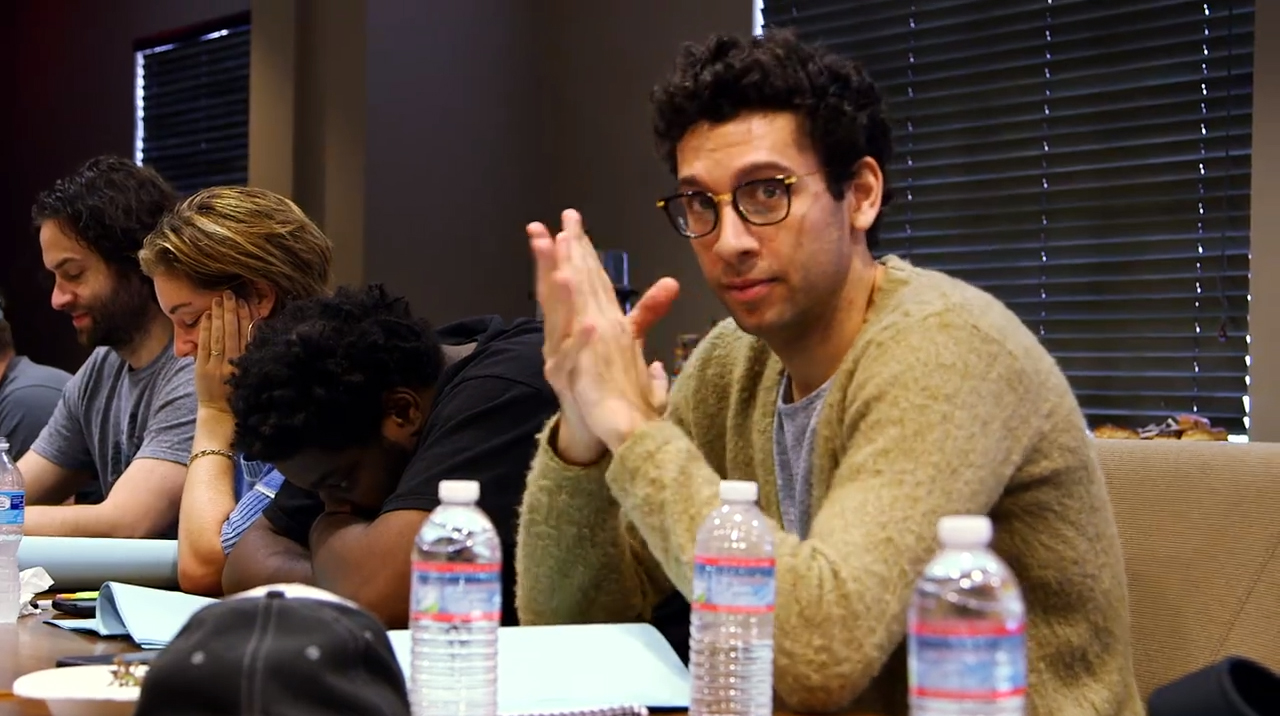 With his unique style of comedy, he's branched out with his very own hilarious digital series that takes a look behind the scenes of his life as "The Sixth Lead" on the NBC series. Featuring appearances from "Undateable Live" co-stars, executive producer Bill Lawrence, and "Scrubs" star Zach Braff, each episode has flavors similar to "Curb Your Enthusiasm" and "The Office."
Rick told LATF, "Though "The Sixth Lead" is a fictitious serialized-documentary, I wanted to incorporate real footage and stories to make the audience believe as much as possible. I like the fact that when you watch, it's hard to tell what is real and what isn't. That's something I like about my standup, and it is definitely a technique I used in writing, directing and acting in the web series."
Rick sat down with LATF to talk about his new project and his ever-expanding ideas…
Everyone is clearly on board for 'The Sixth Lead' from Bill Lawrence to the 'Undateable' writing staff, how did you come to pitch this concept?
I soft pitched the idea to Bill when we were on our Undateable Comedy Tour, after he had a couple of drinks. I felt it best to wait for a more casual setting before going to my boss with a show idea inspired by the fact that my character rarely gets to talk on "Undateable."
Then, when our show changed to a live format, production was inspired to create additional content; the writers/actors periscope every day, we tweet and instagram during the live tapings, etc. Bill approached me with my idea and asked if I wanted to shoot something. Originally, the plan was to do it very simply; one camera and/or on a phone. However, I explained to them that I wanted to write & direct it as well, and, for some reason, they got behind me and allowed me complete creative freedom. They helped me secure locations on the Warner Brother's lot, supplied me a full crew, including 2 cameras/operators, sound, PAs, security guards and even craft services! I have directed around 50 sketches with my web group, thatguyandhisfriend.com, but I had never directed a production involving a crew of this size. It was such an amazing learning experience.
The drive of "The Sixth Lead" is about Rick making friends with the writers, so I got to work with them in a much more intimate way than previously offered via "Undateable." They were fully on board coming into work early to shoot scenes, which made it way easier, consider that I had to shoot 4 episodes in 2 days, while scheduling time between my rehearsal (for "Undateable), their work schedule and the crew's schedule (of which, I couldn't have done without the help of producer Mark Greenberg — shout out to Mark for his help on "The Sixth Lead" and his dentist referral!).
Is it all improvised based on each episode's theme, or do you actually write dialogue?
It was written and fully structured, however, we improvised a lot. I'd say around 20-25% of the jokes in the episodes were improvised. That's the way I like to work; always. Give me a script, tell me what to do with the story, and let us play!!
I think it's safe to say that Larry David is an influence of yours, does that mean you identified with George Costanza the most when it comes to the cast of 'Seinfeld?'
"Curb Your Enthusiasm," "Simpsons" and "Fresh Prince" are my favorite shows, ever! So yeah, Larry David, and the way he structures his writing, has been a huge influence of mine. When I spoke with Waz (creator of the "Undateable" theme song) about getting his help in creating a theme song for "The Sixth Lead," I asked him for a "Curb," feel — something quirky. Incidentally, his amazingly talented wife, Jamie Jackson, wrote this piece, with a full orchestra, for a separate project that was never used. I felt it was perfect, and they offered it to me!!
If I had to pick who I identified with most from "Seinfeld," it would probably be George or Jerry. Or possibly Frank Costanza.
When it comes to your stand-up, it doesn't always color inside the lines. How would you describe your comedy voice?
I've never been good at describing my stand up. I can say, I love puzzles, and I love to deconstruct and rebuild. I like to establish multiple bits and have a lot of balls in the air, so once it's time to start juggling, I can go a millions places at once (more accurately, factorial of however many balls are in the air), and create something structured while unique to any specific performance. Kind of like how I like to act — give me the structure, and then let us play!!
Besides chewing gum, what other talents should the writers include on the show for Burski that we're not aware of?
As referenced in episode 2 of "The Sixth Lead," I want a pop-a-shot (a basketball game for those who don't know) story in there!! If you're wondering if I'm any good, check my Instagram: https://www.instagram.com/p/5suQIuvSXl/embed/captioned/?v=6
Also I've always wanted to play K-Ci & JoJo's "All My Life" on the piano on television.
If you could write an episode centered around Burski, what would your ideal storyline be?
Easy. Danny and Justin are in the bar fighting about what's more important; sex or love. But they have to yell over the sounds of the winning pop-a-shot bell as I dominate. They then get mad at Burski (the character I play). Danny accuses Burski of not being able to get a girl, while Justin says that Burski isn't sentimental enough. The episode ends (after Shelly says "take it to church" a few times in acts 2 and 3) with my girlfriend, Torrey DeVitto, playing Burski's girlfriend, and we play K-Ci & JoJo's "All My Life" (her on the violin, me on the piano).
A new episode of "The Sixth Lead" is released daily all week! Check them out at: www.thesixthlead.com
Watch the trailer