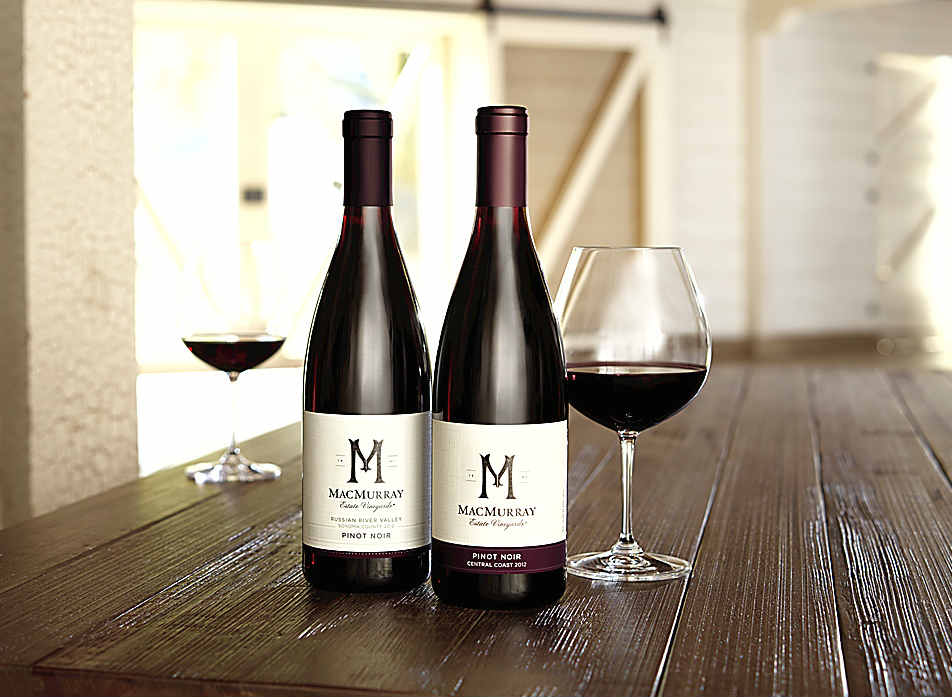 Pinot Noir lovers, allow me to introduce to you MacMurray Ranch Vineyards​ which was once owned by actor Fred MacMurray in 1941.
The vineyards are planted with the Pommard, Calera and other Heritage clones and have mainly clay and sandy loam soils. Their vineyards are located in the Russian River Valley and California's Central Coast, two of the most renowned cool-climate viticultural regions in the world. Each site is home to critical differences in soil, sun exposure, elevation and other variables that contribute to the ultimate character of their wines.
Vintage after vintage, they carefully tend to vineyard blocks to create exceptional quality vines… in particular "the Pinot Noir."
Russian River Valley Pinot Noir 2013
With a short bloom season and desirable fruit set, the absence of significant weather events meant grapes ripened evenly in a mild growing season that remained temperate for its duration. Throughout the season, the Valley's hallmark fog allowed grapes to retain color and bright flavors.
The MacMurray Estate Vineyards Russian River Valley Pinot Noir opens with aromas of lavender and boysenberry, giving way to flavors of dark cherry, pomegranate and vanilla. This wine has a silky feel, with hints of French and American oak barrels where it aged for 8 months..
Grape Variety: 100% Pinot Noir grapes
Appellation: Russian River Valley
Alcohol Content: 14.3%
Price: $30.00
Russian River Valley Reserve Pinot Noir
This wine shows the depth and versatility of this extraordinary region. Characterized by suave, dark-fruited aromas, the wine delivers tremendous complexity on the palate in the form of layered notes of pomegranates, cherries, boysenberry and lavender. Maturation in French oak from a variety of coopers gave the wine a smooth, rich character and hints of baking spice.
Grape Variety: 100% Pinot Noir
Appellation: Russian River Valley
Alcohol Content: 14.8%
Barrel Aging: 100% French Oak, 1/3 new, 1/3 second-use, 1/3 third-
Price: $37.00
Central Coast Pinot Noir
The 2013 vintage on the Central Coast was outstanding, with neither excessive heat nor cool stretches interfering with development. Fruit ripened evenly in these ideally moderate, dry conditions. Indicative of its cool-climate region, the MacMurray Central Coast Pinot Noir opens with delicate aromas and flavors of cherry, raspberry and pomegranate, accented by hints of vanilla. With time to breathe, this wine will display an excellent balance of flavor, acidity and texture.
Grape Variety 100% Pinot Noir
Appellation Central Coast Alcohol
Alcohol Content: 14.8%
Barrel Aging: 54% in used French and American oak barrels; 46% in stainless steel.
Price: $30.00