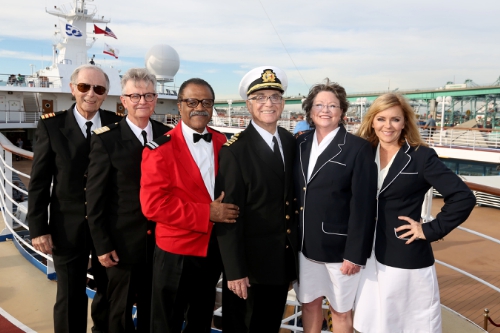 It all began 50 years ago with a cruise to Mexico on a single cruise ship, Princess Patricia.
On December 3rd, Princess Cruises celebrated its 50th anniversary aboard Pacific Princess in the Port of Los Angeles with a special appearance by the original "Love Boat" cast before setting sail on a throwback cruise, recreating the very first itinerary to the iconic Mexican Riviera.
Now 50 years later, Princess Cruises is the third largest cruise line in the world with a fleet of 18 cruise ships and a recognized leader in taking 1.7 million travelers each year to some of the most fascinating cruise destinations around the globe.
The original "Love Boat" cast – Gavin MacLeod (Captain Stubing), Fred Grandy (Gopher, the chief purser), Ted Lange (Isaac, the bartender), Bernie Kopell (Doc, the ship's doctor), Lauren Tewes (cruise director, Julie) and Jill Whelan (Vicki, the captain's daughter) celebrated the role the show played in Princess Cruises' five-decades-long history introducing the cruise line – and cruise vacations – to millions of people around the world.
The County of Los Angeles and the City of Santa Clarita, the hometown of Princess Cruises world headquarters, also marked the occasion by proclamation declaring December 3 "Princess Cruises Day".