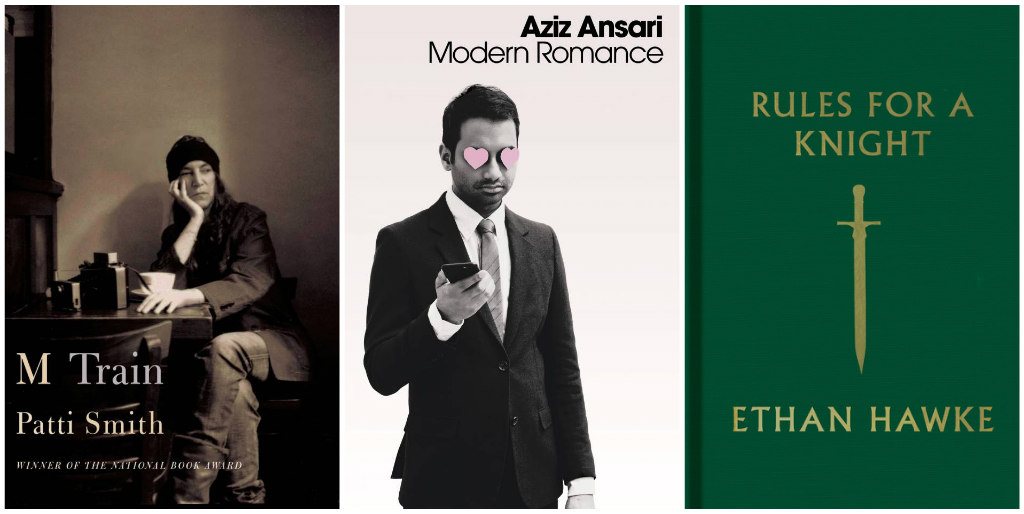 Sure, it's easy to gift iPads and Kindles… but what about those old-fashioned books? You know, the ones you can carry and flip the pages of? While they are available in audio book form, these are some of our favorite 'written by celebrity' books for the 2015 holiday season. Give the gift of reading…
This is at the top of my list. Especially relevant to 20 and 30 somethings, MODERN ROMANCE is a wonderful read for those who find digital dating to be a conundrum (which it is). Aziz and sociology professionals explore various dating experiences and trends by speaking with different age groups. From classifieds to Match.com, from texting trials to statistics, this is an informative and, at times, hilarious book when Aziz puts his two-bits in.
Ethan Hawke's RULES FOR A KNIGHT
Originally written for his four children, Ethan's book is part Arthurian legend, part code of ethics, and an entirely moving portrait on living a noble life. It's a gorgeous gift book and includes lovely illustrations by his wife. Here's a clip of Ethan talking about the book on The Tonight Show.
From the National Book Award–winning author of Just Kids: an unforgettable odyssey of a legendary artist, told through the prism of the cafés and haunts she has worked in around the world. It is a book Patti Smith has described as "a roadmap to my life."
Other books from actors and beyond to look out for:
Burt Reynold's ENOUGH ABOUT ME