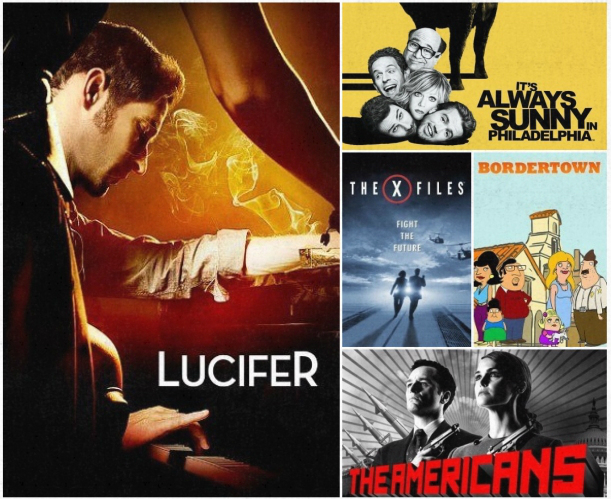 It's already that time! FOX & FX have set their winter premiere dates for the anticipated returning and new series!
Two new comedies join the Sunday night lineup on Sunday, Jan. 3. New ensemble comedy COOPER BARRETT'S GUIDE TO SURVIVING LIFE will premiere at 8:30-9:00 PM ET/PT, following an all-new THE SIMPSONS (8:00-8:30 PM ET/PT).
The series follows the charming misadventures of COOPER BARRETT (Jack Cutmore-Scott, "Kingsman: The Secret Service") and his friends as they struggle through messy, terrible and hilarious disasters – a night in jail, crazy ex-girlfriends, going broke – giving us guidance so we can avoid the same mistakes.
All-new FAMILY GUY (9:00-9:30 PM ET/PT) and new animated comedy BORDERTOWN will debut at 9:30-10:00 PM ET/PT. A satirical look at the cultural shifts taking place in America, the series explores family, politics and everything in between. The comedy centers on two very different families living in a fictional Southwest desert town on the U.S. – Mexico border and stars Hank Azaria, Alex Borstein, Judah Friedlander, Nicholas Gonzalez and Missi Pyle.
Tuesday nights of comedy continue Jan. 5 with an all-new lineup, including: the Season Five premiere of NEW GIRL at 8:00-8:30 PM ET/PT; the time period premiere of GRANDFATHERED, which moves to 8:30-9:00 PM ET/PT; all new episodes of BROOKLYN NINE-NINE – on a new night and time – at 9:00-9:30 PM ET/PT; and the time period premiere of THE GRINDER at 9:30-10:00 PM ET/PT.
AMERICAN IDOL will begin its 15th – and farewell – season with a special two-night, four-hour premiere event Wednesday, Jan. 6 (8:00-10:00 PM ET/PT) and Thursday, Jan. 7 (8:00-10:00 PM ET/PT) on FOX.
New drama SECOND CHANCE (fka LOOKINGLASS) debuts Wednesday, Jan. 13 (9:00-10:00 PM ET/PT). Rob Kazinsky ("True Blood") stars as a disgraced, 75-year-old ex-sheriff, who dies at the hands of corrupt cops. He is brought back to life – by a pair of young tech scientists who are founders of a social networking empire – and given a second chance as a 35-year-old with unpredictable near-superhuman abilities.
LUCIFER, the new drama starring Tom Ellis ("Merlin"), premieres Monday, Jan. 25 (9:00-10:00 PM ET/PT), after the time period premiere of THE X-FILES (8:00-9:00 PM ET/PT). Based upon the characters from DC Entertainment's Vertigo imprint, the series tells the story of LUCIFER MORNINGSTAR (Ellis), the Lord of Hell, who has abandoned his throne and retired to L.A. When he is introduced to LAPD homicide detective CHLOE DECKER (Lauren German, "Chicago Fire"), LUCIFER becomes intrigued by her compassion for humanity, which causes a struggle between his temptation toward the side of Good and his original calling toward Evil.
SLEEPY HOLLOW, which has its fall finale on Thursday, Nov. 19 (9:00-10:00 PM ET/PT), moves to Fridays and returns with all-new episodes on Feb. 5 (8:00-9:00 PM ET/PT). After THE X-FILES concludes its six-episode run, GOTHAM makes its spring return on Monday, Feb. 29 (8:00-9:00 PM ET/PT). Later that week, on Wednesday, March 2 (8:00-9:00 PM ET/PT), Morris Chestnut-starrer ROSEWOOD returns. EMPIRE begins Part Two of its second season Wednesday, March 30 (9:00-10:00 PM ET/PT). The return dates for BONES and THE LAST MAN ON EARTH to be announced.
ON FX
BASKETS a new comedy co-created by and starring Zach Galifianakis, debuts on FX on Thursday January 21 at 10 PM ET/PT. Chip Baskets (Galifianakis) wants to follow his dream of being a French clown—however, reality keeps interfering. Saddled with financial difficulties and facing an impenetrable language barrier, he moves back home to Bakersfield with high hopes. There, he is forced to confront his past while working as a rodeo clown and competing with his siblings for his mother's approval and affection.
AMERICAN CRIME STORY: THE PEOPLE V. O.J. SIMPSON, the latest limited series from FX, premieres on Tuesday, February 2 at 10 PM ET/PT. Based on the book The Run of His Life: The People V. O.J. Simpson by Jeffrey Toobin, the limited series is a look at the O.J. Simpson trial told from the perspective of the lawyers. It explores the chaotic behind-the-scenes dealings and maneuvering on both sides of the court, and how a combination of prosecution overconfidence, defense shrewdness, and the LAPD's history with the city's African-American community gave a jury what it needed: reasonable doubt.
THE AMERICANS will return in March with Season 4 (premiere date TBD) on FX.
ON FXX
IT'S ALWAYS SUNNY IN PHILADELPHIA, the longest-running series in FX Networks' history, returns to FXX for Season 11 on Wednesday, January 6 at 10 PM ET/PT. Get ready for more misguided dreams leading to blundered schemes from everyone's favorite bar owners! The gang returns to Paddy's Pub with Mac (Rob McElhenney), Dennis (Glenn Howerton), Charlie (Charlie Day), Dee (Kaitlin Olson) and Frank (Danny Devito). Last season, the gang crushed Wade Boggs' cross-country flight drinking record, killed Mac's dad, and started a cult. This season, the gang gets involved in even more insane adventures including a move to the suburbs, shooting a smut film, defending themselves in court, and playing another deranged round of the legendary board game Chardee MacDennis.
MAN SEEKING WOMAN returns for Season 2 on FXX on Wednesday, January 6 at 10:30 PM ET/PT, immediately following the Season 11 premiere of It's Always Sunny in Philadelphia. Man Seeking Woman's surreal new season about the life-and-death stakes of dating will follow "Josh Greenberg" (Jay Baruchel) as he soldiers through foolish texts, awkward dates, cloning disasters, man-on-car sex, hundreds of deaths, and worst of all, a season-long love triangle with his best friend.